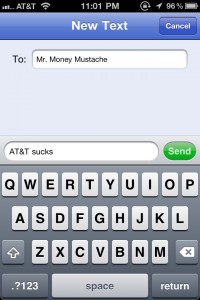 Despite being a lifelong techology addict and a retired software engineer, I'm actually somewhat behind in the world of mobile phones.. mostly because the high monthly rates charged by US cell phone companies have kept me down on very minimal plans and phones for most of the past decade.
Starting out on a Sprint $29/month plan back in 1999, I hopped over to Cingular to take advantage of a Cisco Employee discount program that let me cruise at $15 per month for many years. Cingular was later bought by AT&T and in those early years there were neat perks available including the ability to call to, and from, any part of Canada and the US with no roaming or long distance charges.
That is exactly as it should be, since cell phones are just sending data through the air and eventually a giant computer network. It costs no more to send the information further, and Canada and the US are closely knit enough that phone companies can exchange traffic without incurring any measurable costs per kilobyte.
But the way things should be, and the way they are, are two very different things in the world of mobile phones, and AT&T later eliminated that North American Network plan and decided to charge about $90 per hour for "roaming" phone calls made while in Canada instead. So, of course, I simply turn the phone off when I leave the country and get no use out of it.
During all these years of semi-annoying mobile phone use, I justified the cost by foregoing a traditional land line ("what's the use of a phone that is tied to your house?", I marveled starting in 1999, and yet people still have land lines to this day). I also stayed on the trailing edge of mobile handsets, opting for whatever they were offering as a free upgrade every two years. Having cheap handsets worked well for me, since they were usually kept in a pocket full of sawdust and drywall screws anyway, or being accidentally dipped in rushing rivers or crushed against cliff walls or table saws.
But last September, with the help of advancing smartphone usefulness and a reasonable family plan option, I took the $200-plus-activation-fee plunge and picked up one of those Apple iPhone 4s everyone has these days. I enjoy the device – it takes great photos and sound recordings and functions nicely as a pocket computer for email and web browsing and many other things.
These positives outweigh the disadvantages of frequent dropped calls and the awful Apple software that makes you install a shitty awkward behemoth of a program called 'iTunes' on your computer, which "imports" (i.e. makes an unnecessary entire duplicate copy of over a period of many hours) your 250GB MP3 collection, just so you can put a few of your favorite albums onto the damn thing for playing at work. For non-techie people, I should explain that this annoyingness is unique to Apple. With any other brand of phone, music player, camera, etc., you just plug it into your computer and it pops up as a normal folder, where you can drag and drop your music directly, just as intuition would lead you to expect.
Getting back to the point, though, acquiring this iPhone also led me into the world of "Texting". I have always been fine with good ol' email and other forms of instant messaging. Since phones do all of those things, I didn't see the need for the redundant "Texting" technology. But since everyone else was already texting, I had to text to keep in touch with them.
So I started using the new phone to send a few text messages. I figured that since Texting is just a lower-functionality, higher-convenience version of email, it would be included in the phone or data plan, right?
Wrong! .. good ol' AT&T knows a good dishonest revenue stream when it sees one, so it walled off text messaging from the rest of the world of communications, as if it were a stream of messages directly from a divine being. Twenty cents for each message sent, so it costs a buck to say, "Where R U?", "In the Parking lot!", "I don't see you!", "I'm looking right at you!", "Oh yeah, there you are!".
Since text messages fly back and forth pretty quickly, they knew at twenty cents per message they would be building a market for "text messaging plans". You can treat yourself to a THOUSAND text messages for only $10 per month! Wow, only $1770 per decade (after 7% compounding) for all those lovely text messages! (Tech note: 1000 messages*160 bytes per message*120 months is 19.2 megabytes. So you are paying AT&T One Thousand Seven Hundred and Seventy Dollars to send the equivalent of about five digital camera photos worth of data.
As you might expect, Mr. Money Mustache was so morally offended by this concept that he launched  into a rant of Swearing powerful enough to knock down several buildings. He set off on an immediate quest to circumvent the evil stupidity of AT&T. By the second day of  iPhone Ownership, he had switched to Google Voice.. and if you are a smartphone or even frequent PC user, you can do the same with the details below.
But wait!! Even while I was writing this article, another amazing piece of news came out from AT&T. The resourceful douchitarians at that company have decided that people can be milked for even more, so they are now dropping the $10 per month text messaging plan, and trying to get people to pay $30 per month for "unlimited texting"!!
AT&T Kills $10 Texting Plans, Pushes Unlimited Options
THIRTY FUCKING DOLLARS PER MONTH!?!! THE PRICE OF A DECENT USED CAR EVERY TEN YEARS!?!? THE WHOLE PHONE PLAN, WITH UNLIMITED EVERYTHING TO AND FROM EVERY COUNTRY IN THE WORLD INCLUDING CALLS TO SPACE STATIONS AND THE MOON SHOULD NOT COST THAT MUCH, AND YOU WANT TO CHARGE ME THAT FOR TEXT MESSAGES!?!?!?!
So that just further seals the deal – everybody should switch to Google Voice. Check it out:
Go to www.google.com/voice
Sign up for a free new phone number in your own area code
Once you have it, you can start giving it out to people as your new, lifetime phone number. (Your old phone number will still work too).
You can now use a nice web interface to control the behavior of your new phone number. It can automatically forward to your cell phone, or your office phone, or your in-laws' phone while you are visiting them in another country. Or a voice-over-internet phone number like the SkypeIn service, Vonage, or anything else. And it can do this forwarding based on the time of day, or date, or whatever. Nobody has to know any of your other phone numbers any more – just your one new number.
Google Voice can also take over your voicemail for you. You can still get messages just as before, but they also show up as emails in your inbox, complete with a clickable audio version of the message and an amusing computer-made transcription of approximately what the person said. Now you can have a lifelong searchable archive of all your voicemails if you like.
Google Voice can ALSO let you make and receive traditional phone calls from your PC – for free, unlimited minutes, to and from the US and Canada, and for a few cents per minute to most other countries (cheaper than Skypeout rates). You can also send and receive free SMS (Text) messages from the computer. These also show up in email if you like.
And most significantly, you can then grab the free Google Voice app for your smartphone, so you can send and receive an unlimited number of text messages for free – just as it should be.
Making this switch has already saved me about half of the price of the iPhone itself, and more importantly, kept the money out of the hands of whoever the pinstriped business-buzzword-flinging Pointyhairs were at AT&T who decided it was a good idea to charge ridiculous fees for Text Messaging.
Justice is Served!