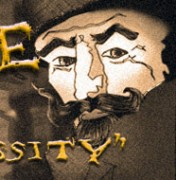 Wow, it's Monday morning again. I can feel it already, the inevitable summer slowdown of blog writing. Mr. Money Mustache no longer has weekdays free (Kindergarten is out) and the weather is great. I'm about 70% done building my new fence, and I've been helping my boy practice his newly-acquired skill of bike riding – he's almost there!
Since there's no real article today, I thought I'd use this quiet time to thank the artistic MMM Reader known as Chris Mougey for the new banner/logo you might have noticed at the top of this web page.
Many months ago, he sent me a sketch he had made of a Wise Mustachioed Dude after reading "Why are you called Mr. Money Mustache, anyway?"
I was intrigued, so together we exchanged ideas, and put him in front of an old Wall-Street-style city scene (originally derived from portions of a Google Earth street scene)  just as described in the old article. Then Chris even rescued my scribbly hand-drawn lettering from the previous logo with the turntables, turned it into Solid Gold, and superimposed it atop the new drawing. Then I moved the letters a bit, and left them in their current slightly-crooked alignment due lack of photoshop skill, which I may or may not fix.
But anyway, I still think it looks cool.. so thanks very much Chris!
Working with people from the Mustache community on creative endeavors is pretty fun. That's why I've been so happy to share the recent group of really well-written guest posts on the weekends, and the retirement calculator spreadsheet series before that.
There's more creating to be done. Friends (and wife) around here have been really egging me on to start making some videos for this site. They could be instructional ones on do-it-yourself topics, or silly ones where antimustachian people around town are politely harassed, or even music videos. There could also be reader submissions on similar themes.
The only problem is I have never cut real videos before. It's easy to do at a basic level (with programs like iMovie on the Mac or Adobe Premier Elements on the PC), but it takes some skill to make things that aren't overly painful to watch.
So this is a Call To Action. Filmmakers wanted. If YOU happen to enjoy producing videos, and want to help teach me how to do it, or if you want to take some raw footage and chop it together into something neat, get in touch with me through the contact button or the comments below.  I could even just work through a tutorial series to learn what I need – any recommendations?
Or, if you just want to share videos you made yourself, the call is the same. There is a long-dormant YouTube channel for Mr. Money Mustache where I would eventually post everything, so if we start getting videos, that's where they will go.
Thanks for reading and have a great Monday!