Guest Post: Breaking Free From the Corporate Grind Just Got Easier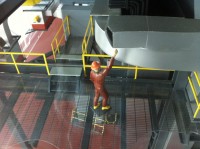 This weekend, I'm happy to share a guest post from a fellow blogger named the Financial Samurai. Although I have previously documented that Sam is actually my Frugality Arch-Rival, he has recently taken the MMM-approved step of quitting his overpaid-and-overworked job in the financial sector, and these days he's writing about how great it feels to be free from the grind. He's also promoting an ebook on how he managed to get paid to do it. I find the story quite informative, just because it is so different from my own (I quit my own final job in 2005 with no expectation of severance or unemployment pay). Regardless of your perspective on the matter, knowledge is power!
Update: As you'll see in the comments below, this article took more flack than any other guest posting in MMM history. So just to be clear, I am NOT endorsing the method or the e-book by publishing this guest post. Just having a little fun with you. Read with a light heart, please!
—
Breaking Free From The Corporate Grind Just Got Easier
How much do you really need to be happy? When I was an exchange student in Beijing, all I had was about $200 dollars a month to spend and I was ecstatic! I slept on a wooden plank for a bed in a dorm room shared with another fella with no AC. Even at night, the temperature sweltered to over 88 degrees and all we had was a rotating fan to provide us relief. We'd cook our own food in the hallways and eat at the street stalls when we felt like splurging. The worst were the squat toilets, but over time, we got used to it. I was pretty much broke as a college student, but I was happy.
When I got my first job in 1999, I was working 14 hour days in New York City at a large firm. Getting in at 5:30am was brutal, but if I could stay until 7:30pm, I'd get a free meal, so that's what I did most of the time. I finally had enough money to go on a decent vacation and buy a car, but I felt poor because I didn't have the time to do so! I gained about 20 pounds and dreaded going to work some days. I knew I wouldn't be able to last in the cut-throat world of finance.
Thankfully, I moved to San Francisco in 2001 where the lifestyle is much more balanced. Most of the people I know who work in finance, consulting, venture capital, and start-ups are here because of the community and the better lifestyle. It's life first, job second vs. job first and job second in New York City! I was still working hard, but my happiness skyrocketed. I was so relieved to be out West that it took another 11 years before I finally decided to retire on my own terms in 2012!
HERE'S HOW IT WENT DOWN
Some of you might think the shekels I earned online since 2009 was enough to allow me to retire. The fact of the matter is I earned hardly anything in 2009, and only until 2011 did I earn about 30% of my day job income. The reason why I was able to retire by 35 was because I spent 13 years building multiple income streams after saving 50-70% of my after tax income each year.
Every dollar I saved was split relatively evenly between CDs, stocks, and real estate. With an average compounded return of somewhere between 10-15%, by the time I retired, my three main passive income streams were generating roughly $7,000 a month in gross income. Please read, "Achieving Financial Freedom One Income Slice At A Time" if you're interested in seeing how the income is broken down and the other active income streams.
My original goal was to work another 5 years until age 40 so that I could keep on saving aggressively and allow my passive income to grow to $10,000 a month gross. However, I didn't anticipate I'd be able to turn a hobby of writing about personal finance into another viable income stream! Perhaps working in finance and getting an MBA were my hints that running a personal finance blog might be a fun and congruent thing to do long-term. At the time, I had no idea!
FEAR AND UNCERTAINTY
It took me two years to figure out how to engineer my layoff because I was afraid of doing the wrong thing. What if I ran out of money? What if my friends laughed at me for taking a risk at starting my own business? What if I had a change of heart six months later and wanted to go back, but couldn't?
I also didn't know how to engineer my own layoff in order to get a nice severance package back in 2010. Do I say, "Yo boss, give me a hundred grand and I'll be outta your hair!"? After building up my various income streams, I needed some sort of kick in the pants to make sure leaving my corporate job was the absolute right thing to do. That's when I started doing a ton of research on employee rights, understanding the key players in the layoff process, and helping my friends who wanted to quit anyway, consult them on their separation packages.
It is amazing what employees DO NOT know about their rights. I have friends who quit their jobs who still think they are guaranteed to get unemployment benefits afterward. If you quit your job, the state makes the assumption you do not need money, and therefore they will not pay you unemployment benefits! The employment agency must corroborate with your employer what happened, because it is your employer who pays for unemployment insurance!
One friend quit his job a week before his entire department got let go with two weeks per year of service as severance. Not only that, each employee who got let go received a full year of health care benefits and two months of mandatory base pay as mandated by the WARN act of California. Can you imagine being at your firm for 10 years and missing out on over $60,000 in severance? I bit my lip and bought him lots of beers to…. celebrate!
After a couple years of research and engineering my own layoff, I decided to write a book to help others as well and level the playing field. I've interviewed numerous people who have quit, and each told me they were too afraid to bring up the topic to their bosses, or didn't know how. I was afraid too because corporations have HR personnel and lawyers to protect their interests. But what about the people's interests? We have more rights as employees that we know!
DON'T BE AFRAID TO BREAK FREE FROM THE CORPORATE GRIND
After 13 years of doing the same thing, my interests started to fade. I knew that I could no longer give 100% to my employer if I continued for much longer. It wasn't fair to them, to hungrier candidates, and ultimately to myself. There is no point saving so aggressively for so long if I wasn't going to use the funds for something new. When I figured out the steps it took to engineer my layoff, I knew I just had to make a move.
Just 20 years ago, it would be impossible to make a living online because the internet had not fully developed. Now, the internet has made working in an office almost obsolete for many industries. Many of my friends at Google, Facebook, and Yahoo work from home two days a week no problem. Furthermore, long gone are the days where corporations take care of their loyal soldiers for life. It's a slash and burn economy and you have to take matters into your own hands!
I encourage people never to quit or get fired from their jobs. If you quit or get fired, you are ineligible for unemployment benefits which run $1,800 a month / $21,600 a year maximum for those looking for new in California. You aren't eligible for employer paid health care as part of a separation package. And you certainly are not eligible for thousands, if not tens of thousands of dollars in severance! If you plan your exit wisely, there is a great chance you can walk away with a small fortune.
Readers, have you ever engineered your layoff? What is keeping you from breaking free of the corporate grind? Do you have a target age or a target number to reach before early retirement?
---
Article: How To Start a Blog
Welcome New Readers!
Take a look around. Feeling Hardcore?
Start at the first article
and read your way through using the links at the bottom of each article. Casual Sampler? Browse the
complete list of all posts
since the beginning of time. Hope to see you around here more often.
~ Love, Mr. Money Mustache
Where to next? Check out a Random Article