One of the most popular articles on this blog these days* is the one called "Our new $10.00 per month iPhone Plans". In that classic, Mrs. MM and I took the advice of some of the clever readers in this blog's Forum and switched our phones from AT&T to an airtime-reseller competitor called AirVoice Wireless.
It was definitely an experimental move, since we dumped a service that we had been using for ten years or so, and switched to something completely untested. That seemed perfect to me, since a key part of my job as Mr. Money Mustache is subjecting myself to as many wacky frugality experiments as possible. Only through this dedication to adventure and pain can I truly learn what works, and report back to you, allowing you to harvest the gains from the research.
Five months have passed since we made the switch, and I am happy to report that the phone service is still working perfectly. Not only have we racked up $450 in savings so far without losing reliability or reception, but these $10.00 plans even have a crude form of rollover credit. Every month, I tend to use up less than the $10.00 balance (hey, what can I say – I'm a stay-at-home Dad and there is free Wifi all over my town). But the minimum monthly plan at AirVoice is of course $10 per month, which adds a $10 credit to your account. The result? The balance keeps building up and I currently have $17.57 on the tab even after spending 2 cents to send myself a text to make the information box on the left pop up for you. (Note as of April 2013: when I first wrote this article, AirVoice required manual monthly renewal, but this has since been fixed).
But for all its benefits, this $10.00 phone plan does have a drawback: overpriced data. At $0.33 per megabyte, you'll generally leave the "Cellular data" setting of your phone set to "off" to avoid having your background apps running off onto the Internet and eating data behind your back . It is great to have data access there when you need it, but you need to use it sparingly. I did a couple of quick measurements to put this into perspective:
Sending and receiving emails is no problem – On a recent trip, I turned on data access after landing in Seattle. It took only 19 cents of data to send 2 queued emails and receive 20.
But during a session of scrolling around on a city map in Google Maps to try to find bus routes in Denver, I burned up $1.97 in just a few minutes.
So now we've laid out the problem. But meanwhile, I have been conducting yet another experiment in the background which has yielded a potential solution. It is a little black gadget about the size of a package of gum, called the FreedomPop. It looks like this: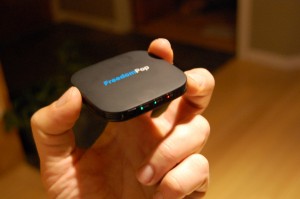 From a technical perspective, what this thing does is tune into Clearwire's network of WiMax data towers to get Internet access, and translate that out through a second antenna to produce a little Wi-Fi hotspot that your phone, your laptop, and even your nearby friends with their own wi-fi devices can share.
The device costs $90 to buy, but then you get 500 megabytes per month of data transfer, FREE, indefinitely. (Their business model is to try to sell you additional reasonably-priced data if you exceed the free quota each month). Battery life is 6 hours, and you can charge it from any USB port.
I learned about this little technical miracle during my recent Hawaiian vacation. Host Johnny Aloha had one of these things, which he had in turn learned about by reading, you guessed it, the ever-useful Money Mustache Forum.  He lent it to me for my own travels around Oahu, and I was impressed with the results. I could just throw it into my backpack or pocket before heading out, and suddenly my phone behaved as if I had the expensive data plan instead of the $10.00 barebones one.
So upon returning from Hawaii, I drew from the generous "science experiments" budget of this blog to purchase one of the things myself. Checking the Coverage Map, I knew that it wouldn't work here in Longmont, but there is 4G in Boulder and Denver, and many other metro areas to which I travel. Much of the country is not yet covered until a rumored deal with Sprint is completed, but it you are lucky enough to be covered right now, it is a neat option. Note that this is a relatively new invention – the service launched in beta only in October 2012.
I had a chance to really put the FreedomPop through its paces on a recent snowboarding trip to the Pacific Northwest**. Hanging out at the Seattle airport baggage carousel, I powered on the device and immediately had internet access on my phone. I was able to surf and answer emails during the 40-minute light rail trip through the city, and left it running after arriving at a pub where I met with a group of Mustachians and other friends, who were able to connect for free Internet access as well (I have mine password-protected so only people with the password can join). Later on the trip, my whole group of friends was able to use the free hotspot  as we rolled to and from Bellingham in the rental car. I even connected using my laptop to make updates to the blog and answer an urgent email or two during the late night ride.
When the expensive Airport Hilton tried to charge us $9.95 per night for internet access there, I simply powered up my middle finger, which I aimed at the Hilton logo before redirecting it affectionately to the FreedomPop's power button – problem solved again. The MMM family will be passing through Las Vegas next month on a camping trip. The hotel we booked is also attempting to charge for Internet access. Looking at the coverage map, I can see that the middle finger will be applied in that situation as well. Even after all the recent action, I logged into FreedomPop's website and found I still had 237 of the 500 megabytes remaining.
So it works, it's cost-effective, and it is disrupting the old model of pay-through-the-nose data access. If there is a downside other than limited coverage, it is the somewhat pushy and automatic-opt-in nature of the company's website. They are definitely trying to get you to buy some additional data, and I'll be happy to do so once the coverage extends to my hometown. But given the attractive nature of 500 free megabytes per month, I can find no reason to complain. They also have a $10.00 per month home service which is ideal for light internet users (10 GB/month of transfer with speed capped at 1.5 Mbits/sec).
As a final note, the company offers incentives to invite your friends to join. For each person you recruit, you get an extra 50MB/month added to your quota. So hook up with your friends on Facebook or the MMM forum and you may get an even sweeter deal.
And if you're too busy and important to mess with a $10.00 phone plan and this hacker-oriented data solution, check out Republic Wireless. It's a $20/month nationwide phone service (plus you'll need to buy the fancy $269 LG Defy smartphone). And that $20/month gets you UNLIMITED talk, text, and data. Finally, the price-gouging of the big companies shall begin to crumble and fall as the US moves into a more competitive and innovative era of wireless communications.
* I find this pretty neat.. that article comes up right near the top of Google for the search term "cheapest iphone plans", which randomly brings in hundreds of potential new Mustachians per day.
** At this point in the story, some of the less gadget-prone readers (like Jim Collins) are probably saying, "Do you REALLY need data access and a smartphone even when you go on vacation!?". The answer is "Get over it.. even retired software engineers must maintain lifetime mastery over the world's gadgetry.. that's just the way it is  :-)"