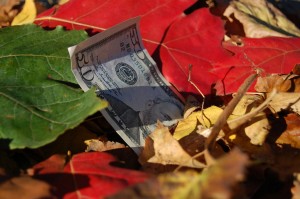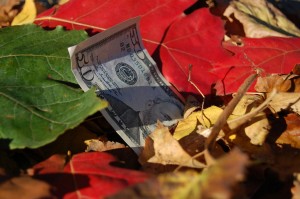 It's a beautiful October morning, and you are taking a stroll along the sidewalk in your neighborhood. Mixed in with the red and orange autumn leaves at your feet, you notice a hundred dollar bill. Do you stop to pick it up?
Most of us would say "Yeah!", and that makes sense. Autumn mornings are fun and pleasant,  as are the factors of bending down, colorful leaves, and the rewarding feeling of increasing your wealth by a hundred dollars. Then you get the reward of telling the story to others, and maybe even a second reward of doing something unusually generous with the found money.
But what if the bill was buried in some mud with just a corner poking out? What if you had to climb a tree to get it? How much would you reduce your effort if it were only a $50, $20, or $1.00 bill? How would all these factors change if you were desperate for money, or financially independent with more money than you could possibly spend?
These are the silly questions I spring upon myself when making decisions about money these days, and they come up in the context of credit card hacking (also known as travel hacking or credit card churning) as well.
What do Credit Cards have to do with Hundred Dollar Bills in Autumn Leaves?
Until a few years ago, I thought credit cards were just a slightly irrational but necessary byproduct of our modern financial system. Retailers accept them universally without extra charge. Online shopping is safe and convenient. We all get nicely summarized tracking of our spending and a small percentage of cash back each month. In exchange, we all pay about 3% more for everything, and those foolish enough to leave their monthly bills unpaid lose a much larger amount to high interest rates and other charges.
But then an arms race developed, and certain credit cards started offering incentives of  $500 or more just for signing up. I diligently tried one of them out and found it worked just as advertised, and since then I have repeated the trick on an annual basis. But meanwhile others have gone much further, making me look quite lazy in the process. With moderate effort, some of these people collect over $10,000 in annual profits from the activity, for what seems like about a week of total work distributed throughout the year.
For those interested in going further, I figured we could meet a few of them and learn their tricks. With that knowledge in mind we can decide how many hundreds are appropriate to scoop up ourselves.
Meet the Wealthy, Frugal Woman with a Dozen Credit Cards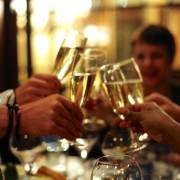 At an event called Camp Mustache, MMM readers and other friends gathered for a weekend to share knowledge on topics of interest to our type of people: Real estate investing, home brewing, advanced bike maintenance, and travel hacking with credit cards were just some of them.
I stopped in on the hacking one and overheard the phrase, "So when I'm setting things up for my next round of card applications", and I knew I had to sit down and listen in.
The speaker was Marla, a woman who I knew to be financially independent and retired in her 40s, creative, entrepreneurial, and a hell of a lot of fun to hang out with. But she also enjoyed pulling the various levers of the credit card system to extract well over $10,000 per year of cash and mostly-free travel. From her I learned the key to making it fun is to make it efficient:
Set aside one morning per quarter  to apply to 4-8 strategic cards
Keep track of everything in a spreadsheet to ensure that all necessary hoops are jumped through to collect each reward.
The net pay rate for the simple bookkeeping involved is about $250 per hour.
The Young Entrepreneur Who Deals a Mean Deck of Rewards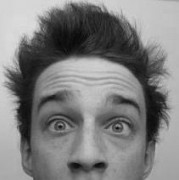 Earlier this year I met Greg, a 24-year-old who runs his own successful Silicon Valley technology camp for kids, teaches snowboarding in Colorado in the winters, and will quite enthusiastically sleep in the back of his 2007 Honda Fit at temperatures far, far below freezing in a high mountain valley if it gives him more convenient access to the slopes. He whipped out a well-organized flipbook of glistening rewards cards.
"Is it really worth your time to keep track of so many credit cards? Isn't that like a binder full of ticking time bombs?", I asked.
"Not really", he said, and he wrote a whole article for me on the subject. I have summarized it in the box below:
"Last November, I flew from Rome, Italy to Jakarta, Indonesia for $66.70. My friends and family were shocked at how little I spent, and were even more shocked to find out that my flight from Jakarta to San Francisco was only $42.50, and my night in an executive suite at the 5-star Marriott Grand Flora Hotel in Rome was only $8. But how else was a Mustachian to travel? Certainly NOT by spending thousands of dollars to fly through the air in an aluminum tube towards a landing strip in the shape of Mr. Money Mustache's fist."
Here are some examples of how far you can go with just a couple of churns:
Chase Sapphire Preferred – 40,000 bonus points after $3,000 spending in 3 months
Option 1: A one-way flight to Amsterdam on United (30,000 points), plus $100 cash (10,000 points)
Option 2: A round-trip flight to Mexico on United (35,000 points), plus $50 cash (5,000 points)
Option 3: $400 cash (40,000 points)
American Express Business Gold – 50,000 bonus points after $5,000 spending in 3 months
Option 1: A round-trip flight to Trinidad and Tobago on Delta (35,000 points), plus a night at Hyatt Regency Trinidad (15,000 points)
Option 2: A 3-day lift ticket at Breckenridge (27,000 points), plus 3 days of snowboard rental (15,000 points), plus $48 in statement credits (7968 points)
Option 3: $301 in statement credits (49,966 points)
Churning exists because credit card companies make more money off of non-Mustachians racking up huge bills than they lose from more financially savvy folk who simply move their normal spending to a new, high-bonus credit card every so often.
The Process:
Be sure to keep track of your spending and accounts using an online tool like

mint.com

or

Personal Capital

.
Don't even get mixed up in advanced use of credit cards if you still have a credit card

Debt Emergency

to clear up.
Monitor your credit score quarterly with a free service like Credit Karma or Credit Sesame .
It's best to wait 3 months or more between card application rounds to lower the impact of the hard credit inquiries on your score.
Before even activating a card, I call customer service to verify the bonus and the annual fee, since it's very easy to apply for the right card with the wrong URL and get no bonus at all.
Hardcore churners perform "manufactured spending" to meet spending requirements of multiple cards well over their normal monthly spending (beyond the scope of this short article and not recommended by MMM, but you can look it up. It involves things like gift cards and Amazon Payments).
Keep everything in a spreadsheet including dates, actions, and requirements. Use Google Calendar to serve up reminders for yourself.
If you aren't planning on any travel, you're probably best off sticking to cards with points that can be redeemed for cash. In many cases, 10,000 points equals $100 cash
But if you are planning on travelling, your points are usually most valuable when used for international travel, where they are often worth over $200 per 10,000 points.
Don't let yourself get caught up in thinking about the number of dollars "saved" on travel.  Instead, ask a friend to give you a nice slap in the face when your eyes start glazing over, so that you can come back to reality and consider the true value and the true cost of your rewards travel, rather than what's marketed to you. Think about this as you're deciding how to redeem your rewards. Some airlines, like British Airways and Delta, like to tack on huge surcharges in the name of fuel and taxes. Exercise your own Mustachian Due Diligence when making your travel plans to find similar flights without the insane surcharges. If your international rewards flight costs more than $200, you're doing it wrong.
A Cardiologist, Father … and Travel Hacker?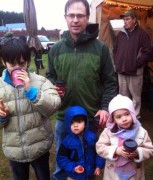 In Portland Oregon I met Alexi, a physician by day and a father of three, and free travel enthusiast when it's time for a break. He also writes a blog called "Miles Dividend, MD".
Alexi became a card hacker by necessity, since he married a woman with roots in Japan and they wanted to keep their kids connected with the rich heritage of her family who still lives there. Although I find it hard to imagine free time being a part of such a life, Mr. Dividend does it well with his analytical and efficient methods, and he had the following wisdom to offer.
Why is rewards card hacking a Mustachian pursuit?
Because travel is expensive: In my case we previously spent over $16,000 in travel a year. Now we spend less than $1000.
Because figuring out a new system is good for your mind, and it opens up more new ideas. As an example, I wrote here about a strategy to use nothing but the miles game as "springy debt" in order to replace (A.k.a. allow you to invest) your emergency fund.
The point is not that this is a wise strategy. (I don't think it is.) The point is that playing the miles game gives you skills that allow you to access capital in clever ways. Which is a very useful skill set to have when pursuing early retirement.
Other notes:
Not for Debtors: The only way the miles game is even remotely worth it is if you pay off all of your Credit card bills in full every month and never pay a dime of Credit card interest.
Good Credit Score Required: In order to score the big bonus credit cards, you generally need a score of at least 700.
Not Detrimental to your Score: Surprisingly, in the long run, using multiple cards properly can actually help your score. Despite this, you will often see a temporary 2 to 7 point drop in your credit score for each hard credit check that accompanies each card application.
Watch it if you have an upcoming big purchase If you are in the market for a home, securing a low interest rate loan should be your first priority. The miles game is simply not worth having to pay an extra point or two of interest on a 30 year home loan.
Use travel hacking as a way to spend less on travel, not a way to travel more on the cheap. Investing the difference (instead of just spending it on first class seats) can cut years or even a decade off of your journey to financial independence.
Piecing together your strategy is not unlike a giant puzzle. It is a lot of fun, and really opens up your world to new and interesting possibilities.
Simply put, the miles game is happiness inducing.
Meet Brandon Cronan, Your New MMM Card Curator
Brandon was actually the founder and instructor of the credit cards workshop at Camp 'Stash. Watching him present and share his deal finding prowess, I saw his enthusiasm spreading to the audience despite our best attempts to be appropriately scornful of the credit card industry in general.
Brandon and I have kept in touch since then, and I decided that the best way to benefit from his skill would be to share it with you. Although I can plainly see the benefits of credit card mastery, my own attempt at a credit cards page was unsatisfactory. The card companies would change their offers regularly, representatives would ask me to update my page, I would generally ignore their requests and continue building parts of my house, and they would kick me out of the program. With Brandon's help, we have re-qualified this blog to link to American Express and other top-tier cards, and he has signed up to be our in-house expert on the topic on an ongoing basis.
Bringing it back to the leafy sidewalks of my own town, I do still stop to pick up a hundred every now and then. Sometimes they are within easy reach, and sometimes they take a bit more work. But whenever there is effort, there is also the opportunity for learning, so as long as it doesn't involve compromising my own values, I'll happily continue to harvest and may see you out there.
You can keep tabs on Brandon and his strategies at the new MMM Credit Cards page. I've even enabled the comments section for that page so anyone can ask specific questions and share knowledge. He also writes occasionally at his blog called Life Reengineered.
Many thanks to the enthusiasts above for sharing their expertise on the subject, since it greatly exceeds my own, and people keep asking me about travel hacking. If you've had success in this area, please share your own best cards, tips, and experiences in the comments.