Interesting Frivolous Lawsuits against Mr. Money Mustache – Round 3!
In February 2016, I received note from Bluehost (my domain registrar) that a company had submitted a subpoena against this website.
The email included the following PDF: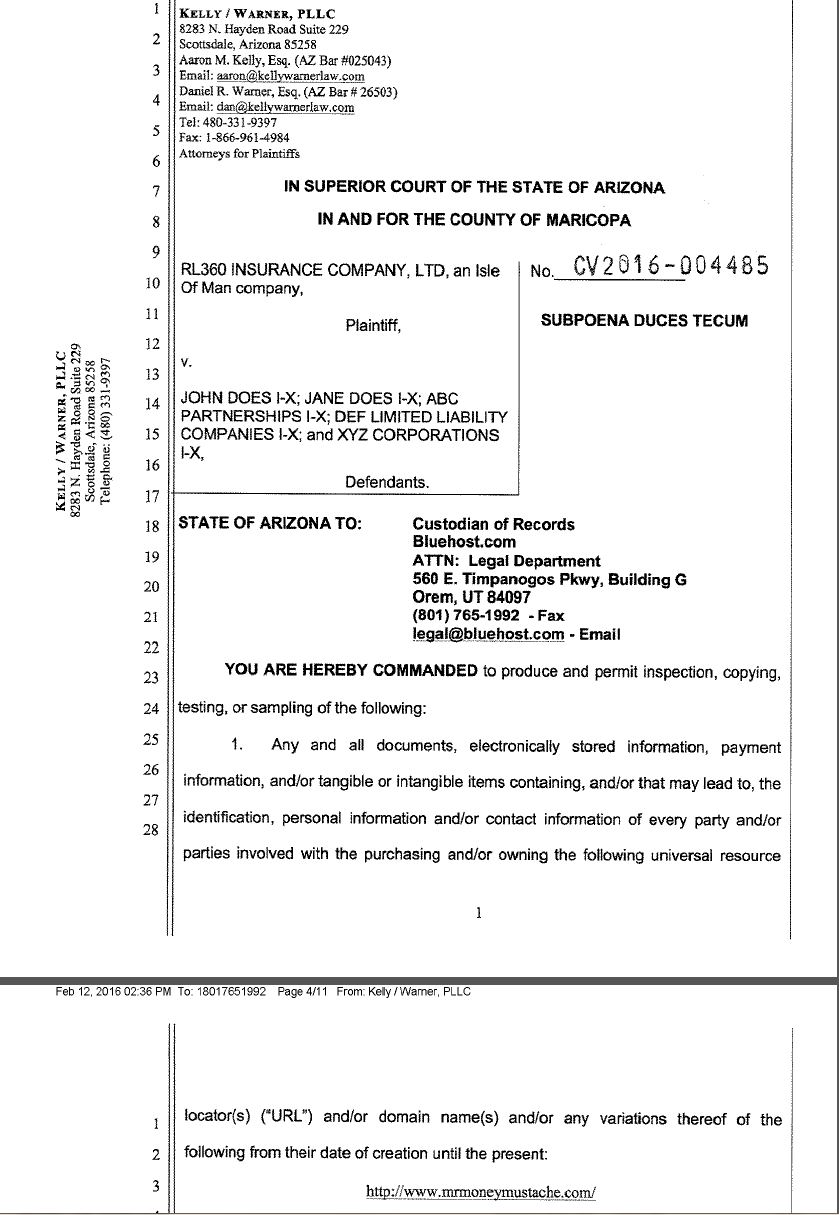 I found this pretty interesting, because while I had never heard of the company myself, a quick Google search indicated that a discussion in the Forum section of Mr. Money Mustache was right up there at #3 in the search results: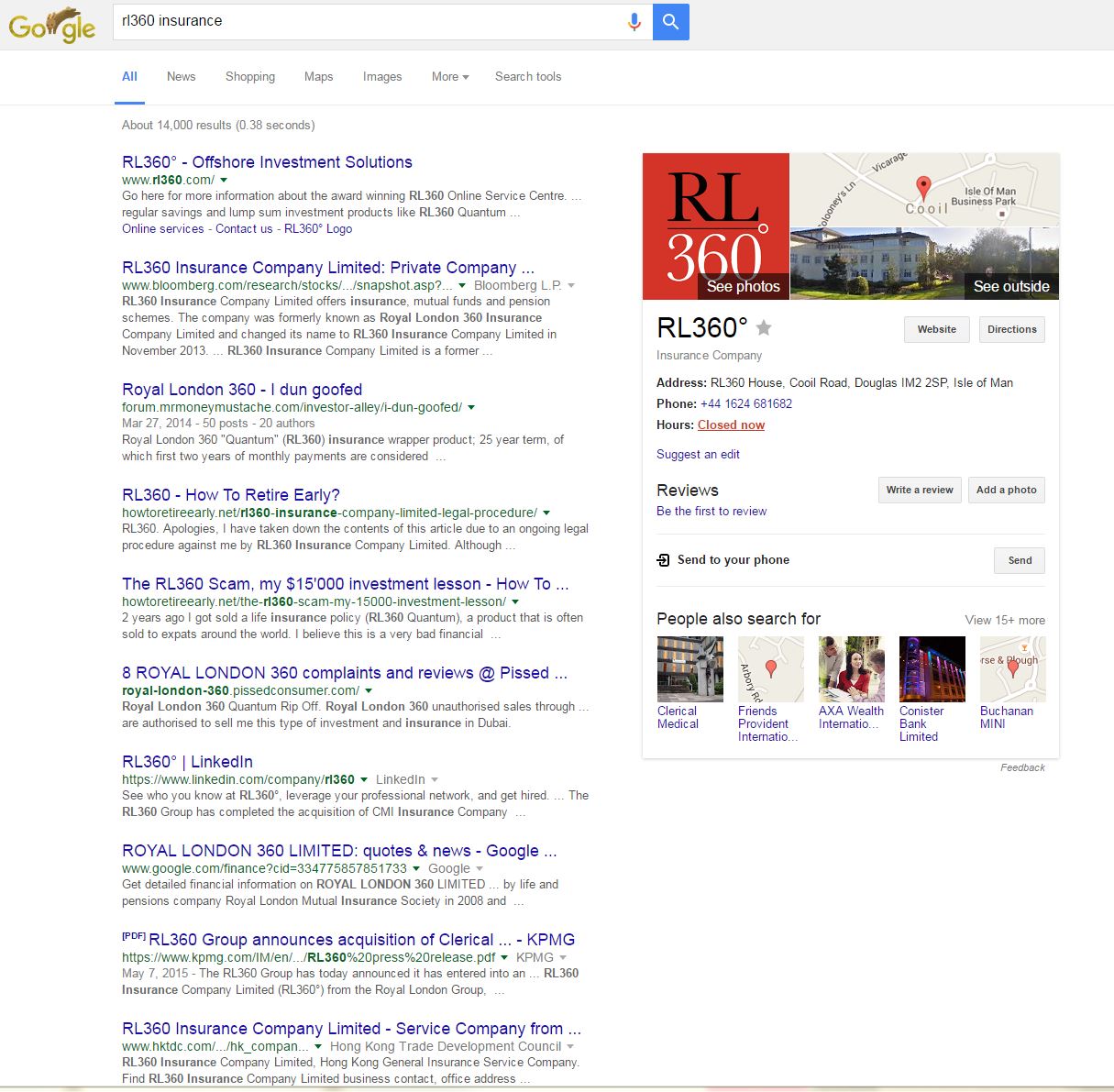 Clicking that result to visit my own forum, I saw that some MMM readers had gone through some very bad experiences with the company:
RL360 Insurance – I dun Goofed
Even more interestingly, there was another website called "How to Retire Early" in those search results that stated: "I have taken down the contents of this page due to an ongoing legal procedure against me." Update: since I wrote that, RL360's attorneys pressured him to take down even the page saying that he took the original article down! 
The original title of the article was apparently "The RL360 scam – my $15,000 Investment lesson", and an older version of the text is still available on archive.org.
I have since spoken with the owner of this website – he's a Mustachian himself and was just trying to share his experience with the company to help others avoid making the same mistake he did. He took down the stuff because he didn't feel it was smart to spend thousands of dollars on attorneys just to keep one article up on his website.
On the other hand, I will gladly spend the money to make sure this issue is not buried.
Searching the web a little bit, I see exactly this same company mentioned in the UK Telegraph:
Exposed: the rip-off investment 'advisers' who cost British expats billions
Update: My attorney has dug up the complaint behind this subpoena – sure enough it is alleging that the commenters on my forum (and on other websites) were writing "defamatory" statements. You can see the full complaint in PDF form here.
Update 2: On March 31st, justice Douglas Gerlach dismissed RL360's case because they had failed to explain if they even have any business presence in Arizona (Royal London 360 is registered as an Isle of Man, UK company). But they still have the option of amending the complaint and trying again.
Want to Take Action?

If you happen to disagree with this business practice or this use of the US legal system, you might send a letter with your own opinion to the RL360 contact page.

If you're a blogger or a journalist, mention this issue in your own writing. If you're a lawmaker or an attorney, bring the issue to your own peers. If you use Twitter or Facebook, share the story with anyone who might be interested.

I'd also encourage the attorneys who take on clients like this to be more discriminating in their choice of business in the future. It is my opinion that business works best when nothing is kept secret, whether it is bad reviews of your product, or who you choose to accept as a paying customer.

The Bullshit Field of "Reputation Management"
There is a whole category of companies that regularly review their own search engine results, and if they see something they don't like, they send lawsuits to the owners of the offending websites. The practice is so common, it's called a "Strategic Lawsuit against Public Participation" (SLAPP). The practice is illegal in many states, but not all of them yet. Federal laws are needed to prevent it on a US-wide basis.
The goal of these lawsuits is to scare the website owner into taking down the content. That won't work here at Mr. Money Mustache, because the site has enough attorney readers (and income) that it can afford to publicize and defend against any suit.
A while back a couple of other companies else tried the same thing. I wrote this article about it the first one:
MMM Receives Legal Threats  <-from a company called "Kiss Trust". Never heard from them again, perhaps because they didn't like the bad publicity.
Then a second $500,000 lawsuit showed up from an "Everest Wealth Management". That went more amicably – the CEO dropped the suit when I suggested that he just share his own perspective with forum readers instead of suppressing them. While I strongly disagree with their initial actions (the lawsuit), I think their revised method of answering questions openly is a good approach.
Later, I saw in the news that the Maryland Attorney General was seeking to shut down Everest. While there probably no connection between this event and the several thousand Mustachians who happen to be practicing attorneys in Maryland, it sure seems like a bad idea to attack a popular website in the name of "protecting your business". This is because of The Streisand Effect.
So in other words: I sure hope you're not trying to suppress the free speech of these readers, RL360.
I'm going to keep this issue documented publicly, including any actions RL360 makes against other websites.
If you run this company and have now realized that your strategy was not a good one, contact me and I'll give you a chance to publish a public apology and vow that you have given up this practice for good. Then you can allow your product to speak for itself, whether the reviews are positive or negative, just like every other honest company.
I will keep this page updated as time goes on.
News 1: A fellow Colorado site owner who runs the gun site AR-15.co has seen many similar threats decided to take up the cause, just because he finds these threats annoying as well. He posted a taunt to RL360 in his forum, to share the story with the sizeable readership of AR15 and with search engines in general.
News 2: I've hired Santon General Counsel's Kate Santon, a veteran of Dorsey & Whitney who now has her own firm, to represent my company in this case, because she has specific experience in winning anti-SLAPP (US internet freedom of speech) cases. Special thanks to free-speech activist attorney Marc Randazza for his help and advice early in this case.
News 3: Thanks to Search and Tech Guru Matt Cutts for sharing this with his 500,000 Twitter followers, and the many people who retweeted it from there.