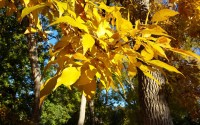 It has now been a whole year since the MMM family made the jump to a low cost / high-deductible health insurance plan, so I figured it would be useful to provide an update on how the year has gone.
The one we ended up with was called the "Saver80", a barebones but useful plan provided by Golden Rule, which is a subsidiary of the very large United Healthcare. We found it through the insurance search engine called ehealthinsurance.com, using its "sort by price" feature.
At the time of the article I received many speculation-based complaints that are now worth addressing:

Complaint: "Those Ehealthinsurance quotes are all fake window dressing – once you sign up, the real premium is much higher".
Diagnosis: Mostly False.
 In our case, the original quote was $219 per month for our 3-person family, and after "underwriting" they raised it to $237 after noting the costly birth of our son (since if we chose to have more kids, they would statistically incur higher costs). Not too bad. And after the Affordable Care Act is fully activated in January 2014, past medical history will no longer be a factor.
Complaint: "They always jack your premium way up after the first year"
Diagnosis: False. We just got the renewal notice for the plan. I was frightened to open it, expecting a doubling of premiums. And indeed it was a premium increase notice. Our costs are rising $4.24 per month, or 1.8%. One penny of this is the "standard increase" and the other $4.23 is the "age increase", as Mrs. MM and I are a year older and, sigh, closer to our eventual death. If we account for inflation at 3%, the premium has actually gone down.
Complaint: "High deductible insurance is risky – you're better off with full coverage"
Diagnosis: False in most cases. Although there is plenty of statistical variation involved, on average you win when you self-insure. For example, as usual this year I went to the doctor once for an annual checkup and it was covered by the plan under preventative maintenance. Now pushing 40, I feel better than ever, and I like to say that bikes, barbells and salads are my primary health plan. Mrs. and little MM each caught two bacterial infections over the course of the year that required antibiotics, and we had to pay for the doctor visits and prescriptions out of our own pockets. This raised family health care costs for the year to about $600 (plus the $2844 in insurance premiums, of course). The high-deductible plan was still the clear winner even in this unusually bad year.
Complaint: "Your plan will not be available after the Affordable Care Act comes in"
Diagnosis: True and False. Existing plans purchased in 2013 or earlier will often be allowed to remain in effect until at least the end of 2014, and checking ehealthinsurance, I can see my plan is still available today, for the same price. It will probably disappear at the end of the year.
According to my correspondent Xiao Sun who is part of a small business insurance firm called simplyinsured.com, high deductible plans are not going away, just being thinned out due to stricter rules. Xiao's summary:

Some older plans are grandfathered in, so they don't have to change. The main rule that high deductible plans have trouble with is the 80/20 rule, which requires at least 80% of premiums to be spend on medical expenses rather than SG&A and marketing. Plans that don't spend 80% of premiums on medical expenses are supposed to provide rebates back, though many insurers are responding by not offering the high deductible plans anymore. More on that situation on this
Kaiser Health News
article.
OK, What about the Affordable Care Act (aka Obamacare)?
Although some misguided souls continually spread fear and doubt over it, this new law actually has some great potential. Remember, we're starting from one of the worst healthcare cost situations in the rich world (Canadians pay about half of what we spend per capita for full universal coverage for life – including vision). So by moving the US closer to these more successful systems, we all have a good chance at saving money over time.
For an early retiree like myself, the option for a $10,000 deductible fades away after 2014. The new limit seems to be $5,000, which seems silly to a Mustachian (after all, who couldn't rustle up $10k in a rare medical emergency!?), but necessary in a country where most people don't even have a grand. Running through ehealthinsurance.com again for a 2014-compliant plan, I see this as my best option:
$460 per month
, with a $5000 individual deductible, $10,000 family, and $12,700 annual out-of-pocket maximum.
This is for the "Kaiser Permanente Colorado Bronze" plan. Colorado residents can also do the same search on the state-run
connectforhealthco.com
 (where the same plan is listed) and any US resident can search on
healthcare.gov*
(which just lead me back to the Colorado exchange).
Update: As of January 2015, more competitive providers have entered the Colorado market and I can now get a better-looking plan from Colorado HealthOP which includes children's dental coverage for $408/month.
So we would be increasing our premiums, but cutting the deductible in half, as well as gaining prescription drug coverage (a $20 copay after deductible) and some other goodies. And the new plan is HSA-eligible, which means all costs will be covered with pre-tax money. More insurance for more money – not my favorite bet to make, but also not completely devoid of value.
But now that I've got you braced for a costly-yet-manageable worst case scenario, I can reveal the good news: Most Mustachian-level early retirees will get virtually free health insurance under the new law.
When you select a 2014 plan, a little box pops up: "check if you are eligible for a subsidy on this plan". Working through the options, here is what I see for my own family: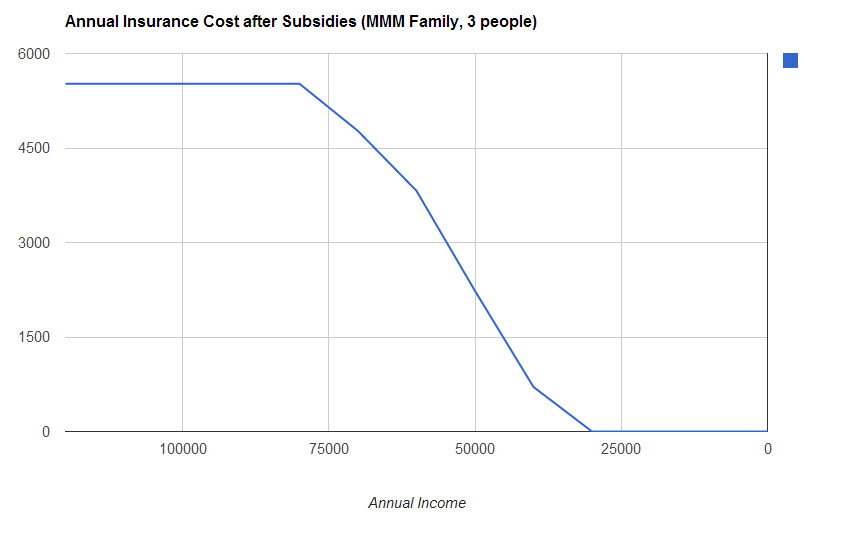 Whoa. So although I could pay a maximum of $5520 per year for this new and improved coverage, in reality I will only pay this much in years where my annual income is over $80,000. For incomes below that generous level, the federal subsidy kicks in and my net cost drops, until I get to the point of free health insurance somewhere around $26,000. With annual living expenses of about $25,000, we could in theory live this current lavish lifestyle and get fully subsidized health insurance simultaneously, if our ability to earn money somehow dried up someday**.
So far I've covered these changes from my own narrow perspective: a young high-income family with considerable savings and no health issues. But the Affordable Care Act is really designed to help people less fortunate than us – students and seniors, people with existing conditions, the unemployed and quite notably self-employed entrepreneurs. With this new law, you can now drop the decades-old tradition of great fear and dependence on your employer for health coverage. You can quit your job, switch to another one, or create your own, with no more worry about who will cover you, because cost is affordable and minimal at lower incomes.
This is big. If you've read this blog for long, you know how excited I get about small business, self-employment, and the General Starting of Some of your Own Good Shit. It provides variety, challenge, and an early escape from The Man. And if you could see my email inbox, you would see just how many creative people are afraid to go out and do exactly that – over the mundane issue of health insurance fear. So I am going to place my bet that the Affordable Care Act will be VERY good for entrepreneurship in the years to come.
And just to maintain this country's libertarian principles, you still retain the choice of opting out of the whole program. The penalty for failing to sign up is fairly painless – $95 for lower-income single people and rising to about $900 for a family of three making $100,000. So despite all the talk of lost liberties, your range of choices with the new health insurance law are better than ever.
Further Reading: Ezra Klein is a rather brilliant Washington Post columnist who has been digging into this and other neat policy issues for years in a column called Wonkblog. Here's a link to everything his team has recently written on healthcare.
*Wow, I notice that the healthcare.gov site is snappy and fast now. Despite widespread controversy in the news about the supposedly catastrophic launch of this new website. Again the Low Information Diet prevails: stay calm, tune out of 24-hour-news cycle talking heads controversy, check site again a few weeks after launch, get health insurance quotes quickly.
** Unfortunately, I have to admit that this year we will have a household income above $80,000 and thus would not be eligible for a subsidy. Higher-than-forecast investment and Lending Club returns, rental house, carpentry, and real estate income plus this blog have all contributed to this.  Please don't tell the Early Retirement Police. If this terrible condition persists into 2015 and we are kicked into a new plan, I guess we will have to settle for a slightly lower savings rate. What an oppressive country!