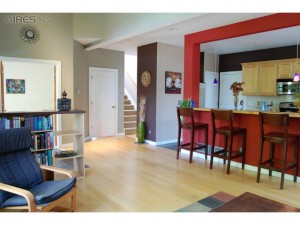 The good news is, we sold our old house shortly after moving into the new one. The bad news is that the net proceeds (just over $400,000 after all related costs) are on the way to the bank account, where they will immediately become a sea of donut-munching, water-cooler-gossiping Idle Employees doing no useful work for anyone other than the bank.
If you've been reading here for a while, you know that I view this as a bit of an emergency. Financial independence and early retirement are built on the concept that your money can work harder than you can. Money invested into productive assets begets more money, which pays for my groceries as well as rolling itself into still more productive investments. This cycle allows the MMM family to ignore money entirely and instead focus on living life how we see fit.
But money in the bank today earns under 1% interest, which means it is shrinking after accounting for inflation, and not benefiting me at all unless I want to start draining away that precious principal instead of living off of the returns. So I always try to keep all available money at work.
This brings up a big question. How do we put such a large batch of money to work in today's financial environment? Checking and savings accounts are no good. Bonds are paying very little as well. Stock Index funds like my own favorite VTSAX are at record highs, and everybody and their barber is forecasting a crash in the near future, so we have to hold out and wait for the crash before we buy, right?
The best time to invest in stocks was long ago. The second best time is today. The basic reason is that on average, the stock market always goes up, and it pays you dividends all the while.
This is the mental game that holds many of us back. But it tends to be a losing one, because it involves trying to predict the unpredictable movements of the stock market. When you wait for a crash, you are betting that you can guess when the market will drop, even though we all know that it tends to go up over time.
For an example, let's take one of my own proclamations of 'high' share prices. Way back in March 2013, I wrote a post called "How About that Stock Market!?". At the time, the S&P500 index teetered at a dizzying 1450, and we were all sure it was done rising until the next 50% haircut. The graph looked like this:
But now as I take a  peek at Google Finance, I see that same index is at 1981.60, not even counting the dividends that have been paid in the meantime. A further 37% rise in just 18 months.
In fact, when you look at a graph of any bit of exponential growth, you tend to see a mountain just at the right hand side that proves you are in an unsustainable bubble. If you don't believe me, take a look at this graph:
Here we have backed up the time machine by exactly 20 years to look at the spring of my final year of high school.  What an unsustainable stock market we thought we had those days. If only we could have invested in stocks back in 1954, instead of this ridiculous high we have here in 1993. We'd be rich.
But what if the market crashes right after I invest my life savings?
There are two ways to respond to such an event: kicking yourself because you failed to predict the timing of the crash, or patting yourself on the back because you still own a bunch of stocks and you are now collecting dividends on them, which are rolling back in to buy more of the low-priced shares.
Seriously: what do I care about the sticker price of some shares I just bought? I am investing this money for the long haul, and the shares I buy today won't be sold for 30 years or more. By that time, I'll happily place my bet that they will be worth much more. Stock market crashes mean nothing to long-term investors, other than perhaps a reminder to buy a few more shares if you have any idle money.
Investing can easily become a psychological head game. Even I feel it, with this large stock purchase looming in my immediate future. But if I would delay a lump-sum purchase in current market conditions, would I also cancel regular 401(k) contributions if I were still employed? Would I go even further and sell all my shares and wait until the market drops to reinvest? Precious metals anyone?
No, of course I wouldn't – to me, these are easy questions to answer and thus the answer to whether to make a lump-sum investment is also an easy "Yes."
Shouldn't I buy small lumps of shares over time instead via Dollar Cost Averaging?
This can be a good compromise for those still not willing to take the plunge with a single investment. As long as you realize that on average, the historical odds are that you'll do better with a lump sum purchase according to this Vanguard study*.
With all that conventional stock wisdom out of the way, I will admit that I'm not putting the whole $400k straight into VTSAX. My own investing picture includes domestic and international index funds and real estate, as well as a preference to be absolutely debt free except in a few rare exceptions. So here is where it's going:
Paying off debt: Your 'return' on this is equal to the interest rate on the loan. I happen to have a line of credit that I used to partially fund the new house we moved into (the rest was paid with cash). The credit union has been charging me 3.5% on the $160k balance, which is about $466 per month. In this case, I paid it off, which accounts for the first chunk of that $400k. The reason: I value safety and stable cashflow above higher returns, so I only used this loan as a temporary measure to bridge between the two houses.
Maxing out the Self Employed-401(k) for the year: As semi-retired/self-employed people who now find ourselves in a higher tax bracket**, Mrs. MM and I have the opportunity to contribute up to $51,000 per year(!) of pre-tax money to a separate Vanguard retirement account we created for this purpose. This is a powerful way to defer taxes, especially since we don't expect to need this surplus money before age 60. But if that expectation proves wrong, you can always withdraw from a 401k early without penalty if you're in a pinch.
Investing in Rental Properties: this is a profitable and adventurous field for many, and I have enjoyed it myself for almost 10 years (we still have one rental house left in the collection). But with this blog taking more of my time  these days, I'm getting out of this business to free up more time for other adventures. Instead, some of this dough will be allocated to  a Real Estate Investment Trust (REIT) – a passive way to accomplish the same thing.
Lending Club, Prosper and other alternative investments: These have grown into promising new asset classes that I am hoping will be around to benefit investors for decades to come. Returns of over 7% seem very easy to achieve (mine are sitting at 11.3% on a loss-adjusted basis after two years). This type of investment is essentially just a high-risk/high return junk bond. But it's fun and performance seems promising, so I do plan to put at least a chunk of the idle cash into this class, perhaps in an IRA account. (You can read more about my ongoing Lending Club Experiment here)
So the final distribution might end up something like this:
40% VTSAX (US stocks of all sizes)
40% VGTSX (An even bigger basket of International stocks)
10% REIT fund
10% Lending Club or other bonds
There's a lot more to say on the subject of investing and the stock market. In the next post, I'll share a new interactive tool developed by one of your fellow readers which allows instant visualization of historical market behavior, dividends, housing prices, and much more. But for now, I'm off to put some employees back to work.
* While I believe the Vanguard study, I'm wondering if the retirement researcher Wade Pfau has done any more advanced calculations on the matter. Given the current P/E10 ratio of the market, does it change the probability of success when comparing dollar cost averaging vs. lump sum? Maybe he'll get back to us.
** Don't tell the Internet Retirement Police about that, though.