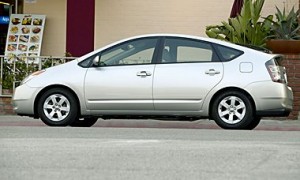 A recent comment from a valued Mr. Money Mustache reader asks something like this,
"I need a new car – we want a Honda CRV, but after looking at the used car listings, it looks like new might be a better deal, especially since it saves me from the need to put much money down".
As a first note: NOOOOOOOOOO! Don't Do It!!!!
This question is perfect, because it is exactly the same path many people go down when they end up with a new car. It's even more perfect because the CRV is the best-selling SUV in the country right now, so many people make the exact same decision.
The car industry makes it very easy and convenient to buy a new car, and by comparison it takes much more legwork to really score in the used car market. How exactly do you buy a used car, without feeling like a sucker walking onto a used car lot and having the little fast talking slickster start harassing you? What if you don't know much about used cars and how to take care of them?
Here are the steps I recommend, as a lifetime car addict who drives inexpensive cars but secretly covets every Audi and Volkswagen (and especially Tesla) that comes off the line. I love cars so much that I can identify any model currently for sale in the US (and give you all the stats on it), just by seeing a picture of one of its headlights or taillights. Even though I rarely buy them, I love shopping for cars.
Step 1 – Figure out what really is the best car for your needs
You might start with a certain model in mind (Honda CR-V in this case). Figure out what it is you like about this car. For the CR-V, you probably like the large interior space, easy loading/unloading of kids, combined with general Honda quality (it won't break, it will have good resale, it feels nice to drive). You can start by reading up on the CR-V on a website such as MSN Autos or just doing Google searches for the model.
There you will also find a list of competitors in that category. In this case, the category is "small SUV", so the competitors are stuff like Jeep Liberty, Ford Escape, Toyota Rav4. As with most Hondas, the CR-V is one of the best buys in this category.
But in South Florida, do you really travel on a lot of extremely rocky and steep mountain roads or deep snow? Or are most of the roads paved there? If so, maybe there is a way to keep the good attributes of a small SUV (interior space), while shedding some of the bad ones (high price, fuel economy rating of only 21/28MPG vs. your Civic's 32/38MPG).
This fuel difference alone will leave the average person about $8300 poorer after ten years, and that is before factoring in bigger tires, larger amounts of oil, more expensive maintenance and insurance, etc.
When it comes to interior space, three things matter most: rear seat legroom, headroom, and cargo space.
Since your other car is a Nissan Frontier pickup truck, you've already got cargo space (and traveling across wild beach areas!) covered. So you might also consider a 2009 Honda Fit, Scion xD, Nissan Versa, or Toyota Matrix. These are all tall, roomy passenger cars with awesome hatchback designs that can easily hold 5 people and stuff in the trunk. If you want even more space, you can click on a Yakima or Thule aerodynamic roof box for only the times you need it – like family camping roadtrips and such. If you commute a lot, consider a 2004-2009 Toyota Prius at 50+ MPG, which also has a surprisingly large passenger and cargo area.
Step 2 – Figure out how much your car should cost used, and how NEW a used car you need.
If you drive a ton of miles, like 12,000 or more per year, you will cover 120k miles in 10 years. That means you should get a fairly new car so you can squeeze those 120 out of it without having anything break. So buy one with less than 60k on it so far. On the other hand, I only drive 4,000 miles per year. So I only need 40,000 over the next ten years. Because of this, I recently bought an older minivan for my construction business that already had 120,000 miles on it. After 10 years, I will still be at only 160k, well within the range of a Honda. As a result, my van only cost me $4800, yet for my purposes it is just as good as a new one worth over $30k.
For our example, let's stick with the CRV. Because you deserve some luxury, let's get you one that still matches the newest generation of CR-V. This generation came out in 2007, so I go to Edmunds.com and appraise the used value of a 2007 CR-V (midlevel EX model). Looks like the private party sale value averages around $15,860 in the Ft. Lauderdale area.
Step 3: Search your local Craigslist for Cars that Match
So in this reader's case, we we look at the South Florida Craigslist for a Honda CR-V, specifying a price range of $10,000 to $16,000, and sort by price (very important, since some used car sellers have a very vivid imagination when it comes to how high a price to ask for their used cars!). You want to pick out a meticulous-sounding, wealthy person who has babied their used car and done all scheduled maintenance, yet is selling it cheap because they don't really need the money. Dealers are fine too, as long as they have been around a few years and have a clear file with the better business bureau. Your best insurance is simply to get a car with the lowest mileage on the odometer. Here's a link to a Craigslist search for your model. Looking quickly at those results, I see some of the 2005 models out there actually have really low miles, like 49k, and are only about 10 grand. That is still a beautiful Honda, and compared to buying a new one at 30 grand with finance and taxes, and including money compounding, it will save you more than $30,000 over ten years just to get this used one with 49k miles!
Keep your eye on this craigslist search for a few weeks and call/email any of the ads that sound especially fair, honest, and detailed (good pictures, etc.).
Step 4: Go out and Buy your New Baby
When you are ready to make an offer, type the exact year/mileage of the target car into the Edmunds used car appraiser again, and send the seller an honest offer explaining your reasoning. Do this before you even go to look at their car, to keep yourself in the strongest bargaining position. Then if they accept, you go thoroughly look over/drive the car and if it's as good as they say, you buy it.
Regarding "saving" a cash cushion by buying a new car – Don't Do it!!!  Any person over the age of 25 should definitely have a cash cushion large enough to live on for a few months AND buy a used car. But you don't get a cushion like this by buying a new car on credit. That is financial suicide! Instead, think ahead ten years, when you will still have the used car you buy now, AND you'll have an extra $30,000 in the bank because of not buying the new CRV on credit. AND on top of that, you'll have an extra $450,000 or more in the bank because of regularly reading the Mr. Money Mustache blog and applying more of his principles.
As a final note, since I think you want a Honda Fit or Toyota Prius and not a Honda CRV, so you can become even richer, here are two pre-set Craigslist searches for those in South Florida too!
http://miami.craigslist.org/search/cta?query=honda+fit&srchType=T&minAsk=8000&maxAsk=16000&sort=priceasc
http://miami.craigslist.org/search/cta?query=toyota+prius&srchType=T&minAsk=8000&maxAsk=16000&sort=priceasc