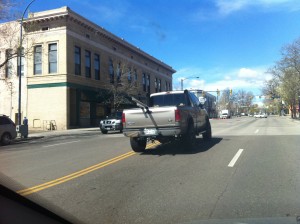 Mustache on the Move! A catchy new feature where I capture breaking frugality news in and around the Boulder/Longmont, Colorado area and report back to you. And these reports will always come with an eye-opening image from my handy telephone camera.
I love reading about gas prices, because here in the US, people get very excited about how incredibly crushing they are these days, despite being among the cheapest in the world. (the US national average gas price is about $3.79/gallon today, equivalent to about $1.00 US or $0.96 Canadian/litre for comparison). At this level, even the President talks about it regularly, hard-working families moan and groan, and people even buy, on average, slightly less gas guzzling cars.
But look at this guy driving in Longmont today. He's getting about 12 MPG driving around in the city in this Ford F-250 pickup truck.
His truck has been enhanced by poking the exhaust pipes out through the cargo bed. That way, the driver can pretend he's driving a REAL TRANSPORT TRUCK! But with no trailer. Because transport trucks are cool. I wish my bike could look like a transport truck! It also makes it LOUDER! Yeah!
Adding the mufflers to the cargo bed definitely cuts down your cargo capacity, but that's OK, because this guy is only carrying two little pieces of plastic gutter flashing in there anyway. And they are hanging out the back, because this F-250 wisely uses the "short bed" design which sacrifices cargo space for passenger space. Because a 12 MPG truck is ideal for carrying passengers around. Heck, he could even use it for commuting! But oddly enough, there was only one guy in it when I took this picture.
The final enhancement is that this Longmontian has paid to have the suspension RAISED even higher than normal and added absolutely huge tires with REALLY TALL treads on them. Shiny black wheels too. All of this increases the aerodynamic drag and rolling resistance even further than the stock design. But he won't even notice because the truck has over 300 horsepower – plenty to keep even this modified F-250 going at over 80 MPH on the Interstate! At that speed, it gets only 10 MPG. Meaning it burns 8 gallons of fuel every hour, coincidentally about the amount the Mustache family uses every month.
When I see things like this, (which I actually see pretty much every day), I believe that gasoline is still way, way, way too cheap.
But you can still save a ton of money by burning less of it yourself. I've got two more car-related posts coming up soon on exactly how to do that, so stay tuned!