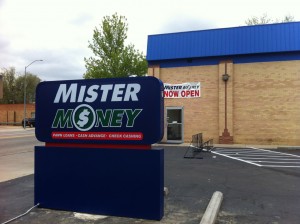 Aha! I see there is an imitator trying to cash in on Mr. Money Mustache's fame.
When biking home from the library today, I passed through the border where the nice Big Trees and Historic Buildings and Cafes part of town degrades to the regular free-for-all capitalism-and-urban-sprawl section which characterizes most of the country.
And there it was, springing up in a building that had sat abandoned for a year or two. Something called Mister Money. Or, Mister M$ney, I suppose, depending on how you are supposed to read that O.
Mister Money is yet another one of those predatory "Financial Services for Financially Self Destructive People" chains, where you go in and ask for a $100 advance on your next paycheck, and they provide it for a $15 fee. If you work it out with compounding, that's only a 3,685% annual interest rate for such a loan!
Of course, all MMM readers will be amazed at the concept of anyone with a job not even being able to make it through two weeks to their next paycheck. Because really, didn't you know how much you were earning BEFORE you went out and bought too much shit? But the concept of entire national chains of stores to service this need, dozens of these chains, each putting up dozens of locations in every crappy little town in the country. THAT is the kind of amazement that just leaves me with a blank, drooling face.
But I have more for you. Check out these choice words from their website:

"Payday loans are a quick easy way to get that emergency cash.  Americans do a pretty good job of managing their money, although most of us need occasional help for those unexpected times."
Uh-huh. They sure are "expecting" a lot of "unexpected times" with that many locations nationwide. I wonder if the writer was able to keep a straight face while typing out that little gem.
On the bright side, the commercial property adjacent to this one is still vacant. I'm thinking of opening up my first Mr. Money Mustache franchise right there, and having my sign list the same services. Except when you come in and actually ask for a loan, I PUNCH YOU IN THE FACE AND TELL YOU TO WISE THE FUCK UP AND GO SELL SOME OF YOUR SHIT INSTEAD OF BORROWING MORE MONEY!
That would take care of the educational aspect of my business. I would also do community improvement, which would consist of welding shut the doors of Mister Money, to further protect people from accidentally screwing themselves over with predatory loans.
As my business grows, I can expand into the areas of Auto Finance and Credit Cards as well. Would you come work for me?
—
Amusing Update: After I wrote this article, it was apparently translated into British and appeared on a blog called "Simple Living in Suffolk". I found out when the author linked to this article from his own! You can read the results here.