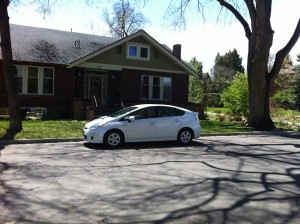 As dedicated MMM readers already know, I have fiddled around a bit with rental property ownership over the past six years. In that first article linked above, I had a somewhat neutral view on the practice, figuring it was definitely good money, but it took real work to get it.
But I've been noticing an interesting trend in recent times which is forcing me to upgrade my opinion on the value of Landlording a bit. You see, one of my local friends is a fellow creatively self-employed-businessman who has a few rental houses as well. Last year, one of his houses was in bad condition. It started out as your typical 1950s ranch house with an inconvenient chopped-up-into-small pieces floorplan and pretty modest interior finishes. Then it endured several years of rental from a very, ahem, creative large family who added plenty of additional wear-and-tear. By the end of all this, it was getting into "dump" territory, complete with weeds'n'dirt lawn and several large truckloads of leftover junk belongings.
Since it was in a nice neighborhood, he decided that instead of just doing a major cleanup, he wanted to give it a Total Mustachian Makeover. I got to be the main carpenter, keeping my own construction career as busy as I could handle. We brought in some helpers and a dumpster, and ripped out  all the unnecessary walls, as well as the junky bathrooms and much of the barely functional plumbing. Everything was nicely rebuilt, with new luxury baths, a great functional kitchen overlooking the newly opened large living room and dining area, almost-new used appliances from Craigslist, and a full landscaping and interior/exterior paint job. Even the basement was finished and painted to add to the useful space.
We did all of this on a shoestring budget, reusing and refinishing materials whenever possible (such as the original 1950s-classic natural wood kitchen cabinets), getting some from a recycled building materials facility called ReSource, and buying the rest from the usual local stores as cost-effectively as possible.
The result was quite a hit, and as soon as we finished the renovations, he was able to re-rent the house at a much higher rate, to a more qualified set of tenants. With the higher rental rate, the cost of the renovations actually will deliver a 10% annual return for as long as the house is rented, then return more than the original capital amount in the form of a higher sale price when the property is eventually sold. Since he rolled the cost of the upgrades back onto the mortgage with a rate far below 10%, the renovations were actually a no-cost way to increase the value and the cashflow of the property – a neat trick indeed. I would recommend this trick to you too, if you ever buy a distressed property to rent out, as long as the numbers work out properly. I can help you with this analysis if you like.
This summer, it was time for my friend to re-rent the upgraded house a second time. He put up the usual Craigslist ad, and was immediately flooded with many responses from eager tenants. He very quickly found a new tenant, and the house is again producing great income.
Then it was my turn for a positive surprise. My own rental house has had a wonderful 2010-2011 season. Fantastic, reliable tenants with no funny business whatsoever, and the house looks better than when they moved in. I was scheduled to re-rent it in August, but last month I got a call from another highly qualified resident of the same neighborhood asking if he could rent it from me as soon as the current lease was up, since there is now a shortage of available homes to rent in the area. The rental rate has been raised to keep up with inflation, a new lease has been signed, and the MMM family's grocery money is locked in until at least August 2012. Yeehaw!
 And now we're getting back to the original point of this article. Every anecdotal story I've heard has pointed towards an unusually strong rental market. So I did some further research on the matter, and found further confirmations on this on the Denver-wide level and even the US National level.
According to those articles, the combination of foreclosures and employment growth has brought lots of new renters to the market, presumably even greater than the number of people who have decided to rent out houses rather than trying to sell them as a way of waiting out the slow housing market.
For me, there are two lessons in all this:
#1 – Being a landlord is more fun than I had previously estimated
#2 – Even in weird economic times like the present, there are often little pockets of gold to dig up and enjoy if you stay optimistic and aware of your surroundings. Nobody could have predicted back in 2008 that the housing market crash would lead to Good Times for Landlords in my town, but here we are.
The key is to realize there is always opportunity to be had out there, so don't waste any of your mental energy worrying about how bad things are or which gigantic world financial catastrophe to worry about next. Instead, keep your set of useful skills and your savings growing, and your eyes open.  Happy 'Stashing!