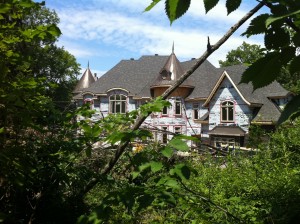 Ahh, Building Things.
It's a hobby I have talked about many times before, but a recent experience has completed the transformation of carpentry from "enjoyable pastime" all the way up to "Lifetime Religion" for me – something that deserves its own article and its own place on the bookshelf of Top Ways to Be a Happy Early Retiree. Not everyone is born with the urge to build or create physical things, but a surprising number of people do have this desire, sometimes hiding unused beneath the crispy exoskeleton of consumerism that has been burned onto most of us by the Crème Brûlée blowtorch of modern marketing.
It was about 1:00 AM sometime last week. I was alone in an under-construction cottage sitting atop a steep hill overlooking a peaceful and almost mirror-smooth lake. The full moon's reflection shimmered just slightly in the tiny surface ripples. All windows were open and the cool midnight forest air streamed into my bright work area where I was carving out the hinge recesses on some new pine doors to be installed into the bedrooms and bathroom. I had been working feverishly for about 8 hours at this point, and hours felt like seconds, and thirty-seconds of an inch felt as big as the universe, I had become so thoroughly sucked in. Great music played nonstop from my construction radio, which I keep stocked with about 300 albums worth of mp3s. The only interruptions were the occasional pauses to roll up and eat another burrito and input/output another quart of water.
At long last,  after finishing an enormous swath of flooring, cabinetry, door installation, and miscellaneous side projects, I started to get somewhat delirious and ready for some sleep so I unbuckled the toolbelt, and surveyed the day's accomplishments.
"Holy Shit", I said, "I sure do love building things."
And then I passed out on a mattress and slept for about 9 hours before beginning the cycle anew.
Some budding Carpenter Retirees among you have picked up on my love for the craft and asked me questions in private emails asking how I got into it. The question comes up often enough that I thought it would be worth sharing here.
Personally, I became hooked as a kid building my first science fair project somewhere around age eleven. It involved a wood and glass terrarium with a hinged lid which was far more fun to build than the ensuing experiment involving growing bean plants.
From there I moved on to start building various pairs of speakers in the tragically small and cramped cellar of my parents' old Victorian house. (I think this trauma is what caused my current love of big, clean, open rooms – especially basements and garage  workshops).  Later I renovated the attic of that same Victorian house to create my Teenage Bedroom, which provided years of fun. All of this early work would look flimsy and ridiculous by adult standards, but it sure did get me hooked.
Then there were the Dark Years – four years of getting a university degree, and an additional four of living in apartments and shared houses, moving frequently, and focusing mostly on being a normal office-working engineer.
But in the year 2000, I bought my first house. A comical 1978 fixer-upper complete with brown wood paneling, leaky aluminum windows and plenty of vinyl and carpet flooring throughout. Over the next five years I spent most of my free time ripping out or refinishing every single visible surface inside and out, and scrapping all of the unnecessary walls as well. I got to learn most of the construction trades by rebuilding it to meet my own fairly modernist/nature-inspired tastes.  My wife and I loved it there. There were  frequent house parties in those childless twentysomething days and it was fantastic to get to give tours of the house and all of the finished projects.
From there the hobby grew further, when in 2005 I started a small housebuilding company to build modern Earth-friendly houses in a local neighborhood called Prospect New Town, and did most of the carpentry work on the two houses built by the company. I had hired this great old carpenter to do the framing on the first project, and I worked side-by-side with him from the sill plates right up to the last pieces of fine wood trim on the interior, an experience which really gave my skills a boost.
The building company died a painful and unprofitable death in the housing crash of 2007-present,  but the desire to build lived on. Since then I have become a freelance carpenter and specialized in the field of Anything Interesting – kitchens, fancy bathrooms, full remodels, and plenty of projects on my own house and rental houses of the past and present.
Overall, this hobby has contributed somewhere between $200,000 and $400,000 to my current 'stash, between value increases on houses before selling them, higher rental income, free renovations for myself, and getting paid to build things for other people.  But far beyond money, it has provided a foundation for self-sufficiency. It is so reassuring to know that even if my house sank into the ground tomorrow morning, I could be out there by lunchtime beginning the enjoyable journey of building it back better than before. In an existing house, if I want a new window or a door somewhere,  anywhere, I can just grab the toolbox and start cutting and framing. If I need extra cash (at an hourly rate that is at least four times what I'd get for working at Home Depot), I can just do these things for other people. In any town in the country! Thank you, carpentry, I love you.
Finally, I will reveal my Ace-in-the-hole carpentry moneymaking technique to you. This is the way you can combine a whole spectrum of skills to make a six-figure income while rarely leaving your house and legally paying no income tax. Check it out:
You buy a very dated house in a great and hip neighborhood. The more expensive the 'hood relative to your Dog House, the better. You will be buying the place all the wealthy yuppies are skimming over, because they want something that is "move-in ready".
You move into the house, and start fixing it up. Use your skills, use great design principles from library books and even HGTV shows. Use Craigslist and recycled building materials shops to get the materials at a steal. You take your time and do a good job, and lead a real life on the side. After two years, you finally finish the job.
The house is now worth $230,000 more than you paid for it. You only spent $30,000 on the materials, meaning you earned $200,000 for your work. But because the US government does not charge ANY income tax on capital gains you make on a primary residence if you own it for 2 years or longer (up to a profit limit of $250k), you have just made $100 grand per year with ZERO taxes!
You can repeat this trick every two years for as long as you care to keep making money. If the cost numbers are different in your neighborhood, feel free to adjust them for your own situation, but in most prosperous cities, there is still great profit to be made from renovating your own house with your own hands in the more desirable neighborhoods. And this situation will only improve as the current foreclosure hangover inventory from banks clears out, which is artificially depressing current prices, making now a better starting time than usual to begin such a scheme.
So there you have it – the long-awaited Carpentry article. It may not be for everyone, but for some of us, it can be Everything.