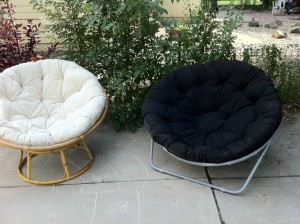 Ahh, Craigslist. We've mentioned it together many times already here on Mr. Money Mustache, but it is such a great invention, on par with the bicycle as one of the Top Two Things that will Save America From Itself, that it deserves its own love note.
Let's illustrate with a little story.
Early this afternoon, I was enjoying some manly hobby time, fiddling with tools out in the shed.  Then a piece of wood fell over and bonked me in the shin. I picked up the wood, only to snag it on a fluffy bag of insulation poking out into the room. I tried to stuff this back into place, but the shelf was already overflowing with scraps of wood and other construction materials. "God Dammit!", I said, "My shed is way too crowded!".
The root of all this evil was a pair of Papasan chairs that were also hanging out in there, taking up half of the floor space. They were surplus furniture – one from the good ol' days in my first house, circa 2000 , and another left behind a few tenant turnovers ago in the rental house. Both in good shape and fairly stylish and modern, but just with no reasonable place to fit in our current house.
In the bad old days, you'd have four choices for bulky troublemakers like these:
Leave them in your garage or basement, forever cluttering up your life and let your children sort them out in your estate sale when you die.
Plan to hold a garage/yard sale someday to sell them off.
Pay an exorbitant fee to list them in the local newspaper classified in hope of selling them.
Throw them out.
Note that options 1 through 3 usually turn out to be equivalent – you are unsuccessful in unloading the items so they stick around and burden you until your death.
But here's what I did today instead:
Heaved them onto a reasonably clean section of my driveway with some trees in the background.
Whipped out the iPhone and snapped a few pictures – an overall shot plus a few closeups, with cushions on and off.
Ran the Craigspro app on the phone to log into Boulder Craigslist, type a description, upload the photos and click "Post". (I priced the chairs at $25 each, in case you were wondering).
Received a text message on said phone approximately ten minutes later. "Your chairs still available? Can I pick them up tonight?", "Yup, here's my address, see you at 5:00!".
90 minutes later, helped the young lady who had just moved from Chicago to Boulder (a very wise move in my opinion) load them into her pickup, with a fresh fifty dollars rustling cheerfully in my pocket.
Shed cleared, 'Stash enhanced. What a fantastic invention Craigslist is. And the more popular it becomes, the more useful it becomes, since the market grows. It is the type of service I feel we need to save the world – completely non-corporate, non-greedy, and community organized. Craigslist does everything for free except for a very small subset of categories of postings (such as employment ads placed by companies in NYC).  This small stream of income is enough to pay their tiny staff and run the service around the whole world.
And what a service they are providing. Even though it is very simple, it enables countless millions of people to buy and sell products and services, free from advertising and commission fees. And most significantly to me, to get almost anything you need, used, and sell anything you don't need for a fair price as well.
The value of used goods is a funny thing. A high-quality front-loading washing machine and dryer set costs about $1200 new these days at a store. On Craigslist, you'll pay $400-$500 for a very similar set that is just a few years old. The person you bought them from lost $700 on the transaction. But if you buy carefully and keep them good shape, you can use these appliances for a few more years and re-sell them for virtually the same amount if you need to move on or upgrade. The used-to-used depreciation is even less on longer-lasting things like furniture or garden tools.
This brings up a neat possibility – not only should you use Craigslist instead of a retail store to buy every manufactured thing you need. You can also use it as a free way to "store" your unused goods. I didn't hesitate to sell my papasan chairs today, because I know if I ever need them back, I can open up Craigslist and find plenty more just like them at any point in the future.
I feel the same way about the 2001 Honda VFR800 motorcycle I "stored" on Craig's a few years ago. She was my baby when I foolishly bought her new in 2001, but I just wasn't finding many chances to ride by the year 2007, having no job to commute to and a young child to care for. I was hesitant to sell the bike, until I realized I was really just storing it and letting someone else pay for the continuing depreciation. There will always be an infinite number of motorcycles streaming by on Craigslist and if you need one, you just reach your hand into the stream and scoop one out.
Over the years, I've probably done a couple hundred thousand dollars of deals on Craigslist, including finding about fifteen sets of rental house tenants, selling a car and a motorcycle, buying a different car and a minivan, plus an untold number of furniture and tool transactions. One time I really liked a person who came and picked up some free chairs from me – we are still friends today. Another time I wanted to learn how to re-roof my own house, so I posted an ad asking for an experienced roofer to come work alongside me to teach me how to do it. I got a reply the same day and hired the guy – That roof came out great, saved me $3000 over a roofing company, and I'm still friends with that roofer as well. Later he gave me a kiddie pool for my son and helped out on several other construction jobs in my circle of friends as well as offering work to me.
So I view Craigslist not just as an Environment Saver – by preventing the unnecessary manufacturing of a bunch of new stuff – but also a Community Machine – connecting millions of people to do real activities together, as opposed to the soul sucking model of big corporations stamping out stores across the world, staffing them with minimum wage workers, connecting them to a stream of wasteful products flowing straight from China, and having us all drive into the big boxes every day to bring home SUV-loads of it which will soon end up buried in a landfill.
But even I am just a casual Craiglist user compared to some. You can also use it to find a job, a lover, or even to make money as a reseller. Some people with an eye for value and a mouse finger built for speed search each day, finding undervalued or free items, scooping them up, and then re-selling them at higher prices on Craigslist or ebay. Arbiters in the world of used goods.
But since it's not retail, there is actually some skill involved in being a truly successful Craigslist participant. You will do much better if you do your buying with real manners and your selling with real marketing. For this reason, we will conclude the article with
Mr. Money Mustache's Guide to Great Craigslist Success
Selling:
Always take the time to properly stage and photograph whatever you're selling. Clean it up, put it in front of a nice background, position the camera in a useful and dramatic way, and make sure the damned flash is off. Take ten photos, and post the best four (or whatever the maximum allowed is) on your Craig's posting.
For rental houses, link to an external website with at least 20 pro-quality photos, every room from every angle at a minimum. This technique alone lets me charge at least 10% more for my rentals than similar-quality homes with crappy Craigslist ads!
Use loads of descriptive text, including full specifications, measurements, emotional descriptions of the benefits of owning this item, and include the price it cost new, to illustrate how cheap your asking price is by comparison.
Have a catchy headline that includes the brand name and something like "high-quality", "Fancy", or "luxurious" in it. Silly old advertising words still work well, since they have a nice vintage feel to them, as if being spoken by a 1950s man with styled greasy hair.
Buying:
Respond quickly, with a polite and intelligent inquiry by email. Not, "U still hav ur speakrs?",  but rather, "Hi, I saw your ad from Tuesday on Craigslist for the Polk Audio speakers – I'm right near you in Longmont, are you around this weekend for me to check them out?"
Once you have contact, make your offer in advance by email or phone, "I'd be interested in those speakers if you can let them go for $200. I understand that you might want to hold out for a better price, but email me back in the future if you decide this will work for you". Once you are at the person's house, your position is weakened since they know you drove there probably willing to pay the full price.
Overall:
Just like the real world, Craigslist is full of both wonderful and useless people, so you can hone your interpersonal skills by seeking out the former and learning not to waste time on the latter. But in general, I feel that the more of your business you can do locally on a person-to-person basis, the better off you'll be in life.
Thank you Craig Newmark!