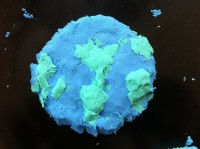 If you're like me, you currently live somewhere. But can you explain WHY exactly you live there?
For most people throughout the history of our species, the reason they live somewhere is because they were born nearby. And the reason they were born there is because their parents were born nearby.
Very rarely, a brave and enterprising person will make a Big Move to a whole new place in search of wealth or happiness. Some of your ancestors did that, forming an interesting chapter in your family history. And maybe even YOU have done that in your own lifetime, and you're currently living far from where you were born, probably because of a bold personal choice you made. Good for you!
I'm bringing up this topic because I am often amazed at the disparity in Niceness between different regions of the US (and of other countries and parts of the world in general). There are some areas which have drastically better weather, or landscape, or outdoor recreation, tax rates, job possibilities, mountains, ocean, lakes, beaches — you name it. And yet, as I study the areas with the best attributes, the cost of living in these areas is often completely uncorrelated with how nice they are.
I like to make fun of the New York/New Jersey region, because it is just amazingly expensive and crowded, and yet it is completely unremarkable compared to the rest of the United States – humid summers, rainy and cold winters, limited access to wide-open natural areas. All wrapped in a package of heavy regulations on small business owners like myself and shocking property taxes (annual tax on a house like mine would be over $10,000 there vs. $2300 that I pay now, even while the house itself would probably be a 1-bedroom shack in my under-$400,000 price range). It is true that some people make ridiculous salaries in New York City, and for those people it is logical to live there for a short time to maximize their savings. Others actually like it there, and of course many are tied by strong family bonds, which are very important. But after we rule out those groups, there are still millions of people who are just there because they are there, living a crowded and expensive life just because they haven't realized how energizing it can be to MOVE.
Meanwhile, I've seen a lot of other parts of the US on my many roadtrips over the past decade. When visiting Tucson, Arizona and Albuquerque, New Mexico, I was astounded by the gorgeous scenery, neverending clear blue skies, and the extremely low cost at which you can pick up a stylish stucco house on a palm-treed lot in nice parts of town near the university. Especially after the housing price crash we've enjoyed in recent years in this country. My own Colorado is mostly cheap and presents a nice balance of culture, recreation, and reasonable outdoorsy year-round climate.
Update: this article was first written in 2011, and the US has been on a non-stop house appreciation binge since then. So, although many cities in my country remain very affordable, other prices are pretty out of date.

But recently (2016), an MMM reader developed a global search tool to help seek out cool, inexpensive places to live around the world. It's really well done and still expanding: check him out at The Earth Awaits – https://www.theearthawaits.com/
In Las Vegas, you can get a very nice house in many parts of town for about $100 grand. A stylish condo near the strip which you can rent out to tourists for massive profits as a vacation rental, or a spacious modern house with a pool out near the foothills where you can swim and hike out of your back yard, and never see winter again. You won't care about the housing market or even the job market, because your cost of living will be so low that you may be able to retire a decade earlier than normal! The same story of palm trees and neverending warmth combined with negligible living costs now exists in Phoenix, AZ, and even the desert suburbs near the foothills just East of Los Angeles.
In the Pacific Northwest you can live affordably in the land of Beer and Beards in hip towns like Portland, Oregon or Bellingham, Washington. You can even live on a rainforesty island in the nearby San Juan Islands, and spend many of your days exploring coastlines by kayak.
In the 200-mile-stretch of beach cities around Miami, you can pick up a luxury house, or a snappy condo complex with a sweet pool and hottub, or a skyscraper overlooking the beaches and turquoise waters, for pennies on the dollar thanks to bank foreclosures, making a waterfront tropical beach compound less costly than a vinyl-clad shack in a Toronto suburb.
Ahh, Toronto, the Big City near my birthplace. It's the Canadian version of NYC. People pay fantastic amounts for modest houses that are buried in stale brown snow for several months each year, and commute 40 minutes each way through a 16-lane traffic jam to get to their jobs. Or Fort McMurray, Alberta, where people pay Toronto prices to live in a Mosquito Tundra near the arctic circle, just to plug themselves into an above-market income stream from the Saudi-Arabia-sized Oil Sands project that is in a permanent expansion there. What kind of life is this!?!?
Canada has the fantastic Oceany Cliffs of the Maritimes, where everyone is friendly, houses near the sea are nearly free, and the parties are legendary. It has the Sunny Granola/Marijuana hippy belt in Interior BC and the Okanagan valley. There's the Hong Kong Cosmopolitan buzz of Vancouver, with its non-snowy winters, or the Indie Rock/University Town/Island vibe of Victoria.
I also love Australia and New Zealand, where pleasantly different and fun-loving cultures combine with much more Ocean and noticeably cheaper Food and Beer – all in a gorgeous climate that rivals the best parts of North America.
With the increasing number of careers and entrepreneurial businesses that can be done from ANYWHERE through teleworking, and the fact that an ambitious person can carve out a job for themselves in almost any city, I think that moving is often a fantastic idea, and it is mainly fear of the unknown and fear of change that is holding people back.
When I graduated from Engineering school, I moved 300 miles away from my hometown, because that was the location of the best jobs that I knew about at the time. It was also where my wonderful sisters and my girlfriend, the future Mrs M., lived. But as my career progressed, I learned about the work opportunities South of the border. They sounded fantastic, as did the increased choice of geographic settings, versus those available in my native Ontario ("Smoggy metropolis", "Mosquito Forest", or "Mosquito Swamp"). I did the research, got the interviews, fought for the work permits, and BOOM, here I was in a fantastic new land of untold adventure.
I can't even express the joy this decision has brought to my life over the past twelve years. It's strange, because I cannot deny that regardless of where you move, you are still the same person. So some would suggest that you should be equally happy regardless of your surroundings. But it doesn't seem to work that way for me. I think that for some people, there really is A BETTER PLACE. For me, it was the presence of mostly nature and sunshine with just enough city thrown in to make life convenient, and the odd combination of culture in the Boulder, Colorado area that starts with an entrepreneurial and educated base, but throws the whole Workaholic thing out the window and seeks Quality of Life instead. Sure, we still have douchebag consumerism and the odd clueless fancypants daintily laying grocery bags into the back of an empty Cadillac Escalade. But it's drastically less than in other areas. And the much-mentioned pressure to compete based on material possessions seems to  be nonexistent in the area I live myself.
And let's not forget the economic argument to moving. For me, the irresistible combination of higher income, lower taxes, and a lower cost of living was the thing that allowed me to retire so early. If I had not moved here at age 24, I'd probably still be working an increasingly monotonous high-salary job to this very day back in Canada.  Mr. Money Mustache would not even exist yet! Early retirement is still completely feasible in any capitalist economy, of course – it's just speedier in some areas than others.
So the combination of geography, climate, culture, and economy is what makes me happy in my particular Better Place.
I do miss my family, especially when I read the emails about casual get-togethers that I missed out on because of living 1700 miles away. But we were always a far-flung family who got together only a couple times a year anyway. With the new model of making a six-week visit every summer, we get almost as much visiting time, without having to give up the benefits of the better life when not visiting.
Moving is easy when you're young, fresh out of college, and with no kids. It is mostly in the minds of those people that I am trying to plant these ideas. Considering new cities is like reviewing a broad and exciting variety of new dishes and deciding which one to eat. I highly recommend doing this type of dreaming and strategizing when you are young. My own way of browsing involves reading Best Places to Live lists, touring the country and the world in person, and virtually flying around to check out the terrain and the bike paths using Google Earth (and the house prices and 'hoods using Realtor.com).
The Ultimate Human-friendly city in my own view is one with a population between 50,000 and 200,000, in a compact and bikeable footprint, separated from neighboring cities by Actual Cows And Fields, as opposed to the fake cities that exist by the dozen on the sides of giant cities. Denver has "Lakewood, Englewood, Centennial, Aurora, Westminster" and a bunch of other silly non-cities attached to it. It should all just be called DENVER. But you have to drive for some time and pass a number of different crops and animals before you reach the distinct cities of Boulder and Longmont, for example. This distinct city status ensures that you'll have everything you need right in your own town, and yet you'll be able to hit the streets and very quickly end up in the country soaking up open vistas and black starry skies, even without resorting to car transportation. Your cell phone will have data access, FedEx will deliver your Amazon packages efficiently.. but yet you'll never find yourself paying to enter a parking garage or waiting in an endless line for a restaurant. There is space for everyone in these Person-friendly cities.
For slightly older and more settled folks like the MMM family, moving is temporarily off of the menu – we want the lad to grow up in a stable place where the faces and friends stay the same from birth until high school graduation, and even the trees and hills and seasons become familiar through the span of his childhood.
But Mr. and Mrs. Money Mustache have  already got some more Adventure Moves planned for the many decades to follow in the future. Maybe we'll move to a different college town as part of helping our son earn in-state tuition in another state. Maybe we'll try Hawaii or another tropical island. I've always had a soft spot in my heart for San Diego.. but I also am fascinated by some expatriate destinations in Mexico like Lake Chapala near Guadalajara. Or maybe Victoria, on Vancouver Island back in the homeland.
You should live in whatever place works best for you. But you should be able to prove to yourself that it really is the right place – instead of just being the place you happened to be born.