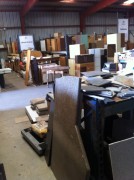 You may or may not have noticed that I've been typing articles a bit less frequently in recent weeks, and that is for good reason: I'm doing real work these days!
The foreclosure project is going extremely well so far, both when measured against the original schedule and budget, and when measured on the fun-o-meter. We've had a few interesting design inspirations that should make for a nicer interior and exterior feel than we originally anticipated, which may lead to a higher rental income than the original budget as well.
The work completed so far:
Tearing down a portion of a wall to create a more open feeling between the living room and kitchen
Using a car jack to lift up the floor framing and adjusting some old support columns in the crawlspace to straighten a crooked floor
Framing new doorways between the bathroom and each of the two bedrooms
Removing all of the old ice-damaged copper pipe plumbing and rebuilding a nicer system with PEX pipes
Removing the cast iron and lead drain plumbing and rebuilding with ABS pipes
Clearing out the old bathroom toilet, tub, sink, and floor, reinforcing the subfloor, and building a new concrete showerpan as part of a fancy new corner shower. And adding the associated plumbing for shower, toilet, and sink
Creating a new area for the laundry machines (which mostly means new supply and drain plumbing), since they were previously jammed into an awkward corner near a bedroom window)
Swapping out old cracked and painted plugs and switches for new ones throughout the house
Starting to build a new kitchen shelving/countertop unit
Adding a nice new front door
I've got a few interesting how-to articles in the works to document how some of these things were done, but I figured I should tell the renovation tale in chronological order, which starts with shopping for the materials needed to rebuild this run-down house.
When you do a home renovation project, the materials are a huge part of the cost – both to your wallet and to the Earth. A project like this requires windows, doors, plywood, studs, tiles, concrete, lighting and plumbing fixtures, and many other things.
The interesting thing about renovations, at least in the wealthy Boulder County area where I live, is that people are always doing them. Middle-income people buy 60-year-old  fixer-upper homes and build them into more comfortable and energy-efficient places to live. Upper-income people often buy higher-end homes and make major changes even when the houses are quite fancy to begin with. Meanwhile, commercial buildings are always being built, torn down, and remodeled by larger companies.
The result of all of this activity is a huge surplus of building materials. Extra tiles left over from someone who bought too much for his bathroom. Entire kitchen cabinet sets and high-quality windows and doors from the homes of rich people who grew tired of the current layout of their house and had it rebuilt. Even unused beams and industrial-grade components from office construction projects. And of course various fixtures and parts of every type.
These things end up either on Craigslist in the "materials" section, or in the recycled building materials store. There is one of these stores in Longmont where I live, and one in the neighboring town of Boulder, and my house-renovating partner and I decided to hit up both of them to see what we could salvage for our project. And it was quite a score, since in just one trip we acquired these items:
A beautiful heavy-duty solid wood front door (with 12 panes of glass in a grid formation) for $20 (roughly comparable to a $400 door at Home Depot)
A set of four double-pane 2ft x 3ft window sashes in new condition for $4 each (to be used in the garage) (value about $300)
About 80 square feet of tile for 50 cents per square foot (total $40, worth about $200 new)
An apparently unused and very nice toilet for $30 (new value about $140)
The total spending on this trip to the store was $106, for materials we actually needed, that would have otherwise cost $1040. A savings of over 900 bucks, just for embracing the idea of used rather than new materials, and knowing where to shop!*
The limitation when buying your materials second-hand, is that you have to adapt your project to fit the materials, rather than custom-ordering the materials to fit your project. But that is pretty much a core concept of the Mustachian Way, so it is good practice for life in general.
For example, the new front door was the standard 36″ wide.. but the old door was only 32″. This worked out well, because you really should have at least a 36″ door in a house anyway, in case a future resident needs to move in a large refrigerator or couch. It is also necessary to allow someone to roll a wheelchair through comfortably. So today I cut out the old door and part of the wall, and framed a new wider opening into the front of the house. It took quite a few hours of cutting, routing, nailing, and even occasional swearing, but it was VERY satisfying to hear my heavy new door click precisely into place, fully weatherstripped and insulated, as I locked up the place to go home this afternoon. And the whole house now looks better when viewed from the street!
Since the recycled building materials store runs on donated items, not everything there is suitable for use in a high-quality renovation. The windows and doors are surprisingly good, as are the tiles and toilets and some of the kitchen cabinets. But the appliances, lighting, and plumbing fixtures are usually things like green or almond-colored fridges and stoves or gaudy brass faucets. For these things, you simply move on to Craigslist materials.
Even after passing through these two steps, I still end up purchasing plenty of new things. Wood, nails, adhesives, shower valves, plumbing, and many other things are rarely available used.
But by getting some of the most expensive things from these alternative sources, you are really "focusing on the big wins**", and shaving thousands off of any renovation project budget.
* Still think we're going to have trouble with our profit margin, Joe? ;-)
**I  wonder if Ramit Sethi shops at the used building materials store?