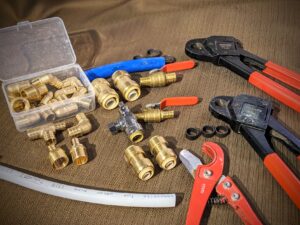 This next edition of the Foreclosure Series answers the question:
"How can I profitably maintain or fix up a bargain-priced house for eventual rental or resale, when it costs so much to do things like plumbing repairs?"
When I was a 21-year-old just beginning an engineering career, I had no desire to become a plumber. "A plumber is an old guy with a beer belly who fixes leaky pipes – where's the appeal in that?"
Five years later, I was a new homeowner, and a blast of cold weather cracked the pipe that ran to my garden hose faucet. I tried to find a plumber, and couldn't get anyone to return my calls. So I had to figure out how to fix it myself.
Five more years later, I was hiring subcontractors to help work on my housebuilding company's first custom home. I gathered bids for the electrical, drywall, furnace, and plumbing work. They were all about $12,000, so I assumed all of these jobs were an equal amount of work.
The electricians worked for a week with a large crew, and provided thousands of dollars of fittings, light fixtures, circuit breakers, and expensive copper wire. The drywallers worked even longer and put up tens of thousands of pounds of drywall in all sorts of awkward places, then meticulously plastered and sanded the joints. The HVAC crew brought along a high-efficiency furnace and air conditioner, and put in even more hours.
But the plumber showed up with just one chain-smoking assistant and a few duffel bags of parts and pipes, and had the whole place done in less than a week before presenting me with the $12,000 bill. "What the heck?", I thought, "Why do these guys earn so much money for so little work?".
As a homeowner, you'll run into the same situation. Plumbers routinely earn $100 to throw in a toilet, hundreds more to replace a sink or faucet, and thousands if you dare ask them to provide the plumbing for a new bathroom.  I'm not knocking my fellow tradesmen, I think it is quite cool that they have somehow carved out a niche where they are able to charge over $80 per hour for manual labor. But if you're going to own your own house, and want more power and less poverty, you should definitely learn to do your own plumbing, because it is easy and fun.
The technological revolution that made this activity drastically more easy and fun was the replacement of soldered copper pipes with flexible reinforced polyethylene pipes. These are commonly referred to as PEX (short for Poly-Ethylene-Crosslinked).
The benefits of PEX over copper include these:
 drastically cheaper pipe (20-26 cents per foot for PEX vs. over $1.00 for copper)
 faster cutting (5 seconds with a ratcheting scissor tool vs. 30-60 seconds with a hand-cranked wheel cutter)
 faster joints (10 seconds with a crimping tool vs. 2 minutes with a torch and solder)
 no dangerous flames (almost all plumbing is in tight places near electric wires and gas lines, exactly where you usually DON'T want to shoot flames)
 easy changes (you can swivel PEX joints around even after crimping them and they remain intact)
 easy pipe routing (PEX pipes can curve around corners and be pulled easily through awkward wall cavities)
 virtually freeze-proof (copper pipe is destroyed 100% of the time if you freeze it while full of water. PEX seems to miraculously survive repeated freeze-thaw cycles even at 0F, according to my own series of tests using my freezer)
 environmentally better (a roll of plastic uses much less energy and oil to produce than mining, melting, and refining an equivalent quantity of copper from solid rock).
amazingly reliable. With copper pipe joints, you never know if you did a perfect soldering job until you turn on the water supply and check for leaks. With PEX, if you squeezed the clamping tool until it automatically released, you got the joint right. I've done thousands of these PEX joints now, and never had a single drip.
PEX is so much better than copper in every way, you should immediately roll your eyes and sing a circus clown song at anyone who tells you they still do their plumbing with copper. So let's get started.
Tools of the Trade:
There is a common misconception, even among plumbers, that PEX-related tools are expensive. This is true, if you buy the silly obscure-brand $250 crimping tools that plumbers buy, but I will share with you the secret way to get all the required parts for minimal cost. All you need is:
One PEX clamp tool, like this one.
And a bag of 1/2″ clamps (also called crimp rings) like these ones. If you're working with larger pipes, as you might when connecting a water heater or sprinkler system, you can get 3/4″ components as well.
A roll of the actual pipe itself – my favorite is the aluminum-infused type which looks like this.
Then you'll need something to cleanly cut the pipe, called a tubing cutter.
Whenever you have to cut off old copper pipe cleanly, you use one of these wheelie deals.
To connect the old copper pipe to your new PEX pipe, you just push both pipe ends into a Sharkbite coupling.
And when run new pipe along studs or under floors, you attach it every few feet with these handy dandy j-clamps.
As you start a project, you'll be using fittings like elbows, tees, and shutoff valves for places you'll eventually connect a faucet or toilet.  You can find everything you need in the plumbing section of Lowe's or Home Depot, or if you think in advance you can get the fittings cheaper at Amazon.
Congratulations! You are now fully equipped for water supply plumbing and repair, and the tools themselves cost you less than $80!
So let's do a sample project
In the current house I'm remodeling, I decided to cut off the entire copper pipe network, at a point fairly close to where it enters the house through the basement wall. I used a copper pipe cutter (the thing with the little cutting wheels) just like the one I showed you above.
Then I pushed on one side of a sharkbite coupler, and took a length of PEX pipe and pushed that firmly into the other end of the coupler.
From this point on, I was able to easily branch out and connect everything in the house into the network using standard PEX fittings.
That was too easy. Show me another project!
Here's a great one – connecting a brand-new shower valve to the supply plumbing.
This used to be a lot of work for old-fashioned plumbers because they had to disassemble the valve in order to avoid melting the sensitive plastic and rubber parts inside. Then they would stick some copper pipe into the openings and heat the whole thing up to a zillion degrees and melt in some solder.
But as modern PEX plumbers, all we have to do is wrench on some 1/2″ female pipe thread adapters to the male connectors provided on virtually every shower valve. (Note that you add about 8 laps of teflon tape first to ensure a watertight connection).
Now we get to use our new crimping or clamping tool (either type will work, but the connectors in these pictures are called "clamps", whereas later I switched to "crimps".
Cut a short length of pipe for each side of the shower valve and a longer one to go up to the showerhead, push one length onto each of your nicely tightened adapters, slide on some clamp rings (1/4″ from the end), and clamp them.
Repeat this process to connect in a couple of 90 degree elbows, and eventually the two long pipes that go down from shower-handle height down into your wall to connect to the rest of the world.
It really is that easy, and you can follow these basic techniques and work your way through an entire house to build the connection points for toilets, sinks, tubs, showers, laundry machines, garden hoses, pet grooming centers, bar sinks, sprinkler systems, boilers, solar hot water heaters, radiant floor heat systems, and anything else you can think of.
PEX components also make a great toy for kids. You can sit together and cut lengths of pipe and slide them onto fittings (just skip the clamping stage so you can reuse the parts later), to make animals, water experiments, fountains, and scientific-looking sandbox volcanoes and erosion demonstrations.
You can think of this article as an enthusiastic advertisement to get you excited about the concept and give you an idea of where to get started. If you're going to plumb a major project, you should also grab a library book about plumbing to understand how to make sure your projects end up building-code-compliant. There are also videos on YouTube that teach you how to do almost anything related to home renovations.
Finally, you can check with your city's building department if you have additional questions, and they can help you pull building permits and schedule inspections of your finished work to ensure everything is done in a trouble-free manner. Building inspectors are usually nice, under-appreciated people who love to share their knowledge and help you learn even more, so don't be shy about getting building permits for important projects.
What we just learned is called "supply plumbing". That's the most important and useful skill, but you can also complement the knowledge by learning about "drain plumbing" (the black pipes that start under your sink and send water out to the sewer), and "miscellaneous", which is just the lego-style fiddling you do when you connect a faucet or replace a toilet. Once you can do all of them, you are way ahead of your neighbors, and you may find yourself earning cases of beer or home-cooked meals just for helping them with the simplest of tasks.