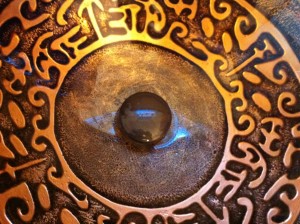 Well, it looks like the Foreclosure Project will be coming to an unexpectedly successful early end. It took a big push by all of us at the end of December, but the house has now officially become an income producer. And it is producing at $1200 per month versus the $1100 I originally estimated it would fetch!
But we'll talk more about that aspect of the project in the near future – right now we still have to cover more details of the renovation that allowed such a nice success in the rental department.
As you know, this project involved a rather old house. Built in 1935, this place has seen the second half of the Great Depression and the golden age of steam trains in its lifetime. When you're working on a house of that age, almost every project can open up a can of worms. Plumbing from this era involved plenty of cast iron and lead. Electricity was a relatively new invention, so wiring was crude and outlets and light fixtures were sparse. Insulation consisted of putting on an extra sweater and adding a log to the woodstove.
In an old house, you'll also often encounter crooked walls, crumbling foundations, leaky and non-functional windows, and warped floors.  All of these things can be fixed, but each will tend to cost more to fix in an old house than they would cost to build from scratch in a new place.
So to profitably fix up an old house in anywhere but the most expensive cities (where the increase in property values might be enough to make any renovation worthwhile), you have to work with a careful sense of "know when to hold 'em, know when to fold 'em".
We bought this particular house at just over $100,000 from a bank, and the current market value of a place of its size in good condition in this area is around $185,000. So we had some wiggle room, but not an infinite amount. And with the goal being a reliable and profitable rental house, we wanted every dollar spent to increase both rental value and eventual resale value enough to make it worth spending.
With those goals in mind, here are a few of the design and improvement ideas we did, along with some cost-saving tricks that helped improve the profit margin.
Floorplan changes:
It is messy and somewhat labor intensive to break down walls and rebuild them or frame new openings. But these drawbacks are often overpowered by fact that the materials required are dirt-cheap and you can totally transform a house by doing it.
Most home buyers or renters make decisions emotionally, and they will perceive floorplan improvements as "flow", "feng shui", or even the "energy" of a home.  In my own lingo, what they are really seeing is "a large entry room with a view through to the back of the house", "wide doorways", "large windows and high ceilings", and "plenty of natural materials like wood, stone, and tile rather than carpet and vinyl".
In this house, we opened up the doorway between kitchen and living room to be about five feet wide and eight feet high, which allows people to see, converse and walk easily between both rooms – especially handy when hosting parties.
I also added a wider front door, and rebuilt one doorway to the bathroom and added a second doorway on the other side, adding bathroom accessibility from both bedrooms, and also creating a "circle" in the house where you can get to any room from either direction. Kids love this feature for running around, and it's comfortable for adults too, making getting around the house more natural and efficient since you can pick either of two directions.
Overall, we spent about 20 hours opening up these walls and installing the new trim and bathroom doors. Including materials, the cost would be just over $1000. At well under one percent of the final value of the house, it is a hugely profitable change to make, because it greatly broadens the potential customer base.
Structural Improvements:
This old house had some very crooked areas in the living room and kitchen floors. The doorway between kitchen and living room also had a sloped top with a big crack in the wall above it, reaching to the ceiling. Peeking into the crawlspace beneath these peaked areas, I found some old support columns supported by stones laid in the dirt. It became obvious that the house's old stone perimeter foundation had settled due to moisture in the soil, while the dirt safely in the middle of the house had stayed dry and remained at the same height. This caused the support columns to effectively jack up the middle of the floors, creating waves.
To fix this, we crawled down into the dirt and used a hydraulic car jack to lift the floor structure off of the column, then remove the column. Then we released the car jack, which allowed the floor to settle back down to become level. The floor still retained some of its crown, so we left it unsupported for several weeks while we worked (storing our heavy pallet load of tiles and mortar there to add weight), to give it a chance to settle. At the end of December, it was fairly level so we reinstalled some new, shorter support columns to lock it into place and provide rigidity.
 A Bit of Luxury in the Bathroom and Kitchen:
One of my theories of why I get better than average results as a landlord is this: I recognize the fact that Tenants Are People Too. Most landlords look for the cheapest crap they can find when preparing a rental house: plastic shower enclosures, laminate bathroom/kitchen countertops with the $29 shallow sink and plastic-handled faucet.. vinyl floors, old coil-burner electric range, and other trash. "Tenants don't care", they tell me.
I say they are wrong. Tenants are just like homeowners, looking for the nicest living environment they can find at a price they can afford. Often younger and accustomed to basic apartments, they are very pleased to encounter a rental house that shows some attention to detail. This helps you attract higher-income tenants who actually love your house – and who will thus take better care of it and be more likely to pay the rent.
These details cost very little to provide – during the renovation stage you can make  upgrades throughout the whole house at a cost equal to only 1-3 months worth of rental income. But they generally raise the rental income  so much that they are like getting a 20-100% annualized return on your investment.
The picture above shows the new shower. It was not overly expensive to make, and I used plenty of tiles left over from other projects. But by avoiding a plastic showerpan and pouring my own from concrete, as well as building in some shampoo nooks and bringing the tiles all the way to the ceiling, I tried to create a comfortable lair that just asks you to get naked.
Another fun example of cheap luxury was in choosing the bathroom vanity. I originally budgeted $400 for a reasonable cabinet, sink, and faucet. But space was limited, so I was thinking I'd have to build my own to fit the floorplan. Just before building it, I got an email from my friend, who was at the used building materials store right at that moment: "Hey! I may have found the perfect vanity". He snapped the picture at left on his phone and emailed it to me.
I was skeptical at first, since it was still six inches too deep to fit the space. But for the price, we decided we could risk cutting it down to size. That cool copper-toned sink and faucet were a matched pair bought from Overstock.com for about $200 including shipping. With some table saw and plumbing trickery on my part, and stain wizardry from the friend, the end product looked like this:
Paint Galore:
Old houses in poor condition usually have bad paint colors, with plenty of chips and stains in the finish. Ours had that, and it was also cursed with a bland white exterior. To complete the look, all exterior walls were completely plastered with hideous and unnecessary wiring and other barnacles: There was a Dish network antenna right on the street-visible South side. Plus TV, electric, telephone, and cable wires haphazardly spaghetti-ing around on every surface. With great pleasure, I ripped them all down before
painting, rerouting only the cable TV and landline telephone wires that come from the telephone poles in the alley – these I attached to the hidden North side of the house so the services will still be available. But any new wiring to rooms will be done properly through the crawlspace, instead of stupidly on the outside of the house. A complete interior paint job was done as well, featuring bold natural tones with clean white semi-gloss trim to suit the traditional nature of the house.
Low Cost Niceness in the Kitchen:
Kitchen cabinets are expensive, often costing $10,000 for a medium-priced set in a medium-sized kitchen. That's what you will pay if you special order Kraftmaid or similar brands from Home Depot or Lowe's.  When pricing them out for a high-end new house, I even received quotes up to $20,000 for a similar level of quality from smaller local cabinet companies. Later I discovered a secret workaround to all this: buy your cabinets at Ikea, where they are just as nice as the other spots, but about half the price due to self-assembly.
But in a house of this price, we didn't even want to spend five grand. Instead, we restored the existing base cabinets, and I used some eco-friendly blue stained (aka "beetle kill") wood from local forests to build open-front shelving units instead of the old upper cabinets, and I also made some countertop units for the other side of the kitchen, where there were formerly just naked appliances sitting on the floor. We made it all blend together by creating tile countertops for both sides. I won't pretend this is as nice as a new set of Ikea cabinets, but when you see it in person it adds great personality to this old rustic house, and is quite functional too – for about 80% lower cost even after paying myself for labor.
We also replaced the appliances, scoring a fairly new matching set in black. There is a smooth-top range and a double door 23 cubic foot fridge. These suckers are worth about $1600 combined new, but thanks to Craigslist we scooped them for $400.
The new kitchen also features a really deep basin cast iron sink that I salvaged from another customer's kitchen renovation several years ago (value about $240), and a tall arched pull-out/spray faucet in dark bronze finish ($160 new).  The sink is white, which contrasts nicely with the brown sand tone of the tile countertop, and the dark metal of the faucet.
A sink/faucet combo like this is rarely found in a house of this price range, but that is deliberate: it's a prominent centerpiece in the new kitchen, and people tend to walk straight over and touch it. The quality from that area seems to flow to the rest of the room, convincing you that the whole kitchen is stylish and fancy, when in fact it is was extremely cheap to build.
There are many more examples of these low-cost upgrades we were able to score, but unfortunately the house rented so quickly that I haven't even had time to take nice pictures of the finished work (the pics in this article are just quick iPhone ones). But when you think about it, that's really the point of all of this: create a new house out of an old one, cheaply, and impress your potential customers so much that the first one to walk in, rents it at full price.
It really is so much fun. Do you see why I can never quit this job?