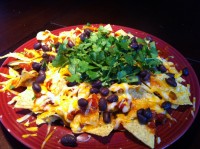 These reader case studies sure are fun. First you get to engage in a little voyeurism as you peek in on another person's life. Then you can actually compliment them, offer advice, or throw out a few Mustachian Face Punches as you see fit. All to a real person, and all from the comfort of your own office chair.
Because of the popularity of this series, I've tried to mix things up and share reader stories with widely varied situations. We've had everything from Minimum Wage up to Big Law Firm workers. But in general there has always been some problem that needs to be addressed.  Massive student loans, cars bought on credit, people hoping to save for a house, or people trying to find a way to quit their jobs.
There's still a category that has remained untouched. But when I think about the essence of Mustachianism, it's not a rare situation at all. In fact, it's a situation that is many readers of this blog are already in, and most of the rest will eventually get there.
The situation is of course having a great life with no monetary problems whatsoever! But there's still an unusual twist in this one, so read on:
Dear MMM,

…

We are young couple (early thirties) with two children (early teens). Through a combination of hard work and good luck, we are very fortunate to have healthy finances. We paid off our mortgage, student and car loans off as early as we could, and our only debt is a charge card that we pay off every month (in order to earn the rewards points). We have about $1,000,000 in assets: we own our own home, we have savings for college, our retirement is partially funded and we have a substantial buffer for emergencies. We spend a very large amount, but still save between 40% and 60% of income each year.

Income:
Me: About $7300/month (after tax, health care and max 401k savings), plus about $300,000/year in bonus (fluctuates depending on business success).
Spouse: $0 paid income, but works a heck of a lot harder than me!

Expenditure:
School Fees: $3667/month
Misc.: $3250/month
Travel: $2500/month
Food: $1500/month
Children Activities: $1500/month
Summer Camps: $850/month
Social: $700/month
Car Repairs: $475/month
Legal Fees: $417/month
Charity: $417/month
Car Running Costs: $300/month
Insurances: $300/month
Phone: $270/month
Dog: $200/month
Cable: $200/month
Water: $200/month
Dry Cleaning: $100/month
Power: $100/month
Security: $32/month
Gas: $30/month
Total: $17,000

Items in italics are the emergency budget: $3179/month.
Annually, we earn about $400,000, and spend about $200,000.

As I said, our profile is quite different from the average. Our expenditures are very high, but here are a few caveats:
– About 40% of our expenses (esp. school fees and activities) could be considered "investments" in our children, their education, skills and hobbies. (my wife gave up her job to take care of them full time, I spend 1-3 hours a day with them, they do lots of activities and are fortunate to go to an excellent school), and they are 8-10 years away from being off our payroll.
– We have structured our bills so that we could quickly cut down to about $3200/month if I lost my job – a level that could comfortably be covered by savings and my wife returning to work.
– Our expenditure is funded out of past income: no way would we be spending this much is we had debt.
– We spend primarily on experiences and not on stuff: our house is small (about 1500 sq ft) and our garage is empty except for two cars (average age, 8 years). We are not people who buy lots of expensive toys. Instead, we buy expensive holidays and activities.
– I enjoy my job and my life: I am in no hurry to retire. If I did leave my current employment, it would likely be to do a similar thing for my own company.

So, what do you think? We could obviously spend much less and save much more, but to what end? We have no debt, ample savings and I am not in a hurry to retire. We enjoy the things we spend our money on, especially the children and the travel.

It is a very pleasant dilemma, for sure, and we were wondering what your thoughts would be.
Well, that's an interesting one.
I can't really hound this guy for any sense of whining or entitlement, since he has acknowledged that he spends a lot and has a healthy attitude about it. But it's still a shock to see a number like "Bonus: $300,000" just slapped onto the end of an already gigantic income statement. So where could he improve?
1: Figure out if You're Missing Anything
I suppose my first question is "are you SURE you aren't missing out on anything by living such an expensive lifestyle?".  I will not question that you are having plenty of fun right now. But with a budget so large that even your "Misc" category is 50% larger than my "Everything" category, it is certain that we are living very different lives.
When you live a life like that, you're probably spending very little time doing things that are free. But as I've contended in the past, many of the best things in life are free. Things based on using your own body to its fullest, and Nature.
I've often said that my own family couldn't imagine spending any more than we already do right now, even if we had way more money. In fact, we do have way more money, and yet we still don't spend more. So it is possible to lead a happy life on less.
So why might you want to do it? I can think of one big, great reason:
2: Break out of your Comfort Zone at least Once a Week
To live life to its fullest, you need to be challenged. With a job like yours, there is obviously plenty of challenge and satisfaction in work. But with no need to be efficient with money, you might be missing out on golden opportunities to expand your comfort zone. Do you ever travel to non-luxurious areas? Camp? Hike to the top of mountains? Walk through poor areas in third-world countries? Ride your bike in a blizzard or carry your groceries home without a car? Difficult things make life exciting and worthwhile, and with too much money, you might miss out on precious difficulty.
3: Are your Kids Learning about Scarcity, Hard Work, and Struggle?
One of the worst punishments you can give a kid early in life is the reassurance that they will never have to be careful with their money, stay up all night to work hard on projects, or save for their own retirement. I believe that people do best if they are forced to make their own way in life. Sure, you want to offer love and practical and emotional support.. but cash handouts can often backfire.
Also, do your kids know how unusual their situation is? Will growing up rich affect their ability to get along with people who had less wealthy upbringings? Are you dooming them to lives of hanging around with only big spenders, meaning that they'll end up very poor if they don't happen to choose careers that also pay $400,000+ per year?
Every young adult should be able to comfortably sleep on somebody's floor, drive an old manual-transmission car with rust holes to a concert, and eat leftover pizza for breakfast. Without complaining. Be sure you are not creating any new Paris Hiltons.
4: How Long until you're Covered for Retirement?
To support $200,000 in annual spending at a 4% withdrawal rate, you'd need $5 million in savings. With only $1 million right now, you might need to work for about 15 more years even if you save $200,000 per year until then. As shown in the Shockingly Simple Math post, financial independence depends solely on your savings rate rather than your income, and my own savings rate was higher than yours through my late 20s even though I earned less.
This might not be a concern since you like your job so much. But as a cautious person my natural tendency is still to suggest that you place a higher emphasis on buying your freedom  first. With an asset base of only 5 years of spending, some would say you're jumping into the high life just a bit too quickly.
If you experiment with living a less costly life, you just might find that you like it more, and you have less of an interest in spending so much on yourself. Since your urge to work and produce will be unaffected, this naturally will increase your interest in spending on others and the betterment of society, the planet, or any other causes that become important to you. Then you open up a whole new area of life satisfaction – that of service to others. I know, it sounds crazy initially, but it has been know to catch on for many 'a' rich person.
The advice above should be viewed as just some friendly knuckle rubs rather than any sort of serious punching. I'm glad you're doing well in life and you'd be fine even without lifestyle advice.
But from what I've read, I see an opportunity for greater Badassity in your life by finding a way to bring back at least a teeny bit of good old-fashioned Hardship.