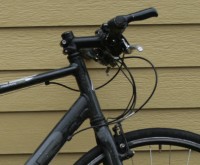 Mustachianism has many facets.  It's a lifestyle and a fake religion all in one. And it is packed with an unlimited number of deep and interesting nuances, which is why you and I still have something to talk about after 13 months of this blog's existence and 224 published articles.
But if I had to strip it down as far as possible, down to just one single action, and I wasn't allowed to talk about anything else, the choice would still be simple: "Ride a Bike".
It's a simple concept which expands to an infinite degree as you think about it more, which we'll do in just a few paragraphs. But by understanding how important this core concept is, you'll understand why I get so excited at moments like the one in the following story:
I was outside talking to one of my neighbors last week. We were making the usual small talk, discussing the beautiful weather we've had this spring, the minor hardships with keeping our lawns and gardens green in the absence of rain, and various other across-the-driveway filler chitchat.
Then the topic of gas prices came up. This girl was hoping that we would not see further increases in the price of gasoline this summer, since her budget was already stretched tight.
I expressed some appropriate fake sympathy, but emboldened by my secret life as Mr. Money Mustache, I decided to at least see how this unsuspecting person would respond to a taste of Mustachian advice.
This particular lady recently bought a V8-powered Jeep Grand Cherokee, and she happens to work at a company that is exactly 0.5 miles from our street. Yet she drives to work – every single day.
"You know, I only have to buy gas every 2-3 months for my car, because I just bike everywhere. With your work less than a 5 minute bike ride from here, have you ever considered walking or biking?"
"Yeah! I've noticed how you guys always bike, and I think that's pretty cool", she said. "Yeah… I should really bike to work. It's just that, you know, I don't really have a working bike right now".
I've had nearly the same conversation with many people in recent years, so I've learned to remained calm on the outside when I hear excuses like this. But inside I could only scream "WHAT THE HELL DO YOU MEAN YOU DON'T HAVE A BIKE!?!?!?"
The concept is so foreign to me because it is so illogical. How can anyone with sufficient mental capacity to pass a driver's test, or indeed to dress themselves in the morning, not realize the folly of living a life that includes a working car, but no working bike?
Bikes are virtually free, and require no insurance, registration, license, parking spaces, or any other hassle. They are so easy to own, and so incredibly useful and beneficial, with absolutely no drawbacks whatsoever to ownership. And yet somehow, there are adults out there – millions of them, a majority of them in the US – who don't even have a bike.
My neighbor is paying thousands of dollars a year to idle around town in a 300 horsepower truck that gets 12 miles per gallon in the city, even while her body is crying out for extra exercise that it is clearly not getting enough of.
Even crazier is that there are readers of this blog who are sort of on board with leading a more natural and rich lifestyle, and are interested in the idea of maybe trying a bit of  bicycling someday, but just haven't gotten around to it because, you know, they don't have a bike, or they have an old squeaky one with a broken gearshift or some flat tires. Or perhaps they have managed to convince themselves that their car-based lifestyle is justifiable, and maybe that bike fanaticism that Mr. Money Mustache displays can just be ignored and they'll just follow the rest of his advice, while ignoring the bike parts.
It's time for this silliness to come to an end. You must ride a bike. We all must. It's not a weird fringe form of transportation that only people in Portland and Colorado do. It's just simply the way we all get around for moderate intra-city distances.
The reason this rule is so hard and fast and set in stone, is that the bike secretly does more than just getting you around town. If it were as simple as multiplying your bike miles by 50 cents and saying "Therefore every twenty miles you bike saves you ten dollars of driving costs", it would be a purely financial decision. Then you could weigh biking and driving against your other lifestyle choices and come up with a balance that still lets you save 50-75% of your income, ensuring financial independence at an early age. But no, biking is not just about the money.
Biking is also more than just a form of exercise. If you follow my advice and start biking around when convenient, you'll find that you end up cycling for perhaps three hours a week.  You could say "that's just the same as visiting the gym for three one-hour cardio workouts each week. If I do that, THEN will you get off my back about the biking?"
Nope, I still won't get off your back, because it's even MORE than the money and the exercise.
A bike-based lifestyle is an all-encompassing change for the better. It's like rolling back the past hundred years of humanity's clueless paving-over of the surface of the Earth, without having to sacrifice a single benefit of modernization. It's like shedding all of the stress and responsibility of adulthood that have crusted over you and going back to being eight years old again.. without losing an ounce of that golden power and freedom that comes with being an adult.
A bike is really an automatic life balancing machine, passively creating harmony in your life better than even the bossiest life coach could hope to do. You're automatically forced every day to venture just a tiny bit out of your Comfort and Wussiness Zone. Suddenly you are blessed with the opportunity to use your mind and actually strategize just a bit each time you venture out… "How will I dress for the weather?"… "what will I be carrying with me?".. "what food and drink will I require for this journey?".
With the tiny daily overhead of this planning, you become a more thoughtful person in general. The Edge of the Planner starts to creep into the other areas of your life: "I heard this new TV show is really good. Maybe I'll relax and watch a few episodes… WAIT.. on second thought, maybe I'll look at my to-do list and use this time for something ELSE! Aha.. I see I was supposed to look into re-financing my mortgage. I hate making those calls, but I'm going to do it. I'm a PLANNER now, no longer a passive observer of life."
The challenge of biking also automatically limits the amount of time you spend uselessly circling the retail establishments of your town: "Do I really need to go out to the store to pick up that bottle of shampoo today? It's a pretty long ride, and I'm going to need to go tomorrow to get bananas anyway. I'd better put it on tomorrow's list. And I'd love to check out the shoe store someday, because I love just browsing through the shoes.. but that's way on the other side of town. Surely there is something else I could do closer to home that is more valuable."
All from just a 25 pound collection of aluminum and rubber you can lift with one arm. Becoming a regular cyclist really is that good – conduct your own interviews with bikers if you think I'm just making all of this up. They will agree – cycling is being Alive.
So when it comes down to the excuse of "I just don't have a working bike right now", you can see why I become so frustrated. Not biking because you don't have a bike is like letting the excrement pile up on your bathroom floor because "I just haven't flushed the toilet recently". JUST GET A DAMNED BIKE!! IT'S SO EASY!!! It's too important to let laziness prevent it from happening!
How to Buy a Bike:
This is an area where MMM readers will rightfully diverge, depending on their expertise and interest.
My own recommendation: the important part is not where you get the bike, or how much you pay for it, it is simply that you have a reliable, working bike at all times so you never miss out on any possible riding opportunities. The cost of even a moderately expensive bike is tiny compared to the benefits it will bring, which is why I think it's fine for people to buy brand-new bikes from a local bike shop or from an online store like Nashbar or Performance bikes, if that will increase their chance of having a working bike sooner.
Cautious beginners don't need to mess around trying to find values on Craigslist, and they definitely don't need to buy a $20 bike at a garage sale, hoping to someday get it working well despite having no mechanical knowledge. These people need a instant gratification bike that will work reliably for long enough to get them hooked into the biking habit. This is a machine they will hopefully spend many hours riding every month, so it's important that it works smoothly, comfortably, and does not fail at its job of getting them around.
As your skill with mechanical things and your interest and experience with bikes increases, so does the value of looking for used ones. Some retail stores like Play it Again Sports, and community sharing websites like Craigslist, can prove to be a gold mine in this area. And the best used bikes are often found by asking your most bicycle-savvy friend where they would get a used bike if they were shopping.
This guide by MMM reader Bakari Kafele provides a nice tutorial on how to shop for a used bike: http://biodieselhauling.blogspot.com/2012/01/buying-bikes-from-craigslist.html
When shopping for a new bike these days, I use an even simpler algorithm:
I look for a bike in any of the overlapping categories "city", "commuter", "hybrid", or "road". I want something with a MSRP in the US of at least $500, indicating a reasonable level of component and frame quality. And at that point, I just sort by features and price.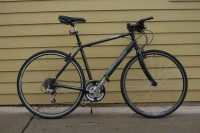 Case study 1: My current "city bike", a K2 Astral 3.0, was purchased new in 2008. It was an end-of-the-model closeout at Nashbar, so the price had dropped from $580 to $300. Yet the bike is lightweight, stiff, and solid as a rock. And with about 4000 km on the odometer so far (2486 miles), the distance from Los Angeles to Washington DC, it has needed virtually no maintenance at all – a few flat tube change-outs and regular chain lube. The benefits and cost savings provided by this bike over its four year lifespan to this point have been almost immeasurable – many times its purchase price already.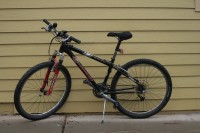 Case study 2: Mrs. Money Mustache is still riding her 2002 Schwinn Moab mountain bike.  This was near the top of the Schwinn line back in its day, as the components are thoroughly kickass and it is as light as a feather. She bought it at full retail price from REI at the time – almost $900. But the bike has now served her through years of commuting to work, dozens of harsh mountain bike trips in locations from the Rockies to the Pacific, towing our son around town in bike trailers for the past five years, riding to and from the Crossfit gym for the past two, while racking up over 5,000 miles on its odometer. How much maintenance has she required for this virtual bike ride from our home in Colorado to somewhere near the tip of South America? … once again, virtually zero. Chain lube and inner tubes. The odd twist of the gearshift cable adjuster knobs to keep the shifts aligned. She's still rolling on the original set of cracked stock Michelin WildGripper knobby tires!
So the point is, while bike maintenance is fun and many bike shops provide free tune-ups for life, in reality you will find that a good bike does not demand too much from you. You simply hop on, and it rolls you quickly to your destination. One mile every six minutes for beginners, and a mile every three minutes once you  have a swift bike and more seasoned legs.  Factoring in the shortcuts, faster parking, and freedom from traffic jams, a bike is often faster than a car for getting around an urban or suburban area. Adding in additional considerations for cost, health, and the environment, it's simply the only reasonable way to get around.
The final word: a short inspirational video on what it feels like to be part of the Bike Culture (click the expand button once it's playing – there's some beautiful photography in there):

How Bikes Make Cities Cool – Portland from Kona Bikes on Vimeo.
A few reasonable bike choices from today's market (updated August 2019):
Schwinn DSB women's/step-through bike  (full-featured with aluminum frame plus disc brakes for $240!)
Schwinn discover hybrid (a great cozy city bike including fenders and rack, aluminum, $289)
Schwinn Vantage F2 (fast and light/aerodynamic sturdy ultracommuter bike with higher-range components, very similar to the Fortified bike that I ride, at a still-bargain $600)
* the last two affiliate links, so this blog will benefit if you end up buying them. But it doesn't affect the price to you, and don't let it bias your decision – shop around and get the bike that's right for you. Just get a bike!
Update: Here are 30 more reasons to heed Mr. Money Mustache's advice and start cycling your ass off.
And finally, if you REALLY like people telling you over and over that you must ride a bike, here's the Original MMM bicycle Article, and here's the Biking to the Grocery Store one.