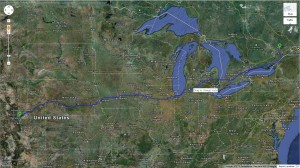 I'm writing this from an unusually clean desk, in a spotless and nicely vacuumed office, within a mostly polished and decluttered house. This, along with the tying up of a bunch of other loose ends, is why I haven't been writing to you as much recently.
The Mustache family has been hard at work for the past week or so, preparing for a record-breaking trip to Canada (almost 8 weeks this time!). The stars of fortune have aligned yet again, and I have rented out our main house to the same family that stayed here the last two years. This means that our otherwise-empty house will again be paying for most of the trip, and that Mr. and Mrs. MM have to bust their butts to get this place in guest-ready condition. Scrubbing every last faucet and mirror, hiding the underwear and confidential documents, and other related tasks. In the end, it should work out just like last year, as noted in Making Money while Taking Vacations. We're leaving on Saturday, June 23rd.
All this cleaning effort could be viewed as a hassle, but I like to think of it as a big plus instead. We're not the Clean Freak type, so we could easily let the dust pile up in more obscure parts of the house for many years without this annual ritual. How often do you completely empty your kitchen "Junk Drawer", purge unneeded items from your clothes closet, or polish the wood crown molding way above your cabinets? For me, it would normally be approximately never. But now we're feeling lean and mean… except for the secret pile of full cardboard boxes under the basement stairs.
Travel arrangements will be fun as usual. The lady and the boy are jetting directly to the house of the grandparents, leaving me to take a solo bachelor roadtrip across the country with the van full of tools and party supplies. I've got a great place to stay in Chicago (and may even meet up with some Mustachians there), but that leaves the first night open for options. So I'll throw this out there just in case:
Do YOU live in the Des Moines, Iowa area along I-80? Do you expect to find yourself with an underused couch on the evening of June 23rd? If so, get in touch with me through the contact button! I can provide entertainment, advice, treats from the Triple M Microbrewery, or any other appropriate thank-you gift. Despite the easy availability of hotels along the route, my tradition on these solo trips is to be more unconventional in accommodation.  Sometimes I meet friends. Other times I'll use the van as a camper at a quiet rest area or a luxury hotel's parking lot. The tiny bit of adventure definitely adds to the experience.
So I'll be writing less for those 8 weeks. Maybe. Sometimes I can't stop myself, so maybe I'll write more.
Speaking of lots of writing, have you checked out the new feature on the right sidebar of the main page? A brilliant programmer named Brian Richards whipped up a quick PHP template for WordPress that automatically fetches all the MMM article titles since the beginning of time, and puts them in a chronological list for easy scrolling.  Here's the link: https://www.mrmoneymustache.com/all/ . (Thank you very much for this, Brian!)
So while my writing may be slow in the summer time, the list of topics which must be covered never stops growing. I've got no choice but to keep writing on this blog for a long, long time yet.
And just for fun, I'll give you a peek at what is to come when free time returns. An exclusive look behind the scenes into Mr. Money Mustache's Drafts Folder!!
Some of these mostly written, other are just ideas, and surely some will never see the light of day. The titles may change. But they're all still waiting there, taunting me and asking to be published when the time comes.
What else do you think we should add to this list? Let me know in the comments section below.
Managed Payout Funds – Automatic Grocery Buying Machines for the Early Retiree
This Blog is Now Making some Serious Dough – Here's How
An Amazing New Prescription Medication
News Flash: Parenting is Hard. Suck it Up.
Fancy New Appliances, for Less than Zero Dollars?
Are You Using Work as an Excuse to Accomplish Nothing?
The Good Life: it All Depends on Who You Ask
What it Feels Like to Become Rich
Mr. Money Mustache vs. the Internet Retirement Police
Quality over Quantity
Mr. Money Mustache vs. Peak Oil
The Practical Benefits of Outrageous Optimism
Recovering from the Pack Rat Years
Mr. Money Mustache vs. Income Inequality
How Much is that Other Bitch Costin' Ya?
Reader Case Study: Portland Man Thinks He's Doing Well
My 401k is Too Small to Retire, Waah, Waah!
A Plug-in Electric Hybrid – at 75% off?
Guest Post: Integrity for Frugality (from Jason)
Fasting: a Fast Way to Greater Badassity
MMM Baseline lifestyles
Getting Rich vs. Raising your Children
Introducing The MBN (Mustachian Blogging Network)
It's Never too Late to Ditch your Gas Guzzler
The Delightful Randomness of Being Human
Learning to Identify Ridiculousness
MMM's Best (Worst) Criticisms and Complaints
The 21 hour work week
Food and Utility Cost Comparisons
Ten commandments and quotations of Mustachianism
Wealth is something that is created, not just divided
The Joy of Living off your Past Self
Ensuring Riches for your Children
Mrs. Money Mustache: Finding a Meaningful Christmas
Big House vs. Small House
Index Funds or Individual Stocks for Expert Investors?
The Measure of Power
Why Retiring at 35 is Easier than Retiring at 65
Where Frugality and First Class Intersect
The Economist's take on Investing right now
Poverty
Is Cycling More Dangerous than Driving?
Cash and Asset Allocation: Turning your Idle Employees into an Armed Militia
Housing: Rent or Buy?
Why are Jobs both Plentiful and Scarce?
Is Mr. Money Mustache a Smug Asshat?
The Magic of Knowing People
Things Mr. Money Mustache is NOT
Dave's high income low savings dilemma
Should I Increase My Income?
King for Just One Day
Life Cycle Funds: Become a Dynamic Fancypants Investor with No Effort
Mr. Money Mustache gets asked for Dating Advice
MMM Family Actually Uses Car
This Beer is Ridiculous
Strength in the Face of Cozy Surplus
Why We are Not Really All Doomed
Get more out of Life – with Good Stress
Protecting your Money Mustache from Spendy Friends
Budgeting for Irresponsibility
Connoisseur: a Fancy Word for Consumer
Mr. Money Mustache attempts to get Ripped with P90x program
You only live once – so should you spend all your money?
The joy of Old Computers
Student Loans: Modern Necessity, or just Really Dumb?
Get Rich by not being Afraid of being Poor
Midnight Update: Mustache Cash Stash
CNN Top Ten Money Wasters
Yup.. I've got my work cut out for me – and that's just the start of it.