This summer, Mr. Money Mustache broke his own rules and burned an absolute shitload of gasoline to criscross the continent in a not-very-efficient vehicle. Sure, I can list a few excuses as to why I did it (it was a 7-week family vacation, I needed the big vehicle to carry all my carpentry tools and materials for working as well as the family, I made a profit on the trip overall, and driving prevented the purchase of four one-way plane tickets). But in the end, it still hurts to burn that much gas. 178 gallons over 4553 miles, to be exact.
But I did my best to fight back against the fuel consumption gods. My 14-year-old Honda minivan is a beast, with a 4200lb empty curb weight (plus several hundred pounds of cargo), a 3.5 liter V-6 engine, an automatic transmission that favors fast acceleration over fuel economy, and every power and comfort accessory ever invented as of its production date in late 1998. Driving conditions were tough, with winding forest access roads, Toronto traffic jams, and frequent air-conditioning. Plus, many hours of 80MPH travel on the return journey, strategically used to avoid the need for an extra hotel stay. Even with these handicaps, La Mujer Azul still averaged 25.5MPG over the course of the trip, about 30% better than the EPA estimate for that vehicle.
The basics of fuel-efficient driving were covered in the old classic Hypermiling article. But this summer I found a few new things that helped raise the bar just a bit higher. And here they are:
1: Honey-Badger-Style Air Conditioning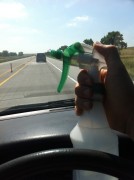 My van uses about 0.25 gallons of extra gas per hour when you flip on the air conditioning. That's 3 gallons, or $12.00 worth of fuel on a 12-hour driving day. If I tried to drive with the windows down at highway speeds, the fuel toll would be even higher. "Oh Well", I used to think, "A man's gotta stay comfortable."
But then I read a comment from another MMM reader.
Among the readers lurk many people whose Badassity greatly exceeds my own. Some of them were mocking the need for car air-conditioning, saying "BAH! Just carry a spray bottle of water when you drive. When you get too hot, spray down your face, your neck, and even the car dashboard, and you'll feel great for quite a while. When you dry off and get too hot again, just do it again!"
"Well shit", I said, "If these people can do it, so can I". So I embarked on my solo journey East with my largest and finest spray bottle filled with cold water, tucked into the closest cupholder. A daunting challenge lay ahead: crossing the desert of Eastern Colorado, and then the entire Midwestern Corn Belt at the peak of summer, in daylight hours, with no AC.
Windows were left fully closed, car ventilation fan running on medium-speed. (I've measured that the blower fan uses only about 2% of the power of the full A/C system: 30 DC watts compared to 2.5 engine horsepower, which roughly equates to 1600 watts).
The verdict: it works very well! I was shocked at how comfortable and cool I was with just the chilling effect of evaporating water on me. Each 10-second spraydown took 5-10 minutes to wear off before I required re-spraying. As a bonus, my body was forced to adapt to the increased humidity of lower altitudes as I drove. So by the time I got to my destination, I was tuned to survive the record heat waves in perfect comfort. I found it pretty interesting to note that I sprayed my way through only 1.5 gallons of water on the entire trip East, even while it saved me about 6 gallons of fuel. That's quite a profitable tradeoff.
I did this mainly as a challenge to see if I could handle it. On the way back I was carrying the family so we used the air conditioning. But this idea still has practical applications for many of us. You can use a sprayer on those fringe days when A/C is just barely needed. Or if you are carrying a family in a car with no A/C, give a spray bottle to every family member and watch the fun ensue.
2: Always Use a GPS, Even When you Don't Need One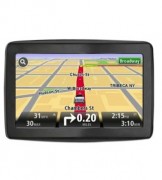 On the surface, this might sound like Antimustachian advice. Am I really telling you to buy and use a $100 gadget instead of relying on your own brain and navigational skills to get you around? In this case, I sure am. And here's why.
Minimizing Miles Traveled: Driving is frustrating and expensive enough as it is. Every extra mile you drive burns off your 'stash and kills off your planet. So it's an activity that should be done with surgical precision. When I go somewhere, I let the GPS pick the most efficient route based on distance, speed limits, traffic lights, and even current traffic and construction conditions. When my older family members attempt the same thing, they use their intuition and go "the way they've always gone" to get various places. They always show up quite a bit later than me. They occasionally make wrong turns and need to backtrack. It's a huge waste. The GPS wins by a large margin, on average.
Predicting curves and danger: On the GPS, you see the layout of the road for the next mile or so, in 3-D perspective. You can see if a curve is coming up, or a cross-street, train track, bridge, or city center. This lets you plan your speed in advance, rather than having to hit the brakes when you come around the corner and realize the speed limit suddenly drops by 30MPH. This can save gas and prevent accidents.
Knowing when to coast: When following your route, the GPS warns you several miles in advance when a turn is coming up. Instead of squinting at the street signs for each cross street as you whiz down a country road at 60MPH, you confidently watch the road and listen for directions. When the time-to-turn gets down to 0.5 miles, I take my foot off the gas and start coasting down (as long as there is nobody behind me). From 60MPH in my van, this works out to an ideal hypermiling coast-down, allowing me to take a turn with almost no braking and then accelerate back to cruising speed.
Together, these tips save loads of gas, time, and frustration, which will tend to pay off the $100 purchase price of a GPS within its first 1-2 road trips. My current GPS is the TomTom 540TM, in case that helps as a starting point for research.
3: GasBuddy on your Smart Phone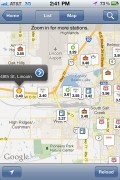 If you travel with internet access in your phone as I do these days, this is a way for the phone to help pay for itself. When the tank runs low, you're usually in some town you've never seen before. You want to find gas at a reasonable price, in a spot that is convenient to your route. So you open the GasBuddy app on your phone, which instantly displays a map of all gas stations in your current vicinity, with the price printed on each. You can even zoom out to see prices in adjacent cities.
The savings can be significant, as I find there can be a 30-cent-per-gallon difference between stations or nearby towns. With my van's massive 20 gallon tank, this is a $6.00 difference per fill-up, which can be optimized with just a few taps on the screen. Gasbuddy probably saved me $50 on this trip. The app is free (ad-supported).
All in all, the habit of fuel-efficient driving is a pretty interesting one. If you're going to be trapped in a box for hours at a time, you might as well have a fun game like Hypermiling to keep you occupied. The simultaneous benefits of saving cash and expanding your comfort zones are just icing on the cake.