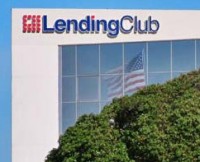 Adventurous readers may recall that we are in the middle of a Lending Club Experiment – on September 24th, I posted an article describing my first foray into peer-to-peer lending and promised to keep you updated on the progress of the investment.
At the time I invested $10,000, and distributed it mostly among the higher-yielding (and riskier) notes of grade C and below. I ended up with about 400 $25.00 slices of various loans, and the Lending Club calculation engine was projecting that I would end up with a gross return of about 20%, and a net return after the inevitable defaults of around 13%.
For the past four months I have monitored the account, manually reinvesting the principal and interest payments from borrowers and mentally salivating over the high returns. I continued to study the Lending Club business model and read other blogs which experiment with peer-to-peer lending. Meanwhile, in mid-November I exchanged a few emails with Lending Club representatives. From the conversations, I learned a few things:
Lending Club surpassed $1 billion in originated/funded loans in November 2012 (it took them almost six years to get to that point).
The company made it into the black, generating its first positive cash flow for the fourth quarter of 2012.
As of February 2013, the total originations have cranked up another 30%, to $1.3 billion
Here's an infographic describing their 0-to-1-billion progress:

http://www.lendingclub.com/public/zero-to-1b.action

I asked if they have trouble balancing supply and demand for notes – the answer is that they actively dial up and down advertising to keep those key factors growing roughly in parallel.
So after a couple of months, I decided to double down and add a second $10k, bringing the total investment to $20,000.
It was quite striking, noticing the difference in interest income between my general-purpose ING direct (now called Capital One 360) bank account, which had about $12,000 in it at the time:

.. that's 2 bucks a month even with an embarrasingly large balance to have in such low-interest account. In all of 2012, I earned a total of only $17.16 on that general-purpose checking account. Versus the Lending Club investment, which has cranked out the following figure in 4.3 months: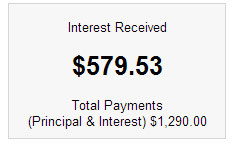 Over five hundred bucks, plus another $195 of accrued interest (since notes generate monthly payments and have random payment dates, on average each one has about 15 days of interest accrued).
Although you are surely muttering,
"Duh! Of course there is a big difference between 0.20% interest and 20% interest"

..Seeing that difference expressed in real dollars still made a visceral impact even on Mr. Money Mustache, the man who claims to use numbers in place of emotions.
"Damn, that is some real money pouring in from that relatively small amount of principal", I thought. So let's look into more detail on how the risk factor is playing out. Check out my account statement as of today: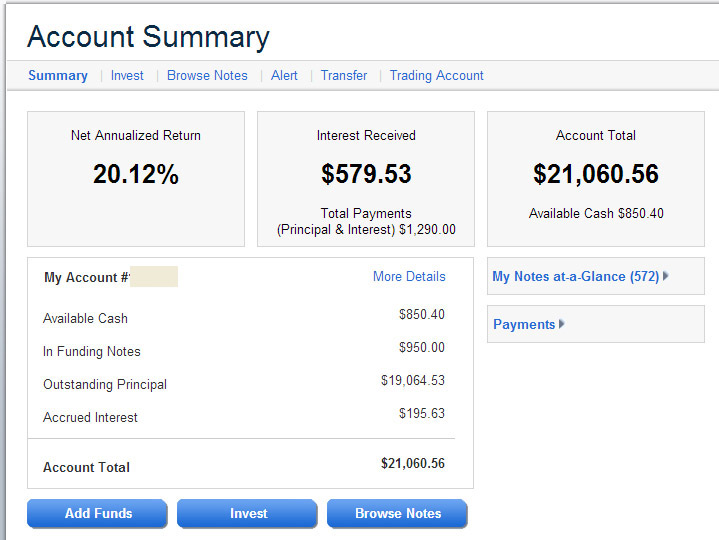 It all looks rosy, but there is a hidden side that shows up when you click "more details". This is where you see the dreaded default rate – the chief reason many people are afraid of peer-to-peer lending. Skeptics point out that loans don't usually go bad right away.. they go bad after 1-2 years, after a certain percentage of the borrowers hit unemployment or other life events that cause them to crash financially. Fair enough, and you'll hear about it here as it happens. But for now, here's what we have:

AHA! We've got two loans ($48.46 of principal) that are 16-30 days late on payment, and 4 more loans ($122.77) that are 31-120 days late.  Meanwhile, 523 notes are current, meaning about 99% of our borrowers have been successfully making payments so far. So are we doomed, or not?
Let's assume pessimistically that all of our $171.23 of principal on those late loans is irrecoverable. If we subtract that from the roughly $759 of interest earned and accrued so far, we would have lost about a quarter of our gross interest. And let's suppose that the same pattern repeats every four months: another 6 borrowers run off with our precious money and never return. Since you can see in the figure above that our loan portfolio has a weighted average rate of 18.45%, we'd end up netting only around 13.8%. Which is, interestingly enough, pretty close to what Lending Club itself forecast way back when we were buying these notes back in the first article. Thus, as long as the pattern holds, you're successfully playing the game of high-interest money lending: lots of bad apples, but high enough average rates to balance it out.
And there's a bit of a bright side to these late loans. Even though Mustachians would naturally condemn any late payer to an eternal financial hell for such unthinkable irresponsibility as ever missing any payment in one's life, Lending Club manages to coax many of its late payers back into the fold. Observe this graph from their loan statistics page:

According to the stats, I should expect to get back about 77% of loans that show up in my 16-30 day late category, and 53% of those sitting in the 31-120 day bin. After 120 days, you can see that the picture dims considerably – Default means Default. So our future returns will be determined by the rate of future late accounts, minus the recovery rate.
So although the experiment is still young, so far it is going exactly as I had hoped and expected. Returns at 20% are of course much higher than predicted, but that should fall as defaults are charged off and more loans drift into the riskier middle period. But I'd be surprised if the long-term return doesn't stabilize around the forecast 12% (if something does change, I'll publish an immediate update rather than waiting for the end of a quarter).
And this is what makes this type of investment so intriguing. I've taken less than 2% of my savings, and set it up to automatically generate the equvalent to about 10% of our annual living expenses*. I wouldn't feel comfortable having much more than that amount invested at this time. But for now the reward, entertainment , and learning value is quite favorable.
A Note on Risk: Many Lending Club critics consider another great recession or a drastic overstatement of returns to be the biggest risk to an investment like this. I have a different opinion: the high-interest consumer lending business model is a tried and true one – whether you love it or hate it, it exists, and it makes money. Lending Club has simply cut off one of the hoses of this gravy train and built an interface for regular schmoes like ourselves to come take a slurp. It's a great idea.
Thus, the biggest risk to me is that Lending Club itself might be subject to some Enron-style blowup in the future. Although the company seems relatively solid, honest, and well-managed with some big backers, I wouldn't bet my life savings on the future of any single company. This is exactly why the concept of index fund investing works – you get slices of hundreds of companies, so the death of any particular one is of little consequence to your portfolio.
Lending Club does have a backup plan that should theoretically preserve your investment if LC itself goes bust, but there would still be risks in such a transition. Thus, I think of this $20,000 I have invested as a fairly solid dividend stock that happens to pay 12% over the long run. Since I wouldn't hesitate to allocate $20k to a reliable dividend stock or REIT, I feel similarly about Lending Club, and that's where we're at today. If I want to allocate still more money to peer-to-peer lending and learn more, I might do the research and get a parallel investment going through the LC competitor Prosper.
Interested in trying out your own little allocation? I'll provide the same link as before, because it benefits this blog if you end up creating an account by using the badge below.
Still on the borrowing side? Don't use Lending Club to commit financial suicide by buying a car or renovating your house on credit, but if you can consolidate credit card loans to a lower rate and then never run a balance on those cards again, you may use this link: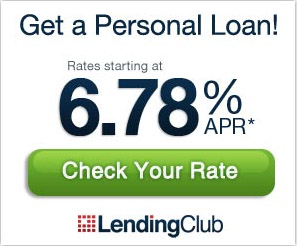 Best of luck to all fellow investors and let us know your own results (including loan grades used and any filters you used) in the comments.
* This is a fun way to think about the rate of return, although in reality the proceeds from this lending club account are earmarked to go to charitable causes as opposed to buying my groceries, as noted in this post.