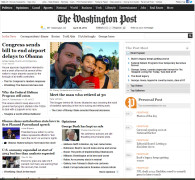 If you haven't heard the news, it has been a pretty exciting weekend for Mustachianism. I had the rare treat of doing a little interview with the Washington Post, and it somehow got promoted to the front page of the paper's online edition where it remained for the entire weekend. Even Ralph Nader retweeted it. This blog's already ridiculous traffic doubled overnight, and so all of us old-timers would like to welcome the 50% of you who are brand-new!
Part of the fun of a new bit of exposure like this is the controversy. Every time the surreal and happy world of this blog has a brush with the mainstream media, it triggers an explosive round of complaints, as well as a meaningful stream of questions.
The complaints won't get us anywhere, because that's pretty much the definition of a complaint: a whining statement of something you don't like, without an accompanying proposal to fix it. But just to indulge ourselves, let's review a few of them I came across:
Wow – REALLY? ICK – YUK!!! You sound like one seriously f'd up socialist. YOU keep that CRA*. Me – I'm going AMERICAN ALL THE WAY!!!!!!! 'Cause you don't really want to live on less – you just want to push your political agenda and I for ONE am NOT buying it – no pun intended.

Can not express yourself without profanity?
Shocking to hear, I know, but did you know that most of the country does not live in a place that is always been 60-80 degrees year-round? Much of the country has 100 degree summers and 0 degree winters. Not conducive to biking/walking. That's probably why people starting buying cars once they were invented…
(MMM Note: Colorado has some of the most rapidly changing weather in the US, and many of us here find it fun to bike both below 0F and above 100F. Walking is even easier.)
What a privileged, sanctimonious twit. He should peddle his philosophy in southeast D.C., see how successful it is.
(I'm not sure if "privileged" is the right word for encouraging high-income people to spend less money on themselves, but at least you made me have to go look up "sanctimonious", so you get one point for that.)
Mustache's retirement is a euphemism for a unemployment with a low standard of living. Many people running around the wilds of Africa, and welfare queens in America, have done him one better.
I still get treats like that every day, and I collect them in a little secret website to share with other bloggers.  While it would be fun to do battle with people like that, it would use up the precious free time I'd rather spend writing to YOU, who probably have real questions about building a 'Stash of your own.
So let's begin – here are a few of the most frequently asked questions about the early retirement lifestyle. While they are often phrased as complaints or accusations, I've converted them into polite questions here to avoid accidental damage to your computer screen.
But what about Health Insurance? 
We've got it. At $237/month for the family, It's not as expensive as most people assume. More on that here. I think this country could run more efficiently if workers were not held back from switching jobs, starting new companies, or retiring by fear of losing health insurance coverage. While the situation is still not ideal, I like to promote the idea that it is not scary to purchase your own insurance these days. Many of my entrepreneur friends are in the same boat, and they have been for many years.
But that has a $10,000 deductible! What do you do if someone gets really sick? 
When you have early-retirement-level savings (say, $1 million), taking a $10,000 hit is only 1% of your wealth. You could do it year after year, for over 30 years, and you'd still have $700,000 sitting around. In my mind, that is preferable to having a job, spending most of what you earn, and having lower-deductible health insurance. Meanwhile, as a saver you have plenty of time to decide if you want to go out and earn more money, or scale down your lifestyle by moving to a less expensive house, or (unlikely) move to another country where healthcare is much cheaper. Savings give you peace of mind and options, and this blog is really about spending less and investing more so you can have those life benefits.
What about a College Education for your Kid(s)? You could never pay for that on $25,000 per year!
This comes down to the savings issue again. People often read these interviews, and fixate on the fact that we only spend $25,000 per year. But we actually earn more than that. And even if we didn't, an early retiree you have a heap of invested money that you can cash out and use for anything you like. As long as you have sufficient safety margin in your retirement 'stashing, that is more than enough to cover any educational expenses while barely making a dent in the war chest. On top of that, I'm willing to bet that my son won't need too much of my help by that time anyway.
Are you making this all up? These numbers don't work out. Nobody could do this.
Every single thing I've written in the 336 posts of this blog is true to the best of my ability to write it. I don't have any incentive to make stuff up: writing lies would ruin the fun of this blog for me. In fact, I believe the best way to make good things happen is by harnessing the sometimes-mysterious power of Honesty.
You're a Prosperity Anomaly: you made money in the stock market and the housing market. That's all luck.
Not true in my case, unfortunately. By owning mostly index funds, we've matched the market's appreciation and dividend yield for all our stock holdings, which we built up since 2001. This hasn't been a great time for stock appreciation. I did make some money on my first house, but that was mostly due to renovating it using my own weekends. Then I lost a bunch by starting a house-building company right before the housing crash. D'oh!
The real 'secret' to how my wife and I saved our first $800,000 over nine years of work was simply saving just over 65% of our income. Do the math right here, and you'll see that saving at that rate adds up to financial independence in 9 years.
As one wise person on Hacker News wrote in defense of this strategy:
"His good fortune shaved years off of his retirement. Maybe even two of them."
The bottom line is if you can live on 50% of your take-home pay and invest the difference, you will be weathy enough to retire in 17 years. Saving more gets you there even faster. No magic or unusual luck required.
But I don't want to be frugal – I want to LIVE, and travel, and, and, … !!
First of all, we're not all that frugal. We lead a pretty spendy life these days, live in a luxury house in a good neighborhood, and travel at least three months of the year. I'm ashamed to admit that I probably own almost as much fancy stuff as you do. And if we wanted to spend even more, we would. But by focusing on happiness instead of shopping, and working to make the spending we do more efficient, the annual total just ends up being lower. A big part of this comes from driving less, since cars cost more than you think they do. But more importantly, the sooner you let go of the belief that these things you want really bring you more happiness, the happier and richer you will be. Look into the philosophy Stoicism, it is freaky-powerful stuff.
You have a Rental House. Isn't that still a job?
Not for me – first of all, because I've had the best tenant in the world for two years, and also because I enjoy it. But I'm doing a terrible job at it: My rental house is an expensive custom one that I originally built myself, to sell. But I got stuck with it in the housing crash and a messy business partner situation. I only clear about 5% of the value of the house in rent every year. I could do better by just selling the place and owning some REITs. Or buying a 4-plex that would deliver double the rent, even after hiring a property manager. So when you see "rental house", just substitute the words "$500,000 of assets yielding 5% after inflation".
Can you stop being a Smug Asshat? And stop swearing too?
Some people say they like the message here, but not all the judgmental opinions and the made-up words like Mustachianism. They want Mr. Money Mustache to write in the straight-laced style of newspapers and magazines. And to omit certain words, so it can be shared with the children of anti-swearing households.
I'm really sorry to have to say this, but this blog is a hobby and not a corporation. So in order to stay motivated to write, I have to write in the way that I enjoy writing. And I just happen to find this shit funny. If it's any consolation, I don't actually think I am even remotely badass in real life, so you can imagine a mild-mannered computer engineer doing the typing, rather than a Smug Asshat, whatever that looks like. And as a consolation to me, plenty of people seem to be reading all this smug asshatty profanity, so I'd say it's a sign I should continue writing this way.
Why are you writing the blog at all? Is it to judge me and make me feel bad about my life choices? Or is it to make yourself feel better, or sell me stuff?
None of these things. It's just one guy's attempt to try to make the world a happier place, by sharing some things I was lucky to learn along the way. Most of the principles I write about here are at least 2000 years old, and yet they are not widely known in the modern world. And, so I can laugh at my own jokes.
Your plan is silly – consumers drive the economy. If everyone became frugal, we'd have no economy and we would all have to live in cardboard boxes.
I think this represents a misunderstanding of economic principles, confusing our productivity per hour with our chosen rate of number of hours to work and rate of consumption. I wrote about that more here: https://www.mrmoneymustache.com/2012/04/09/what-if-everyone-became-frugal/
You're not really Retired! You just said you like working!
This blog is about how to build up the wealth required to make work optional. Mrs. MM and I reached that milestone in 2005, in order to start a family without the distraction of jobs. Since then, we've gone on to do some things that earn money, and lots of things that don't. But that doesn't take away from the original message: if you save and invest enough money, work will eventually become optional, which is a great thing to happen. If you don't like my idea of retirement, you might prefer to get a job with the Internet Retirement Police.
I can't ride a bike where I live!
Good! It sounds like you've at least identified the problem. Now, let's work on a solution. Is it because of irrational fear? (if you see other people biking in your city, I'd be a bit suspicious). But even if you do live in some bleak cars-only location, my job is to at least plant the idea in your head that there is another way. You probably didn't choose your current location with "minimize the need to drive" as a top priority. What would happen if you did? I can already tell you what will happen, since this has been my priority for all of the 12 addresses (spread across six cities and two countries) I've had over the past 19 years. The result? Over 20,000 miles of biking, almost no car-commuting, and over $200,000 in estimated life benefits so far. Rather than telling us all you can't do it now, just consider it as a way to improve your own future.
I'm Way too late for Early Retirement. What approach can a late starter like me take?
Exactly the same approach as an early starter! Spend less than you earn. The math here is equal-opportunity: it does not care how old you are.  Older people often have the advantage of higher salaries, or things they can sell to get a head start. But even if you don't have any of that, you still have your wisdom. And there is nothing to lose and everything to gain from starting now to improve your financial situation. I still get emails from people of all ages sharing inspirational stories of giant transformations for the better. I look forward to getting yours too, and sharing it on this blog for the next person who does not yet have the confidence to make a change.
You look sort of like the Dos Equis guy in that Washington Post picture!
Wow, really? That would be cool. I could see a Internet meme forming around this. You can take a picture of Mr. Money Mustache, and add your own words, just as people do with Dos Equis Man. Planting this idea may turn out to be a very good, or a very bad idea :-)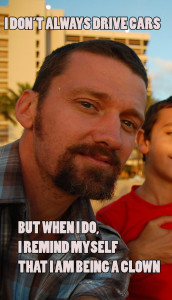 Any other frequently asked questions that I should add to this article? Let me know and I will make some updates, and then stick it up in the menu for permanent reference.