Products & Services | Books | Credit Cards
---
We all know that Mr. Money Mustache is fairly good at Not Buying Unnecessary Crap. But what about necessary things, not to mention services and investment options? Many people ask me in emails which companies I like, so I thought it would be useful to put them all into one page which I can update as needed.
On this page, I list the stores and services that I actually DO use, just in case you want to check them out for yourself. I try to put some serious research into each of my choices as a consumer, but that still doesn't mean they are automatically the best ones. If you see any areas where I could improve, let me know in the comments and I'll look into it and possibly make the switch. If it's a win, I'll change my status to reflect the upgrade.
Some of these companies happen to offer commissions for online referrals. Other ones don't. This doesn't affect my choice, but where available, I made point of using the right type of link so that this blog will get a credit if you end up becoming a customer. It's a nice and fully optional way to help out this blog if you choose to do so.
Investing: Vanguard, Betterment, Lending Club

---
To me, Vanguard has always been THE one-stop shop for index funds of all types. They have the lowest expense ratio and the most respect for their customers. In fact, the company is legally structured as an investor-owned entity, meaning its responsibility is to YOU as opposed to an outside group of shareholders. Read around all you like – the smartest investors will generally recommend Vanguard funds.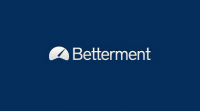 Recently I've started moving investments to a newer service called Betterment, which is basically a fancy front-end for Vanguard funds. In exchange for a surprisingly low fee ($150/year per $100,000 invested), you get automatic rebalancing and tax loss harvesting, which generally saves much more than the annual fee. Plus a very convenient smartphone (or web) based user interface which makes investing and learning about investing loads more fun.
Related Article: Why I Put My Last $100,000 into Betterment



For over two years, I've been running a Lending Club "Experiment", which involved putting in $30,000 into a carefully selected batch of their higher yielding (aka riskier) notes.  So far, I'm pleased with the results – the investment has earned over a 12% annualized return. You can keep track of my monthly results with the article link below.
Related Article: The Lending Club Experiment
---
Banking: Capital One 360

---
Capital One 360 is my primary bank account. They offer no-fee checking and savings accounts that also pay interest – and they consistently rank close to #1 in the interest rates they pay. They are also highly competitive mortgage originators. My favorite feature, however, is the ability to link the Capital One 360 checking account to three other bank accounts so you can shuffle your money around electronically at no cost.
Getting Started / Financial Tracking: Personal Capital, Mint, YNAB
---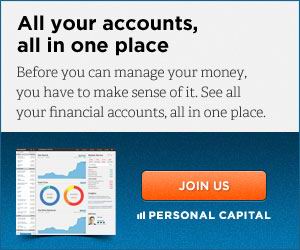 Personal Capital is a financial tracking tool that I started using in mid-2013.  It is similar to Mint, and it is also free to use. But it has a greater focus on investment tracking and investment advice, and in fact the software sort of functions as an investment teacher.
If you link in more than $100k of investable accounts, the company will ask if you want them to hire them as a fee-based financial planner. All of it is optional, and you can just keep using the software for free if you prefer. but I found it interesting to go through the first free session on the phone with an adviser to learn more about what these wealth management companies actually do.
Related Article: Personal Capital: the Investor's Version of Mint?
The best thing about Mint is that it has a relatively kickass and intuitive interface that makes your financial tracking simple. The second best thing is that it is FREE.  If you're not sure where to start with getting your finances organized, Mint will help you see your financial picture with fancy graphs, pie charts and reminders.
Related Article: Watching your 'Stash… with Mint
Do You Need a Budget?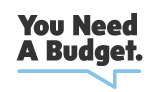 You Need a Budget (YNAB) is a simple to use (but sophisticated under the hood) bit of budgeting software that uses the principles of human habits and behavioral finance to make you more conscious and efficient in your spending. Although I was born a weirdo and always favored saving over spending myself – sometimes to a fault, this software has built a fanatical following of happy users because it works perfectly for many people who have had compulsive spending problems in the past.
---
Student Loan and Mortgage Refinancing: SoFi
---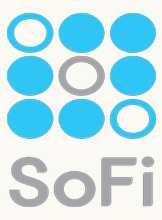 SoFi refinances student loans for well-employed graduates at lower rates. They do it fast (tentative approval in minutes and funding within a reasonable number of days) and even by smartphone. But they lean towards only the safest borrowers, so not everyone will qualify.
Like most financial companies, they have a referral program. I signed this blog up for it, but then renegotiated the terms so that $300 that would have gone to me, goes to you instead! (don't feel too sorry for me – they ended up adding in a commission for me despite all this cash back)
And there is no origination fee for you – they make all their profits on the investor side of the platform – the big funds that are buying up the debt, even while SoFi remains your friendly point of contact throughout the loan.
Check out their rates at www.sofi.com/mrmoneymustache
See full article here:
A SoFi Review: Slick Technology Meets Your Student Loan or Mortgage
---
Credit Card:  Chase Ink Plus, Chase Sapphire Preferred
---
Currently, my bonus cards are the Chase Sapphire Preferred for normal family spending and the Chase Ink Plus for the business side of life.
These both offer pretty major signing bonuses in the range of $500, no international transaction fees, and so far I have been able to cancel each card before the introductory year ends and sign up for a new card, collecting another bonus each year.
There are also an ever-growing number of credit cards that offer large signing bonuses and cash-back percentages on various categories of stuff – even without annual fees. Thanks to a collaboration with a travel-hacking friend of mine, we now keep a pretty rigorously updated list of the best cards here: List of Rewards Credit Cards
Related Article: Rewards Credit Cards: For Mustachians or Sucka Consumers?
---
Taxes: 1040.com

---
​
Mrs. M and I actually enjoy doing taxes and accounting work, and I've even read quite a few books on tax strategies for small business. From 1999-2014, we always did our own business, personal, and rental house taxes, using Turbotax. If you're a straight-up employee or run a simple business, doing your own taxes is a no-brainer.
In 2015 we finally gave in and hired a brilliant Mustachian tax accountant, because the complexities of our family business (which includes this blog) meant we were wasting a lot of money in overpaying taxes.
Nowadays I feel that the 1040.com software has eclipsed the bloated Turbotax software in usability, so check out the link above if you want to try it out. 1040.com will even let you do basic taxes online for free, although it'll cost you a bit more for more complex tax scenarios. Note that many states (including Colorado) allow you to file free through the state's website.
---
Accounting and Bookkeeping: Xero

---

After using Quickbooks for 15 years, I was excited to switch to this much more efficient alternative beginning in 2016. Cheaper than Quickbooks, a Xero subscription is 9 bucks a month ($30 for larger businesses) for very intuitive online and mobile access.
Instead of a year-end crunch in front of the desktop PC, I can now effortlessly keep up with transactions as they happen using only the nicely made Xero phone app! Then simply hand off the end-of-year report to my accountant (or your favorite tax software) at the end of the year. If you're curious try the 30-day free trial. Towards the end of this trial, look for an email from their sales department offering a 50% discount on the first 6 months before joining.
---
Cell Phone Service: Republic Wireless, and other Mobile Network Virtual Operators
---
From 2012 through 2015, both Mrs. MM and I enjoyed using Republic Wireless for mobile phone service. It's $10 per month for unlimited calling and texting on your choice of good low-cost smartphones, the Motorola X or Motorola G.  We recently changed to Google Fi (more expensive, but with higher end phones and excellent international service at no extra charge)
Latest article on Google Fi and Republic Wireless
Before Google Fi showed up, I used  Ting for international trips. (Using the Republic phone internationally is free for calls, data, and text, but only when you have access to a Wifi connection. Great for hotels and the homes of friends, not so great when driving.)
 Other providers:
Straight Talk is another service many readers mentioned using.  They offer an "All You Need Plan": $30 a month – 1000 minutes, 1000 text or multimedia messages, and 30 MB of data transfer.  They also offer an "Unlimited Plan":  $45 a month – Unlimited Minutes, Messages and Data Nationwide anytime (although some say it's not really unlimited, so look into it if your data usage is really high).
Other readers have recommended TracFone.  Depending on your  usage, you might check them out.

Others worth checking out: Platinum Tel (T-Mobile GSM), H2O Wireless (AT&T GSM), Ting (Sprint), Page Plus (Verizon CDMA), Virgin Mobile (Sprint), Republic Wireless (Sprint).
See I.P. Daley's Cellphone Superguide in the Forum for more information and discussion. Also see his Communications & Tech Discussion Thread, and his Full unabridged guide.
Another useful hack for cell phone service (depending on where you live) is to get a Sprint 4G unlimited data plan, with a good smartphone that can provide no-cost tethering. Then when you are home, your phone becomes a hotspot to which all of your computers automatically connect over Wi-Fi and share its fast internet access. The monthly bill for the Sprint service would be high, but you make up for it by having no separate internet access bill to pay. (And of course, you already dropped your land line and cable TV service, right?).
---
Car Insurance:  GEICO
---
This one has been easy: our car insurance is obscenely cheap these days at rougly $360 per year for two cars and two drivers. I am a big Geico fan and have been for over ten years.
(Caveat: my cars are old with no collision damage or comprehensive coverage, and we are married age-40 drivers living in a small, safe city who put very low mileage on these cars. No accidents or speeding tickets on the record. But the savings of Geico over competitors is even larger in situations with higher premiums.)
---
Even Better than Using a Car: UBER
---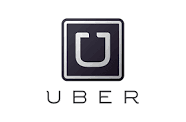 I've never liked taxis, but suddenly the world changed when they became friendlier, cheaper, and available instantly from a smartphone app.
I now use Uber to get to my local airport because it's cheaper than driving and parking, or bribing a friend to drive me. Plus, I can now catch up on emails during the trip. It also allows me to avoid renting a car at my destination (biking or public transport always comes first, of course – Uber fills in the cracks).
For some people, Uber makes it feasible to ditch personal car ownership completely, which is the main reason they get a spot on this page.
You can get a free $20 credit towards your first ride with this link:
https://www.uber.com/invite/ubermoneystash
---
House Insurance: Safeco
---
I have swapped out the house insurance several times in recent years. First I was with State Farm, but they raised the rates for no good reason one year. I restored the old rate by switching to ASI, but they too jacked up their rates unexpectedly after a year. So I switched to Safeco, and so far rates have been stable. I am paying about $500 per year for a $275,000 rebuild coverage with $5k deductible. (The property is worth about $400k in today's market but a lot of that is the value of the land).
---
Health Insurance: ehealthinsurance.com
---
When using ehealthinsurance.com as the search engine, the winning policy in my case after sorting by price was a United family plan with a high deductible (10k).
As of 2016, we were shuffled over to a more expensive Kaiser plan due to ACA requirements. More coverage in exchange for more money. It's about $550 per month.
Older Related Article: Our New $237/month Health Insurance Plan
---
Blogging – Web Hosting: Bluehost
---

Bluehost has been good to us – Until March 2013 they hosted this rather busy blog (it reached 2.3 million pageviews per month) using the "Pro Plan" at $25/month.
Normal hosting plans are now down to under $4 per month due to a special high volume discount they have provided to readers of this blog. This includes massive space and no limits on traffic, and the speed is excellent (during an FTP test, I easily downloaded from the account at 16Mbits/sec even while the blog was running in the background, and even that was probably limited by my cable internet connection rather than Bluehost.
They have automatic installs of wordpress and all kinds of other software (such as the forum software we use) all built in, so it takes less than five minutes to set up a relatively fancy blog.
Nowadays with over 6 million pageviews per month, we have moved up to the Uber-powerful development/hosting combo platform called Pantheon.
But until you reach that first million, Bluehost is a great choice.
Related articles: How to Start a Blog
---
Blogging – The Guy to Hire when you Need Some Help: Kevin Worthington
---
The technical aspects of this blog are now managed by a freelance system administrator and WordPress expert named Kevin Worthington. He stepped up to help during the March 2013 overload crisis when this blog finally proved it was too big to run on a normal web hosting service.
If you are looking to start, maintain, or grow a blog or other technical enterprise, and need more technical skill on your side, this guy gets my ultimate recommendation. And he's still looking for more clients. Get in touch with him through the contact form on his site: http://kevinworthington.com/
---
Blogging – WordPress Themes: Thesis, Elegant Themes
---
Update: MMM is currently running on Thesis! (see post)
Bloggers are always raving about Thesis Theme, so Mrs. MM decided to check it out.  She's currently doing some hardcore Thesis learning (see the Tutorials she is using) and is hoping to get the MMM site running on Thesis in the near future.  Thesis offers a 30-day money back guarantee, so it's worth checking out if you're interested.  It is a very different type of theme though and does require some upfront learning, but Mrs. MM seems to be enjoying it.

Mrs. MM has worked with Elegant themes at her old part-time job. The themes are beautiful and you can grab them ALL for $39. Pretty sweet.
---
Education: The Future of Education
---
Treehouse: Treehouse is a company that creates high-efficiency learning courses in high-demand subjects. And it is all about breaking up the old notion that education should be expensive, exclusive, and formal, and replacing it with the idea that the Internet has made information and communication virtually free. And it is information and communication with other people, rather than lifelong research tenures and ivy-covered stone blocks, that are the foundation of allowing people to learn things and produce value. (see article)
Coursera: actual courses from various universities, made available mostly free
Khan Academy: a smart and personable guy just started making some YouTube tutorial videos to teach his family and friends, and it took off, eventually getting the attention and backing of Bill Gates. Nowadays they've got a video library with over 3900 videos in various topics and over 225 million lessons delivered.
EDX (a collaboration between Harvard and MIT): Big-name courses, made available for free – with options to pay a discounted fee to receive actual course credits.
creativeLIVE: A selection of neat-sounding courses in the Artsy arena (photography, business, design, photoshop, video&film). To complete the circle of this new online world, you'll find Tim Ferriss and Ramit Sethi on there as instructors, teaching their stuff even as they continue to run their own businesses based on the idea of learning stuff online.
Duolingo: Mrs. Money Mustache has been learning Spanish (and brushing up on her French) using Duolingo.  It's free language education for the world.  They currently offer free (and amazingly useful) courses in Spanish, English, French, German, Portuguese, and Italian.
Scratch: Jr. Money Mustache and Mrs. MM enjoy creating projects in Scratch.  It is a free programming language for kids and a really fun way to learn to create your own interactive story and games.  Jr. MM give it a thumbs up!
The Library: The library is a great place to find a lot of great free learning materials that don't just include books.  Our local library offers free online courses.  Find out what your library offers.
See Related Article: Interview with a CEO: Ridiculous Student Loans vs. The Future of Education
---
Business – The Legal Representation to use when you need someone at your back.
In March 2014, this blog started receiving some legal threats from companies who were trying to get me to remove conversations posted by other users in the forum. You can read more about one of them here.
After hearing from dozens of the country's top law firms, I chose an Omaha Law Firm called Dornan Lustgarten and Troia. I worked with attorneys Josh Weir and Ross Pesek because of Josh's experience in first amendment cases and both of their lightning-fast responsiveness. They are also warm and reassuring people to work with in general. They changed my opinion of litigation and the court system from "scary" to "FUN!"
Ross Pesek has since gone on to start his own law firm in Omaha – Pesek Law.
If you're a growing blogger or business owner and need help with legal issues, I could not recommend this firm more highly.
---
Books: The Library, BetterWorldBooks

---
The Library takes care of almost all my reading needs. Sometimes I read books electronically – on a laptop or smartphone. In the very rare case that I actually want to own a paper copy of a book, I'll look for a used one at BetterWorldBooks.com – 8 Million Used Books sold to fund literacy worldwide. Free Carbon Neutral Shipping Worldwide.
For students, I've heard good things about Campus Book Rentals and Bookbyte.com
.
---
Groceries: Costco

---
I like to get the expensive staples like olive oil, nuts, cheese and coffee at Costco once per quarter, which saves our family about $1000/year on groceries according to this article. For the smaller weekly runs, I've grown to really like the Kroger grocery chain (represented in my area by Denver-based King Sooper's). It is much better than Safeway in many ways, especially organic food.
Related Article: Is a Costco Membership Worth the Cost?
---
Bikes and bike parts: Bike Nashbar

---

My last two bikes, as well as my last 8 years worth of various parts like tubes, tires, and lights, have been from Nashbar.com. This store is great. While I still recommend checking Craigslist whenever you need to buy a bike, if the scene in your area looks bleak you should feel good about buying a new bike somewhere like this, because the prices are great during the sales. You can often get a sweet city commuter bike for $300-$400 that will provide over 10 years of hardcore service with minimal maintenance.
---
Home Business –

Maxemail

(Fax <-> Email service)

---
When dealing with hopelessly antiquated vendors like banks and real estate companies, Mrs. MM and myself occasionally need to resort to old fashioned technologies such as faxing.  Instead of wasting paper and space (as well as a land-based  telephone line!) on a fax machine, I recommend checking out Maxemail.  Your faxes show up as e-mails with a nice PDF attachment, so you can receive them from wherever you happen to be.  Sending faxes is easy via email too – just scan to PDF and email to a special address.
Note – we were using "eFax" for years, but a reader just recommended this Maxemail service, which has drastically better pricing ($24 to $84 per year, vs. $200+ per year for efax).  The wisdom of the MMM readers strikes again!
---
Everything Else: Amazon

I buy everything from furnaces to underwear at Amazon, because the efficiency of it cannot be beat. If you use the little box below to start your Amazon search it will benefit MMM and friends, and many thanks for that.


---
Products & Services | Books | Credit Cards