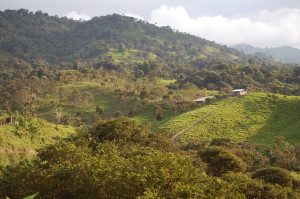 So, here we all are at the equator. Sitting by the fireplace in a 400-year-old hotel, nestled in a tropical valley at 9,000 feet above sea level and surrounded by towering volcanoes. Well, that's where my mind remains, even if in reality I'm finally back home in Colorado at the end of a 36-hour day of touring and travel*.
When I say "we", I am referring to Jim Collins, JD Roth, Cheryl Reed, her Clint Eastwoodesque husband named Rich, myself, and a deluxe coalition of people who were bold enough to travel to South America to join an adventure dreamed up by a bunch of writers they had only met through blog posts.
And what a group it is. Since the day of arrival, we have stayed up late every night talking, drinking wine**, laughing, discussing the craziness of the world we left behind, and planning future trips and business ventures alike. Within days, a group of permanent friends has been formed. The experience was much more than could reasonably be expected from any vacation.
But as usual, all this fun has come with a generous side dish of lessons in living a more prosperous life. Of course, there were the obvious ones, beginning with a study on happiness and finding your passions from Cheryl, my own presentation on the intersection of riches vs. happiness, Jim's moving sermon on the power of keeping your stock investing as simple as possible, and JD's great workshop on how to improve your life by being less fearful. But the bigger lessons formed organically from the unusual event of a large group of wealthy but frugal people gathering in a third world country and absorbing the differences between our cultures.
While visiting the villages and small towns of rural Ecuador, we were reminded of just how little money it takes to lead a happy life. Many people live in rudimentary huts or cinder block houses without indoor plumbing, yet deliver a genuine smile and a "Buenos tardes" as you walk by, even as an obvious outsider. The children run and play just as joyfully as any I've ever seen in the United States, even with no toys more sophisticated than an old soccer ball and a field of tropical vegetation and assorted free-ranging livestock. While we could do a lot to help people in these villages, the few problems that did exist came from a need for better health and education, rather than a lack of material luxuries.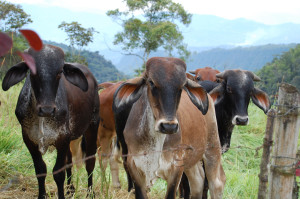 A portion of the proceeds of the Chautaqua went towards rebuilding the small house of a large family which had been damaged in an earthquake months ago, forcing them to live in a chicken coop across the street until their home could offer shelter again.
But the real surprises began when our group was comfortably lodged together at the Hacienda Cusin. We found that we had an incredible amount in common, from the basic skepticism of consumer culture, right up to a shared bizarre sense of humor. We found that trust was building among us, which led to a mutual sharing of some of our secrets, which led to more understanding and a desire to help each other. Quite a few ambitious business plans were hatched between many of us, from casual job inquiries right up to my slightly crazy plan to look into buying the 24 acres adjacent to Cheryl's existing farm to turn it into a permanent gathering point which also generates money for charity. The energy was so powerful in this crowd that the buzz will probably take weeks to wear off.
We were all so surprised at this, that it's worth repeating: you really do give your life a boost by meeting the right people. Sure, the folks you work with, live near, or grew up with are all dandy people. And if you feel a genuine connection with them, cultivate it to the fullest. But this particular meetup reminded me that even uncommon people can find each other, with fantastic results. Personal connections of this type are the ones that stick around through the years, and come through for you when you need them in the future. They are the reason some people find that the world is friendly and jobs are easy to get, while others have the opposite opinion.
The general goodness of this retreat has made me reconsider my assumption that it was a one-time event. J.D. is already talking about trying a similar thing right in his hometown of Portland, Oregon. And I figure it would be appropriate for Mr. Money Mustache to do some sort of semi-organized group camping/kayaking trip through the deserts and canyons around here next spring. We shall see.. but for now, it is time for a few days of sleep.
* Since you're probably wondering: our neighborhood was unaffected by last week's giant flood, but I'll be doing my best to help out some of the other Longmontians who were less lucky.
** And other things. On this trip, I accidentally invented a new drink called the Mustachian Rosé, which quickly became quite popular. 50% whisky, 50% red wine. Although you are surely frightened by the description, you will be surprised by the deliciousness of this drink. 
J.D. Roth made his own great post on the event – you can find it here.