We get a lot of case study requests around here these days. I'd love to answer all of the questions and write articles about a good chunk of them. But even a retired man has his free time limits, which is why I am glad to have Jacob on my side doing some of the research and analysis.
This latest one lies close to my heart: A high-income family on the East Coast is doing well, but wonders what adventures await beyond the confines of the Great Boston-to-Washington-DC-Megalopolis. I have always felt that this area is irrationally expensive and less fun than the West. So if you ask me, it makes great sense to get in, make your money, and then get out. But it could just be my personal preference for mountains, deserts, sunshine, and the mild Pacific Ocean talking. Anyway, on with the story:
Dear MMM Budget Team,

I'm interested in moving from the east coast to the west coast. I am determined to do it and we live a pretty Mustachian life. I am not sure how to convince my husband to "early retire" but I think if we do this move and leave the high cost-of-living area we are currently in, we could afford to move to Portland or Seattle. It's not a big city but I am pretty happy in a smaller town.

Husband is currently working and I am staying at home. We have two kids ages 3 and 1. I'd also like to have 1 more kid so my reasoning for staying put potentially where we are another 2-3 years is having our third kid while covered by employer provided insurance versus buying our own. So I think a 2-3 year time frame.

In 2013 we grossed $200k. We lived on around $65k including our very expensive mortgage! Our house is a $600k (what we paid) 3bd/2.5ba townhouse at 1600 sq ft in an excellent school district. It's worth more I'm sure – on our street last year alone 2 townhouses sold in bidding wars above asking price first week up. We owe ~$390k and bought in 2005. I think conservatively in a couple more years $250k is what we'll walk away with if we sell.

We really live on about $30-40k without our mortgage. We lived like graduate students until we had kids and continued the lifestyle and haven't changed much since.

However I think a better long term strategy would be to sell our home and move closer to our families on the west coast in a cheaper area. We could use our home equity to buy a home with cash and then we wouldn't have to worry about finding high paying jobs. We could semi-retire and find work if we wanted.

My only worry is saving for college and retirement really. If we moved to Seattle we could do a prepayment of the undergraduate at University of Washington. We have ~$10k and ~$5k saved for our kids respectively.

But I'm not sure we have enough saved. I know without a mortgage we are looking at not needing the $30k/year we pay now!

So MMM I'd like help. I'd like to convince my husband we can do this and "retire" move to Seattle or Portland or any cheaper area. I think it's a proposition worth investigating.

I think our quality of life would be better. My husband is a super financially conservative guy though, and has been telling me we need to save more, the kids don't have enough for college, etc. And that we can't afford the 3rd child I want and he does but isn't sure about financially. Seriously I feel like we've made a lot of frugal money moves and we should have the 3rd child and we should also move because it would be the best idea to get out of the area.

If it matters, my DH actually loves his job. That's a BIG!!! sticking point. He says he's not ready to retire but I'm hoping to prove to him our life outside an expensive area might be worth doing even if it means changing careers.

I find it incredibly stressful that we are in a townhouse, unable to really afford a detached house and we make a substantial salary, no yard, no garage, sharing space, cramped, multi-level living, with terrible traffic (takes 30 minutes for our 8 miles to work). And for us to buy a single family home we either go up to $750k for a 3bd/1.5ba cape that needs work or $1M+. I feel like we would be drowning, unable to save, house poor, and I'd be forced back into working to just keep up. We are 34 and 36 I forgot to mention earlier.

If you read this far wow. Thanks, I would really like to be a case study, please help!
Jacob's Analysis
After further email exchanges, Jacob was able to put together a fuller picture. This is what he found:
Assets:
Home – $609,000
Retirement Fund Savings:
Roth IRA – $217,000 (Investing $11k annually [backdoor])
401k – $245,000 (investing $17.5k annually)

Taxable Investments – $163,000 (10% of income into ESPP annually)
Cash Savings – $54,000
College Savings –
ESA 1 – $11,289
ESA 2 – $6,369

Vehicles –
Subaru – $15,800
Hyundai – $6000
Debts (Balances):
Mortgage – $390,000 at 2.625% (5 year ARM)
Car Loans – About $9,000 at 1.9%
Net Worth: 
All the assets : $609,000+217,000+245,000+163,000+54,000 = About $1.3 million
(We can leave the kids' education funds aside to compound through their lifetimes to take care of a good chunk of their eventual college costs. And I don't count cars as assets since they burn money and depreciate)
Subtract the liabilities: $390,000 +9,000 = $399,000
This leaves roughly $900,000 in potentially productive money for future use.
Goals:
Move to west coast – anywhere
Financial Independence in 5 years – I think that if we stay put we would hit this for sure within 3 years.
Pay for all of kid's college – stretch goal
Pay off house by 50 – stretch goal based on living where we live and buying a very expensive home
Potentially retire whenever DH wants.
Priorities:
Family
Friends
Retirement
College
Let's take a look at the details of making the move West, then take a look at how that would affect the family budget.
Housing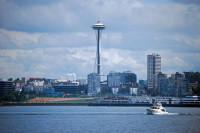 It sounds like you're set on moving to either Oregon or Washington, and I don't blame you! As a lifelong resident of the Seattle area, it is one of the greatest places on earth, especially as a place to live. The weather is mild, the food is wonderful, and the land is absolutely gorgeous. You'll enjoy the fresh air, many bike-friendly cities (including #10 in the U.S. according to bicycling.com), an endless amount of hiking trails, and the absolute beauty of the Northwest terrain.
As for housing, I recommend moving at least 15 – 20 miles OUTSIDE of Seattle, as your housing prices will cut in half, and you'll still have great access to the city. If you scour the area, you can still end up with a decent house for $250,000. I have a family member who just closed on a house in the Monroe area for $239k, perfect size for a family of 5.
Just hop on Zillow.com to find some average prices in areas you would like to live. I recommend Bothell, Lynnwood, Snohomish, Monroe, Shoreline or South Everett.
MMM Note: Although I've never lived in either place, I have made a few visits and I'd personally choose Portland over even Seattle. Why? It is smaller, less expensive on average, and I just feel that the dream of the '90s is alive in Portland. 
Bellingham, WA is also lovely.
Also, with your current savings rate so high ($65k spending on a $200k income), within another year you will have far more saved anyway, allowing more for your housing budget. Plus, you'll probably continue to earn income after retirement, making all this budgeting sort of superfluous, but still useful as a psychological push to get you to make the jump.
The Math
If you start with your current $900,000 net worth*, and set aside $275,000 for a house and related moving costs, you will have about $625,000 available to fund everything else. As MMM has stated numerous times, the math behind early retirement is shockingly simple.
Applying the 4% rule from that link above, $615k in assets should provide roughly $25,000 in spending money, or $2083 per month. Is this enough for your family? Let's break it down for your situation with the budget:
| | | | |
| --- | --- | --- | --- |
| Category | Before | After | Comments |
| Total Income | $4,958.00 | $2083 | Plus many thousands currently going to tax-deferred savings. |
| Total Expenses | $4,610.00 | $2,192.00 | |
| Projected Ending Balance | $348.00 | this would leave a small shortage | |
| | | | |
| Bills | | | |
| Mortgage P.I.T.I. | $2,200.00 | $250.00 | Taxes only. (MMM Note: and they could be lower than this - choose your area carefully) |
| HOA | $210.00 | $ - | Stay away from HOA. |
| Natural Gas | $100.00 | $50.00 | Mild weather in beautiful WA state! |
| Electric | $200.00 | $50.00 | MMM household uses about $25 worth per month. Read the article on Saving Electricity and enjoy the savings! |
| Internet | $85.00 | $46.00 | Comcast high speed in WA is $39.99 for 3MB internet. You can also call and get deals every few months if needed. |
| Cell Phones | $130.00 | $60.00 | Switch to Republic Wireless unlimited everything plan for $25 per month, and you're at less than $60 after taxes. |
| Car Payment 1 | $385.00 | $ - | This should be gone by the time you move/retire |
| Car Payment 2 | $200.00 | $ - | This should be gone by the time you move/retire |
| Car/Life/Home Insurance | $250.00 | $250.00 | MMM Note: These could all drop substantially in retirement as well. Lower-cost house and cars, no collision/comprehensive required, and no life insurance is needed for financially independent people. |
| Medical | | $400.00 | With no employer-provided insurance, you will need an individual health plan. Healthcare.gov for plans to cover your family. |
| Total Bills | $3,760.00 | $1,592.00 | |
| | | | |
| Necessities | | | |
| Food | $400.00 | $400.00 | |
| Restaurants | $200.00 | $100.00 | You're now retired! Live free and enjoy more gourmet meals at home with family and friends. $100 should cover a few monthly date nights. |
| Pets | $50.00 | $50.00 | |
| Gasoline | $200.00 | $50.00 | You're retired, with commuting and other petroleum-wasting greatly reduced. Enjoy riding bicycles everywhere! |
| Total Necessities | $850.00 | $600.00 | |
| | | | |
| Total Expenses | $4,610.00 | $2,192.00 | |
Things are looking pretty good: After the move and other adjustments you could get your monthly spending down to a mere $2,192 per month. This is very close to what you need, but since you stated you wanted to wait two more years, I suggest making the budget adjustments above (that you are able to), saving your husband's next two $70k bonuses for college funding, and higher child costs in the future, and stash whatever is left over for your safety margin
Summary
You have put yourself in a great position to retire NOW if you wanted to, if you move to an area with houses in the $250,000 range and below. The only issue I see is getting on the same page as your husband. It seems he is perfectly content makes tons of cash and living a minimalist lifestyle, but you are not.
So here's the big question; What if your husband doesn't want to retire? All of our correspondence suggests he is perfectly happy with your current lifestyle, with the caveat that you "don't have enough money to retire yet." So my suggestion would be to ask that very question; "How much is enough?" You can show him this post and see if he feels comfortable with it. You have enough. And gently remind him that retirement means doing WHATEVER HE WANTS with his time without the worry of needing income. If that includes continuing to work at a job he loves, that's totally in the cards!
Good luck!
* MMM Adds: Wondering how to retire early and still get access to 401(k), IRA and other retirement assets without penalty? You might take a look at this article, and then also head over to say hello to the Mad Fientist, who continually impresses me with his ninja-like retirement account analysis skills.
On the other hand, you don't have to know all this stuff right away to rapidly build financial independence. For that, you just need to work hard, spend less, ride a bike, and watch the additional digits start tacking themselves on to your net worth. Keep reading books and learning as you do this, and you'll know plenty by the time you get there.