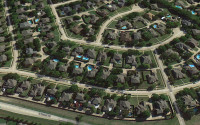 If you're in the United States and you look out your window in a typical neighborhood, you will notice asphalt shingle roofs as far as the eye can see.  There are a few regional differences, like clay tile roofs in California and Florida and flat roofs in the adobe-style houses of Santa Fe. But overall the Almighty Shingle dominates the marketplace. And this is a shame, because it is a pretty wasteful roofing material that causes a lot of unnecessary cost and headaches.
Flying in to Sydney a few years ago, I noticed that their suburbs looked completely different than ours. Every single roof was an attractive geometric expanse of detailed steel panels, often in bold colors. The Australians told me that these metal roofs save them a lot of energy, and last forever as well.
So during the short life of my house building company, I was pleased that the architect recommended I use metal roofs for the same reasons: They look cool, they can last a lifetime, and they keep out summer heat much better than shingles.
The only problem is that in my area, the costs were spectacular. I paid about $13,000 to have a local company install standing seam metal roofing on each of the two houses my company built, in contrast to the $4,000 that other builders were forking over for shingles on houses of similar size. I wondered about the price, but did not have time to find a better solution.
For my current house rebuilding project, the relaxed schedule and budget allows us to go All Experimental, All The Time. A welded steel load frame. A huge amount of high-solar-gain glass. Radiant heat. Spray foam insulation. And perhaps most exciting for me, installing my very own standing seam metal roof for the first time.
I have just finished installation of the bulk of this roof and put it through rainstorm test, and the whole experience has been a great one. So in case you ever want to consider such a roof for one of your own future homes, here's a quick primer on why and how to do it.
Benefits of a Metal Roof
General Awesomeness and Durability: The biggest reason to choose metal is that it looks great and lasts forever. On top of that, it is more resistant to wind, fire, snow, hail, and rain. You actually get a discount on your annual insurance premiums in many areas if you have a metal instead of shingle roof.
Even in shingle-dominated areas, you'll often see higher-end houses popping up with metal roofing. Once you do it, you're done thinking about roofing forever. If you buy a house with a metal roof, these benefits pass on to you. This means the style has excellent resale value.
But note that all metal is not created equal. The rusty corrugated stuff that you see on old barns and chicken coops is in a different category than the architectural standing seam panels we use today. While even a corrugated steel roof can work well, the modern stuff is better in almost every way.
Weight and Environmental Impact: your typical 2000 square foot shingle roof weighs 5400 pounds and contains over 200 gallons of sticky black crude oil, soaked into its fiberglass mat and covered with ground stones. After only 15-25 years, all of this will need to be torn off, trucked away, and replaced with another layer of oil.
In contrast, a metal roof of equivalent size weighs only half as much (meaning you can design with lighter structural members), and requires less than half the fossil fuels to produce. On top of that, new steel is made from 50-100% recycled steel these days and is fully recyclable at the end of its life, which will be 200-300% longer than the life of shingles.
 Lower Air Conditioning Bills: Shingles reflect only 5-25% of the solar heat striking your roof. Steel can reflect 20-60% of it, depending on color. This keeps your attic (and in turn your house) much cooler, and also reduces the urban heat island effect and smog formation. In areas like Dallas and Houston where there is too much heat and too little fresh air, shingle roofs still dominate and the average cooling bill for a single house is over $1200 per year. Imagine the effect of a widespread switch to light colored metal roofs in areas like these.
But What Does All This Cost?
All this is much less expensive than I thought (in other words, I got ripped off when building those other houses back in the day). Shingle roofs cost at least $1.50 per square foot for the materials, and $1.50 for the installation. Metal is only a bit higher at roughly $2.20 per square foot, and from my own experience the installation takes about the same amount of work and skill level. So the overall installed cost should be only 25-35% higher if you hire it out, and you can build your own metal roof for less than you would pay a very competitive company to shingle it.
How to Get your Own Metal Roof
Although I installed my own (with the help of a few friends), you don't have to do this to get the benefits. Understanding the components involved, and how easy the stuff is to install, will give you ammunition in selecting your own roofing company.
Understand the Terminology
Here's the 3-D Sketchup model of my house, viewed from above. I have labeled the various parts, because you'll need to know those when ordering a roof of your own or hiring a contractor.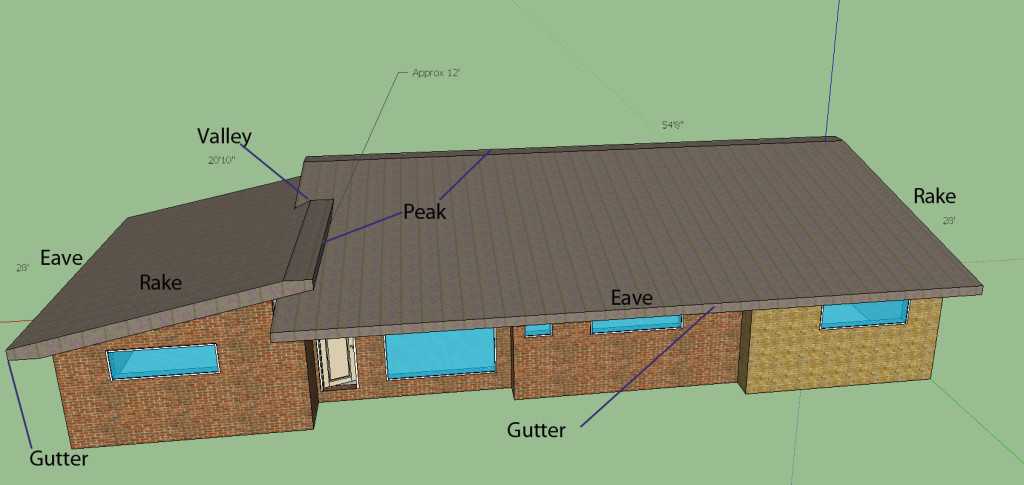 Find a Supplier
Metal roofing components are extremely simple: Sheets of galvanized steel get rolled through a shaping machine, cut to length, and optionally painted. Some roofing companies buy their own shaping machines so they can buy rolls of plain galvanized steel and crank the stuff out right on the job site. But there are also manufacturing companies that do it. I went with Metal Sales Inc, a nationwide company that makes all sorts of exterior metal panels and sells through Home Depot's special order department as well as other retailers.
Get a Quote
At the core of this learning experiment is just figuring out what to order. After much distillation, all I needed was a few different components in sufficient quantity:
Gutters (aka "box gutters") to catch the water as it flows off each of my eaves
Valley Flashing, which is just a big slightly-bent strip of metal to put into each valley to catch water
Offset Flashing, to create a little hook along each eave and valley (you'll see what this is for in a minute)
Metal Panels, to cover the whole roof
A panel hemming tool, to fold the downward end of each metal panel and hook it under the offset flashing
Z-closure Flashing, a little filler piece to fit into spaces and keep bugs out.
Rake Flashings, to cover each side edge of the roof
Peak Flashing, to cover the upward slope and give the whole thing a finished look.
Assorted screws, rivets, rubbery tape stuff, and clear silicone roofing caulk.
Let's take a look at my quote from MSI, so you can see the details in action. Note that my 1500 square foot house has a 2100 square foot roof, because of the large overhangs.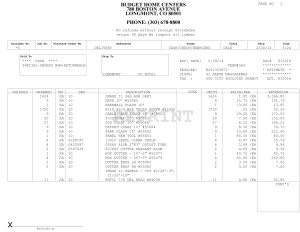 I got this quote from a local building supply store called Budget Home Center – they sell MSI stuff at the same price at Home Depot, but the staff is far more knowledgeable and responsive. Even so, I ended up with a few unneeded parts: the "standard cleat" and "eave flashing" are not needed for my job. The total cost, including complimentary delivery right to my front yard, was about $4500 if you avoid ordering the unnecessary stuff. Not bad for a $13,000 roof!
How to Install your Metal Roof
In a nutshell, you screw and rivet down all the pieces from eave to peak, in the same order I listed them above. I won't get into all the details, because they are covered well in this YouTube video from Metal Sales Inc itself. But suffice it to say that installation was a breeze. I have done quite a few shingle roofs in the past, and this operation was faster, tidier, and less tiring than shingling.
In the end, it will take us about 60 person-hours to do the whole thing, which should come in under $2000 if you figure labor at $30 per hour, or under $1.00 per square foot for my relatively simple roof. Add in a bit more complexity for the typical roof and some profit margin for your roofing company, and I would still think that installation cost should not be much higher than shingles.
Alternatively, if you figure that I saved $9,000 over hiring my previous metal roofing company, My friends and I "earned" $150 per hour for doing this pleasant and educational work. If you are a roofing contractor yourself, I'd recommend adding metal roofing to your portfolio. The lack of competition will provide better margins and a surplus of customers.
And if you're a current or future homeowner, I can't rave enough about the huge step forward you can take once you learn about this superior alternative to shingles.