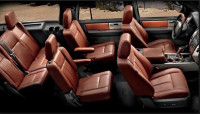 Let's face it. Here in America, a car is not a luxury, it's a basic necessity. With our wide-reaching cities and the harried schedule of our modern lives, the comfort, flexibility and privacy offered by the modern automobile is both an essential part of life, and a little slice of heavenly peace to brighten each day.
As a teenager, you fell in love with your first taste of four-wheeled freedom. As you moved through college and adulthood, you surely upgraded to models a little more befitting of your status. So now here you are in your late 20s, with a blossoming career and car to go with it. Whether it's an Audi or BMW, Lexus or Infiniti, your ride tells the world who you are: your taste, your status, and your individuality.
Until that magic moment when all of this flies out the window: you have a baby on the way!
Suddenly, there's more to be concerned about that simply style and performance. You'll need to accommodate car seats, soccer balls, and strollers. You'll need to load shopping bags from the mall into the back with a wriggling child or two in each arm. Family life means driving on snow and dirt, and hauling your trailers and toys. And above all, you'll need the safest vehicle to protect your new precious cargo. This means 4-wheel-drive and superior crash protection.
In short, if the diagnosis is pregnancy, the prescription is SUV.
Luckily we're on the job for you here at Mr. Money Mustache. I collected the best SUVs on the American market and compared them side-by-side to pick a winner.
2014 Toyota Sequoia Platinum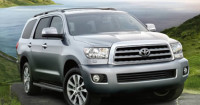 With seating for 8, the $60,795 Sequoia does it all. Featuring a fully boxed load frame, a responsive 381 horsepower 5.7L V-8 engine, and a 5750lb curb weight, this family hauler is nimble, capable, and luxurious. With fuel economy of 13MPG around town and as high as 18MPG on the highway, it can help your family's dollar stretch just a bit further, and who doesn't need that these days?
2014 Ford Expedition Limited EL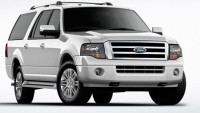 Sure, it's big, and it's fast, with specs rivaling the Sequoia at the budget friendly price of $51,695. But what really sets the Expedition apart is the perforated heated and cooled front leather seats! What could be a better respite from a pounding day of errands than a cushion of climate-controlled air that soothes you back to sanity? Fuel efficiency is just as good at 13/18 for the 4WD model. Also sold as the Lincoln Navigator, with an even more distinctive selection of luxury appointments.
2014 Chevrolet Suburban LTZ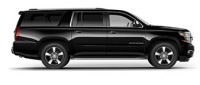 It's everything you've come to expect from a large SUV and so much more. High intensity headlamps and foglamps, Front Park Assist, 12-way seats, Side Blind Zone Alert with Lane Change Assist, all powered by an EcoTec 5.3L V-8 with the ability to tow 8,000 pounds. Eco-Tec means you're actually helping the environment as you cruise your way through each 33.5 gallon (126 litre) tank of fuel! But if all that tech-talk makes your eyes glaze over, let's just put it this way: A very sweet ride that will be the envy of your block, with 16 cupholders for only $62,595! Also sold as the Cadillac Escalade with a more prestigious front grille for only a few thousand more.
2014 BMW X5 50i

For those with smaller families and a higher demand for performance, the venerable X5 may fit the bill. Featuring a 4.4 liter twin turbo V-8 that pours 450 horsepower into this SUV's lightweight 4950 pound figure, the X5 will scream from 0-60 in about five seconds, smoking all four of its 19″ performance tires in the process. But with heated leather seating for 7 and available personal video screens for each passenger, your lucky children might not even notice what you're up to.
Starting at under $70,000 with the Mocha Interior Design Package and the Executive Package, the X5 gets my personal vote for the best vehicle to prepare for baby. If cash is a little tight, BMW's financing and lease packages can have one of these safe and roomy vehicles in your driveway for as little as $789 per month.
Although having your first baby is a challenging experience that will require many costly purchases, I hope I've at least helped with the most critical decision of all: what to drive.*
*Oh, and happy April Fool's Day. The best family vehicle is a pair of bikes for the parents, each pulling a bike trailer. Second choice is a good small car (you can get kid seats that fit 3-across even in compact cars). And if you REALLY need something to carry a lot of people, get yourself a 2007 Mazda5 with a 4-cylinder engine and a 5-speed manual transmission. It comfortably carries 6 adults (tested it myself), burns a reasonable amount of gas, and is not a gigantic Douchewagon that will get you punched in the face by passing Mustachians. Just don't buy one and then use the damned thing for single-person commuting!