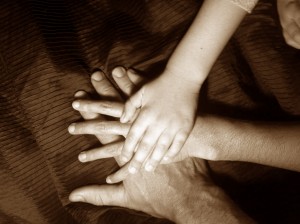 It was a black and frosty night, sometime in the dead of winter 2007. I was in the rocking chair holding my baby son, who was about one year old at the time. I was offering him a bottle and I knew he needed food, but he was upset and had been screaming for much of the night. My wife and I had been trading off baby shifts as usual so each of us could get half a night's sleep, which is a very helpful tactic since the sleep deprivation stage of raising a child can go on for more than a year.
"Wow, raising kids is an incredibly difficult thing", I thought to myself, "But worthwhile in so many ways. Every day this little guy advances through more milestones, and it's amazing to think he will be walking and talking pretty soon, bonding with his parents over common interests and learning, and maybe even staying up at night to care for his own son or daughter someday. It's too bad we have to start all over in only a year, to have a second child and go right back to zero. I've survived this first year of sleep deprivation, but can't help but to dread two more years of it".
Time went on, and we continued to reap all the joys and strains of parenthood. We took him on hikes and reacquainted ourselves with the joy of being alive, through the eyes of someone who is seeing it all for the first time. The three of us took trips together, read books, made snow forts and blanket tents and wooden boats, and mixed it up with family and close friends often.
But it wasn't always easy, or even fun. Our marriage was stretched to the thinnest of threads at times, as the needs of the child displaced the needs of a relationship. Personal interests and even a moment's peace and quiet were long forgotten. Social and travel opportunities were postponed for years, or indefinitely, because they weren't compatible with our son's temperament or limited diet, no matter how much we worked on the various issues. In the thick of the bad times of raising a young child, you sometimes feel like your whole life has been one long screaming, screeching, smashing, crying argument.
Luckily, you tend to wake up the next day and it's back to joy. But it is still essential to say what most people avoid saying: parenting is more than just curling up on a couch with their cute little faces gazing at you while you read them an adventure novel (which is the way I always pictured it).
So anyway, one day we had a two-year-old son and thus it was time to produce the next child. He was sleeping well and flourishing beautifully, and the two children would be spaced closely enough that they could be friends eventually. We dutifully started making the arrangements, and I braced for the next round of caring for an infant. I looked far into the future and pictured my future 8-year-old explaining scientific concepts to the 5-year-old using the teaching medium of Lego, and determined that all would be well. Then I pictured them at 28 and 25, and it was even better – helping them with their houses and careers, traveling together meeting their girlfriends or boyfriends or spouses, and a lifetime of friendship. If only there were a way to get there without the torture stage.
At that moment, my wife came home from the library with a nice load of books. One of them was "Parenting an Only Child", a book about only children and how most of the conventional assumptions about them are wrong. They do exceptionally well as children, flourish socially, and end up with lives that are at least as happy as people who grew up in larger families.
Thinking about it, this was the main reason I was assuming we'd have two kids. You have the second one as a gift to your first one, so they can go through life together. After all, I have two older sisters and a younger brother, and my wife has a younger brother as well. We both have fond memories of our childhoods together and we get along with them well today.
But on further reflection, most of my social life as a kid was with other kids that were closer to my own age. And my relationship with my parents was probably diluted by the high effort (both financial and emotional) they had to put into raising such a large flock of us. Their marriage broke up towards the end of that multi-decade effort, and I wouldn't be surprised if the strain of kids was part of it. Hell, a full 40% of my own friends and acquaintances who had kids when we did in 2006 are already divorced. So once again, there are negatives to be considered alongside the positives.
The bottom line is that we read the book, and then poked through a few other books and articles on the same topic, and I was sold on the idea.
"Honey! This is amazing news! We're allowed to have only one kid, and everything still turns out great! This is what WE should do!"
Mrs. Money Mustache was thrown slightly off balance, since she had brought home the book expecting discussion rather than such an immediate transformation, but the more we discussed the issue, the more we realized it was the right one for us.
Having (or not having) kids is an extremely personal decision, and it's not something that I (or your friends, parents, in-laws, church, government, religion, or society) should really have much say in. It's between you and your partner, and even then it is questionable practice to try to force a partner into having more of them than he or she wants.
As a person who tries to put things into a logical perspective, kids are a tricky one. After all, it may seem somewhat illogical to voluntarily create a new being, and make such a big sacrifice to your own life to support it. Especially since there is no shortage of need in the world – why not help others instead of creating still more need?
On the other hand, if your goal of living is to understand what being a Human is all about, reproduction is pretty logical. It is the reason for all life on the planet, and it really the sole purpose of your existence from an evolutionary perspective. It would be hard to say you've had the full experience of humanity without experiencing this core part of it. Every cell in your body exists just to allow this to happen. That still doesn't mean that you should have kids, it's just an explanation for why it could be considered logical at some level.
The bottom line is that there are enormous positives and negatives that go along with your baby-making decisions, and it helps to step back from our dumb evolutionary programming (see the part about every cell in your body above), and realize that following your immediate emotions is not usually the path to the happiest life. You could even make an oversimplified decision-making chart on the issue. For me, it might look like this:
For others, the chart will look totally different, and that's fine too. The real point I wanted to make here is that it was nice to find out that One Kid is a wonderful way to go, and how nicely it has been working out for us. If you didn't know you were allowed to do this without being perceived as a weirdo, I hereby give you permission.
Further resources:
Parenting an Only Child: the Joys and Challenges of Raising Your One and Only by Susan Newman, can probably be found in your Library, as well as possibly on Better World Books (used) and Amazon. And there are many other great books, documentaries, interviews and videos about the idea.