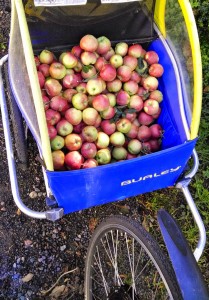 There's a subtle yet powerful difference between the Standard Consumer, who manages to spend all of his income regardless of how much is coming in, and the Mustachian for whom saving is an effortless activity. For the first type of person, saving money means deprivation, struggle, and painful budgets. For the second, saving consists of living a rewarding life, then casually sweeping the few thousand dollars of leftover cash into investments at the end of each month.
The difference seems to lie in the design of the underlying lifestyle. If you get this part right, success comes almost automatically.
At a party recently, I met yet another Prototypical Modern Successful Family, a rather common occurrence in my area. The guy was a doctor. The woman was a professor. They had appropriately hip Colorado-style clothing, muscular calves, cool rectangular glasses, and rode bikes to the party along with their two cute young children. Everything looked stellar on the surface until my new friend and I got to talking after a few drinks.
"It's a bit of a mess these days", he said, "These kids are so precious, but they're growing up fast and I hardly ever see them. I took a job at a practice in the city because it pays better, but it means I get up at 5AM. The kids do competitive swimming and ski racing on the weekends, so we're never home to recharge."
This seemed like a pretty simple set of White People Problems to me, so I decided to throw in a bit of advice disguised as self-effacement: "Oh yeah", I said, "We solve that problem in my family by making our lives much less exciting than yours. We just hang around Longmont most of the time, and because of that we have a lot more recharge time and were able to cut back on the two-career thing f0r a while."
"Man", he said, "That would be nice. I've been in medicine for 16 years now, and to be honest I've had enough of it. But we could never live on just her income. Professors just don't make that much, even tenured ones at a good university."
And therein lies the trap that ensnares so many otherwise-fortunate people. It is called the Poisonous Pitfall of Piss-Poor Lifestyle Planning.
Fortunately there is an antidote, which is quite literally Simplicity itself. If the situation above sounds even remotely familiar to you, I am excited to deliver this bit of good news, because it is very easy to solve. You can very quickly give yourself the gift of a much better life, just by chopping out a good chunk of the unnecessary activities that currently distract you from living.
We could go on and on about the detailed benefits including greater happiness, lower stress, better health, better relationships with your significant other, family, and children. More money, lower needs, deeper wisdom and even a longer life*.
But instead, I thought it would be helpful to just start with one giant baby step. An instantaneous taste of the good life, at no cost to you and with the chance of starting a massive life transformation. Are you ready? Your assignment is as follows:
Give the damned car a break for the entirety of this coming weekend. Instead, try living two days of non-motorized life.

That's right. This weekend, there will be no errands, shopping trips, drives to the mountains or the beach, horseback riding lessons or Harley cruises. Just you and your actual body, doing things that it is actually meant to do.

You'll want to prepare in advance. If you live far from a grocery store, make sure the house is stocked with food. Get your library books ready, make sure the television is unplugged, tune your guitar if applicable, dust off the bicycle, walking shoes, recipe books and board games, invite some local friends over if desired, and let's make a weekend of this.
What you'll be doing, although it may sound somewhat novel to my new doctor friend, is living approximately like the Mustache family has always done. Although I'm not a hermit or a homebody, I often feel just a bit of anxious terror when I hear about how much activity most of my fellow wealthy Americans pack into their weekends. And I'm simultaneously filled with Pure Joy every time I wake up on a Saturday morning, walk with bare feet through my back yard and into the park beyond to watch the sun rise, and only then decide what I  might want to do that day. If he's awake that early, my little son often comes along for the event.
On weekends, we simply chill together. It is my idea of living, and it is the foundation of our relationship together as a family. We sit on couches and read and write books and comics. The boy and I ride down to the creek and carve channels and dams in the rocks and sand. Then we'll climb some trees, max out the swingsets at the park, and maybe do some urban planning in the sandbox. We get home tired and nicely sunned out, and he'll disappear to his room and make songs with Ableton while the lady and I will make some dinner. At this time of year it tends to cool down and get dark outside pretty quickly, so we'll start a fire in the woodburning stove I built into the new house. Some wine may be poured. All of that, and it's still only Saturday night. There's still time to have friends over, or walk over to someone else's place to mingle all the neighborhood kids and prepare a feast.
A key to successful chilling is the complete removal of television as one of the options. As much as you like your favorite shows or sports events, the experience deprives you of what you would have done if the TV hadn't been there. It is in the void left behind when TV disappears that real life can start to occur.
Living a Local Life
The headline of this article sounds like just another meaningless personal finance tip. Sure, you can save fifty dollars if you cut out the 100 miles of driving that gets packed into the typical weekend. Maybe a couple hundred more on the restaurants and shopping trips you forego. All told, changes like these would increase your wealth by about $200,000 per decade.
But the transformation of attitude and lifestyle that you can learn from it is much greater. What I'm really hoping we can all learn about is living a local life. You can become friends with the people who live right around you. There are trees and hills and features of your environment that you miss completely if you never slow down to actually live where you live.
Once you give it a try, you will find it quickly becomes very natural to live this way, because it is really how we were meant to spend our days. If an event pops up in another city, my own family usually considers it briefly, then politely declines. Because we realize we don't live in that city, we live in this one.
The world gets more exciting every day. There are more activities, opportunities, and bits of entertainment packed into the atmosphere than ever before. The modern culture dictates that we take every chance to pack our days with exciting things, limited only by our need to sleep. If you don't do this, you are "missing out." But I propose that the opposite is true: the Good Life is found in between those times when you are engaged in travel, being "entertained" and participating in too many organized activities.
So by living a life driving around afraid of missing out, you are in fact missing out on your entire life. Let's fix that this weekend.
* In a sad coincidence, on October 27th, the day this anti-car-culture article was originally scheduled to publish, Mrs. MM's childhood best friend died in a car crash back in Canada. Rest in peace Janet.
Further Reading: In this Article, researchers found that kids who are allowed to spend more of their time in unstructured play develop greater independence and judgement. Could this be related to why some adults are hopelessly sucked in by the consumer/debt/industrial complex and others are able to step out and make their own choices? 
I like to imagine this all as an evolutionary response – you can adapt to a regimented life or society if that's what you are born into, but given a more freeform existence, you are better off becoming more experimental or creative. I feel that the second option is now much more productive: both for early retirees, and for dealing with a rapidly changing world. But this is pure La-Z-Boy scientist chatter – real scientists are welcome to make fun of me for throwing out such a speculation without any testing :-)