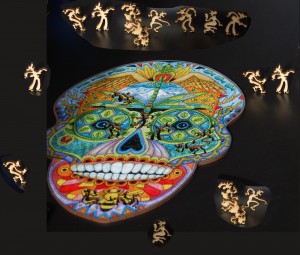 When you think about it, that brain of yours is both the cause of and the solution to every one of your problems.
With the right thoughts, you can trigger yourself into actions that will change your life – or even the entire world. With the wrong thoughts and actions you can just as quickly end up dead. And in between, you can experience complete joy or utter dissatisfaction purely through different perceptions of an identical set of circumstances.
It is both obvious and miraculous to state all of this, and thus it is pretty ridiculous that we don't put a higher priority on maintaining our and improving our own noodles in a more systematic way.
Imagine that you're an Olympic athlete, or at least a well-muscled Underwear model. Your body is the key to your success. What if you were forced to live on a cruise ship with no weight training facility and a 24-hour buffet stocked mostly with beer and cake? Would the input to your body affect its performance?
Similarly, suppose that you're a rising star of an Engineer at Google (which is statistically much more likely given this blog's readership). Your career will live or die based on how much brilliance you can crank out of your brain and deliver to the world in usable and elegant form. Given this fact, should you feed your mind with whatever happens to be sloshing past in society's slop trough? Viral posts forwarded by your Facebook friends or the latest update from the stock speculators on Wall Street? Or is there a better diet available for that high-performance machine?
Let's take Mr. Money Mustache himself as an example. I've always had a cordial relationship with my own mind, and it has helped me accomplish some worthwhile life goals in the past. But as I worked through my twenties, I found I was renting that mind out to an ever-greater degree for pay as a software engineer. The more information and algorithms I burned through at work, the less fire I had left to do much real thinking about anything else after hours.
It wasn't always like that. When I started that career, my phone was a dumb brick with an LCD screen, and only rarely did the odd email trickle in to my computer's small, low-tech Microsoft Outlook window. Social networks were not yet invented, books were made of paper, and I was in heaven whenever I could spend a long day deeply wired into the compiler, debugger, logic analyzer, and on a good day even the soldering iron. The concentration I could summon back then seems to be in another league, considering how long it has taken me today to get even to the fifth paragraph of this completely non-technical article.
But a funny thing happened over the years. Wi-Fi was invented so suddenly my laptop was always offering up servings from the Information Buffet. I advanced a rung or two on the corporate ladder, so I became ensnared in more emails, documents, and meetings. The Internet started producing ever more distracting options for slacking. And I started a construction company on the side, which opened up a whole firehose of new information to guzzle. Gradually, I became less and less effective at my job, and I started delegating the fun but difficult technical stuff to people who could dig in and get it done properly. I started to feel pretty useless.
Luckily for me I had also been working on the early retirement project in the background, and at this point in the story it came to fruition. I quit the entire corporate world in 2005, never to look back.
Ahhhhh…
Suddenly, everything was great again. I felt like I got my brain back. I would wake up each morning and break into a broad grin as I realized that all those projects, meetings, and emails I had been dreaming about no longer existed in my world. They were gone, replaced only by that blue Colorado sky outside my window, and the short walk to the kitchen where there was food and equipment in place for the preparation of a fine breakfast. I started learning again – reading books, doing new things, and meeting new people. Although we had a new baby at the time, plus I stumbled into some foolish business hardships during those first few years of retirement, there was no question that they were a time of great education, easy focus, and some pretty good accomplishments.
But secretly, complexity was brewing in the background and planning its next attack. In 2007, Apple dropped the iPhone bomb on the world, and within just a few years there were two of them in our household. Two otherwise capable adults found themselves unnecessarily swiping and pecking around on the little screens for hours. The baby became a boy, full of information, curiosity, and urgent requests for attention that did not care what you happened to be working on at the moment. And worst of all, Mr. Money Mustache was born.
This blog started as just a quiet writing outlet, where I would collect a few of my own thoughts, and send them out to a very tiny collection of strangers throughout the Internet. But gradually, the blog grew and the tide turned. More information started coming back in my direction. Comments, emails, tweets texts, and Facebook messages started as a trickle, but grew and grew into an overflowing torrent. Not a torrent of crap like you get by watching the news, but one of fascinating, useful information from genuine and brilliant people. So much information and so many opportunities to have fun and do good things for the world.
This is a wonderful problem to have. I'm ridiculously lucky. But it turns out it is still a problem, since human attention only scales up to a certain degree. At a certain point, you end up hearing from amazing people and thinking about amazing things all day and still not keeping up with it all. I started ruthlessly skimming and archiving emails, turning down anything involving more commitment than walking down to the Indian Buffet for lunch, and still not keeping up. Dropping the ball on even the most golden of opportunities, and probably mildly pissing off a friend or two due to email inattentiveness. Although my mind was busier than ever, my productivity was dropping in most areas of life. You can see the results in the slowing writing schedule on the list of all posts.
Getting Your Brain Back
Luckily, this problem has a solution: I call it Getting Your Brain Back, but it is a time-honored problem that has been solved by many people in the past. Originally limited only to company CEOs and world leaders, the excess of information has trickled down to the rest of us. To survive in this flood, we need to learn how to swim, in much the same way as busy and important people have always done.
The problem is that I'm taking in too much peripheral information and scattering my attention around. Instead, I should be feeding my mind in rich, controlled meals and giving it plenty of calm resting time between them.
Paradoxically, if you take in less random information, you will find that you can devour more useful stuff, and produce much more as a result.
New Year's Resolution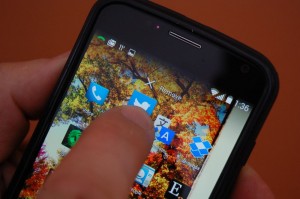 In the olden days, I would have just made some top-level plans: "In 2015, I will spend less time and get more done. I'll finish the house, publish my first book, write a blog post every week, and move up another level of physical fitness."
But we've learned from the study of human habits that if you want macro-level changes in your life, you need to attack them with micro-level changes in your daily routine. Through the 365 chances we get every year, tiny things add up to surprising results more quickly than your intuition would suggest.
So this year, I resolve to change only a few things to change the balance and focus of information:
I removed the phone charger from my bedside table and put it in my office instead. No more mindless surfing before bed or immediately upon waking.
I uninstalled the Twitter app completely from my phone. This will seem insignificant to normal people, but any blogger will recognize it is a massive change. A nonstop stream of information candy and ego dopamine, gone from the day. I can still use Twitter from the real computer.
I cleaned up the longstanding pile of move-in debris from my office and replaced it with a tidy arrangement of heavy barbells and dumbells. Now instead of being faced with a mess when I come in here to write, I get the invitation to do a few quick lifts, then sit down and get some shit done.
I am giving up pointless casual drinking (disguised as the well-deserved beer or red wine at the end of a good workday), although keeping social drinking because it's less frequent.
These changes alone have been very powerful (I actually cheated and started in mid-December), but to make them even better, I am using the concept of the keystone habit to replace the sad craving left behind by each bad habit with something good and equally rewarding.
When I wake up (usually before sunrise), I still immediately feel the urge to check my phone. This urge reminds me to go to the couch in my quiet office, flip on a little lamp, and read more of whatever book I am currently working on. I write down notes as I read each book and it tends to lead to a better and more motivated day.
When I find myself swiping through the screens full of apps on my phone and find Twitter is missing, I am reminded to put the phone back down and pull the little oldschool notebook out of my pocket – this is where I keep current ideas and my to-do list.
When the sun goes down and I suddenly feel the usual craving for an adult beverage, it reminds me to do something useful and physical instead. I pour a glass of cold water and step out to the back patio where I keep the squat rack permanently loaded to remove all barriers to this ultimate of exercises.
With these tricks, I have cut out most of the brain's junk food and replaced it with things that are actually good for mental function. I still need plenty of computer time to keep up my cherished hobby of being Mr. Money Mustache, but now it comes in shorter, focused sessions at this bigass desktop computer in a quiet room with no distractions.
If all goes well it will mean getting more done with less unsatisfying gear-grinding. Better days and calmer nights. All in all, a worthwhile resolution in my books.
What are you changing this year? Are you going after big objectives or tiny habits?