Imagine that you are floating comfortably above an alien planet observing the really insane species that lives there.
We'll call these beings Sheeple, because their incredible tendency to follow the herd even if it is running right off a cliff is quite similar to the behavior we see in sheep here on Earth. Almost everything an individual of this species does is heavily influenced by the Sheeple around it. Despite the potential for incredible intelligence, they rarely stop to evaluate why they are doing what they do each day.
As you zoom in on various parts of the planet, you notice fantastic patterns. In one area, the Sheeple wear red costumes and fiercely criticize those who wear blue. But just on the next continent, blue-wearers are in the majority and they are beheading those who dare to wear red. Great books and ornate traditions are built to describe how wearing Red robes is The Way, which are cited authoritatively to discredit those who believe in Blue, and vice versa.
In other areas of the planet, the societies appear more advanced. They have built great cities. The Red/Blue battle is less noticeable in these parts, but it has been replaced by an equally bizarre pattern: a competition over how to decorate their heads, bodies, and habitat. In the great cities, Sheeple work ceaselessly to buy and trade decorative materials, and just as quickly put them to use. They give up sleep, autonomy and time with their loved ones to earn more of these things.
The heads pile taller with decorations. The habitats become so full that they can barely squeeze into them. Every year, the producers of decorations declare all previous iterations to be obsolete and release a new type of decoration. Believe it or not, this triggers an even more intense flurry of working and buying to acquire still more decorations. The most successful Sheeple buy larger dwellings and throw out and replace their decorations at the fastest rate, some even employing a sub-staff of Sheeple to buy, organize and replace decorations without the need for the leader to even see them.
It's all an amusing day of Science from the comfort of your spaceship until you return to Earth and realize we're exactly the same. Except multiplied by ten due to our ridiculous invention of consumer borrowing.
Noticing this myself, I've been doing some closer bits of scientific observation right here on our own planet.
In one incident, I traveled to a distant suburb with my son to attend a child's birthday party. The homes in this middle-income area were tightly packed with short driveways, but each place was outfitted with at least two enormous luxury vehicles – often trucks – so big that they had to spill out to consume the entire street. The interior of each house was clad with beige carpets, artificial finishes, and tiny windows placed with complete disregard to the prevailing direction of the Sun.
At the party, every food was an unrecognizable assembly of chemical compounds ripped out of a brightly-colored box, served on styrofoam plates which were promptly discarded into a black plastic bag. Every gift was a plastic and metal recreation of a famous movie character or vehicle, ripped out of another plastic package. There was a television in the kitchen blaring news and advertisements. The unhealthy parents drank beer and ate cake, and sighed about not having enough time or money to spend more time taking care of their home, or their kids, or themselves.
All of this took place in a neighborhood with beautiful walking paths and parks, and a modern utopia of a school just down the road. But every weekday at 2:45 PM, an ominous horror begins. An immense and powerful passenger vehicle will ease down the road and come to a halt at the prime spot of the school's pickup loop. And the engine will be left running. This leader will soon be followed by another van or truck, and another ten, then another hundred.
Soon there will be a poison-spewing circus of completely batty people sitting there idling in sleek 400-horsepower Mercedes SUVs, or clackety Diesel jacked-up yellow offroad diesel Super Duty trucks, comparatively small-looking Honda and Toyota minivans, new cars, old cars, and anything else they can find that burns gas and wastes money. The lineup grows to fill not just the gigantic asphalt loop provided by the school, but also the driveway leading to it and hundreds of feet of the public road. Everyone talking on their mobile phone. Everyone idling. Killing each other, and each other's kids. Everyone in debt, and many with a net worth less than zero. Most of them dangerously out of shape and beginning to suffer from health problems due to inactivity.
And every one of them convinced that he or she is going through life in a perfectly reasonable way, trying to get ahead and take good care of their kids, but things are just hard these days unless you're one of those privileged lucky elite 1% multimillionaires that we read about in the paper while cursing our own fate, the fate of the middle class.
What. The Fuck. Is Going On Here?
Why are we so Ridiculous, without even acknowledging that we are?
Curing the Disease
See, I can pretend to be astounded by what is going on, but it's a natural consequence of our evolutionary history – the way you and I and all of us are built. We are social beings, which is our greatest strength because it allows us to work together to accomplish bigger things. But it is also one of our greatest weaknesses, because it allows us to adopt stupid and irrational ideas in mass quantities as long as we see the other people around us doing the same thing.
It is hard to become any less ridiculous without realizing this massive, critical flaw in our reasoning that nobody ever talks about. Like the innocent beings on Planet of the Sheeple, we take our cues from our immediate surroundings.
Just look outside your own country or time period to see how big this effect is. In some areas, it is totally normal to require a woman to be covered completely in fabric so that no other male human can lay eyes on her, and some of these women even voluntarily enforce and pass on the tradition. This is happening right now, and these people are just as intelligent as those that surround you. In a nearby country, the women lounging in bikinis on a public beach may be attorneys or chief financial officers on the weekdays. Which tradition is considered ridiculous depends on who you are – in other words, which social surroundings you have absorbed and adopted as your own.
Here in my own country, similar social traditions have traditionally regulated what you can eat or drink, whether you can vote or marry, and whether you should teach science or the local religion in science class. The battle that I am currently fighting is comparatively mild: Is it reasonable to spend 80-120% of your money as soon as you earn it, or to spend a smaller portion while keeping the rest to reinvest in your own future?
In each case, the prevailing opinion seems completely normal, (often labeled as common sense) to the people who enforce it. But in many cases it has only become common because we are easily fooled social beings. To get ahead of the pack, you need to drop this weakness.
The key is to put the ridiculousness into perspective – the perspective of your current income and wealth, of human history, and of science.
Let's start with a warmup. One of the richest Saudi princes has a 590 foot yacht, and one of the areas inside is reserved for a display area for 3-d models of all of his other jumbo jets and yachts. At least one of the jets has a "throne room" in it. Here in the US, a Texas woman made the news for her 3000-square foot closet. A flying throne room or 3 stories of shoes and handbags: obviously ridiculous, right?
But what about a Dodge Durango, a popular American-made SUV. Ridiculous, or normal? You see them in every suburban driveway, so they must be reasonable. But they are not! The SMALLEST engine you can get in this piece of shit is 3.9 liters, and the largest is 5.9! That is enough engine displacement to easily power ten passenger vehicles, if they were designed by vehicle designers rather than marketing representatives. It has the passenger capacity of a wagon, but the engine (and fuel economy) of a DUMP TRUCK OR A SCHOOL BUS! The performance is blundering, blind spots are enormous, build quality is poor, and yet the sticker price is astronomical. And yet people line up by the HUNDREDS OF THOUSANDS TO BORROW MONEY TO BUY THESE THINGS AND USE THEM TO DRIVE TO SHOPPING MALLS!!!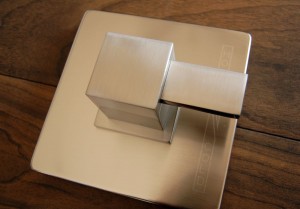 But it doesn't stop there – I'm just revealing my personal bias because my own social surrounding is mostly Mustachians. My own lifestyle is also totally ridiculous.
I'm building the second bathroom in my house right now, which is already ridiculous because we already have one perfectly good one just at the other end of the house. Over 1300 pounds of floor-to-ceiling tiles and concrete, and that's just the prep work so I can add the brushed steel trim kit to the insane Danze shower valve – a system that cost me over two hundred dollars.
This shower project has taken several weeks, because it is frequently interrupted by time spent with my family, or trips to go out for beer with friends, or host parties here at the house, or the trip to New York City last week. Sometimes I even have to go out and restock the house with internationally sourced bits of fine cheese, meat, vegetables and fruits. I barely have time to type stuff into my choice of high-end computers or make use of the other distractions around here. And this is in a life that is labeled by the newspapers as extreme frugality?
It is ALL ridiculous. Your life and my life, and the lives of all of the normal people around us.
If you've ever bought a garment, vehicle or dwelling with "style" as even a remote consideration, or prepared a multi-course meal with "taste" as one of the factors, then congratulations – you live a big, wonderful, ridiculous life. If you have any means of transportation besides walking, congratulations again, because you've hit the big time. You have so many options open to you – so much flexibility to change your lifestyle, empower yourself, spend less, earn more, and move to new places as you see fit.
But to claim that freedom, you need to look around you and see that these trapped, tiny Sheeple around you are not normal or sensible. They are obedient followers of the social script, trapped so tightly that they can barely move. And although you're a social animal too, you can rise up to a far happier lifestyle just by becoming a tiny bit less ridiculous than average.
It is ridiculously easy.