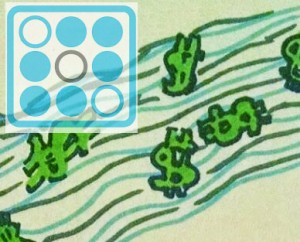 Almost two years ago, I started getting reader emails asking me if student loan refinancing was a good idea, and if a company called SoFi was a good place to do it. Never having carried such a loan myself I wasn't sure if I was qualified to answer, but other emails were coming in reporting positive results with the company. So it seemed like a reasonable business to me, but maybe not suitable for the main page of this blog since it only applies to a certain slice of readers.
Since then, things have changed quite a bit. I ran into a SoFi employee at a financial blogger conference one night, and over a beer he gave me a much clearer picture. I read about the history of the company and then talked to cofounder Dan Macklin about what they are up to now.  It started to get more interesting and I put the idea into my list of draft articles. More emails came in so I figured we should ask the readers about their own experiences via informal quizzing on Twitter and Facebook. There is also a detailed discussion of experiences right here on the MMM Forum. Out of those who successfully refinanced,  the results look good.
---
(Update: as of  2020, I also recommend you check out Credible.com (NMLS No. 1681276) for both student loan and mortgage refinancing quotes in order to see your own personalized prequalified rates. They are competing heavily in these markets, with great results for you. At the time of writing, they are also still offering the $300 re-fi bonus on student loans, which SoFi has discontinued. (See their mortgage disclosure here)
---
Why Would you Refinance a Student Loan?
I don't get excited about lower monthly payments, loan forgiveness, or any other financial frills. I also don't think anyone should borrow money for a wedding, vacation, or car, regardless of the rate. But for any debt you are currently stuck with, I do want you to end up with the lowest possible interest rate. You combine this with the making the largest possible monthly payment to destroy the loan in the shortest possible time, and thus escape from your Debt Emergency very quickly and move on to build real wealth.
You can then go on to optimize small details like "should I pay off my mortgage?" if you are an expert on interest rates versus expected investment returns, but at the end of the day you get wealthy by working hard, earning lots, and spending much less than you earn. Truly large investment gains become easy once you have a large, positive net worth.
How SoFi has Expanded its Usefulness
The company name derives from the words Social Financing, because the company was originally born on the idea of allowing alumni of Stanford and a few other elite universities to fund the student loans of the next generation of students. It was a novel concept at the time, although for a relatively small audience.
But as the company has grown and found success, it has expanded both the source and destination of its funding. Nowadays, instead depending on alumni to write checks, the company has tapped into the current wild surplus of institutional investor money looking for somewhere to invest.  And SoFi's goal is to connect YOU to this money, via a very modern and simplified interface.
They have also expanded their program to include graduates from a much larger number of universities (over 2200 when I last spoke to them), and started offering mortgages as well.
This business model appeals to me, because I am fascinated by the current low-yield environment. There are trillions of dollars of institutional money swarming around trying to find a good return, while US government bonds pay almost nothing. This has driven up stock market valuations and also brought a surplus of investors to companies like Lending Club in search of cashflow. In general, it is a poor time for value-oriented investors, but a good one for borrowers.
I have also been frustrated with the perpetually low-tech environment of lending. Although I now maintain a peaceful balance sheet with no debt, I've gone through at least ten mortgages and refinancings over the past 15 years, and every one was more trouble than it needed to be. Sometimes I'd find myself sitting in a bank employee's cubicle slowly reciting figures while she typed them into boxes of some rusty old Windows XP application. Other times I'd be signing and scanning paper documents and using various hacks to send them in the antique "Fax" format to bankers who didn't even have a way to open a PDF.
Student loan refinancing was even worse – the private market for loans was undeveloped, which means there were few options open for many graduates. Thus, many are still stuck with rates above 6% despite rising income and credit worthiness. Much like the taxi industry before Uber arrived and started steamrolling things, the lending industry was ripe for a massive and convenient overhaul, and SoFi has been working on its small revolution since they began in San Francisco in 2011.
With tens of thousands of borrowers and billions of dollars funded so far, they are off to a good start. And it is a big market to grow into: US student loan debt is now measured in the trillions, and some are calling it a bubble. While it may become a problem on a national scale, hype like that doesn't matter to you – you'll be eliminating your own student loan within a very short time.
So How Does It Work?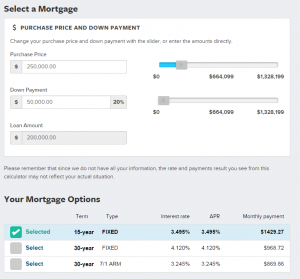 I got myself a SoFi account just to see what the user experience is like. Their system asked about my income, employment and educational status. I even found my own Canadian university in their list of approved schools. From there, you would go on to submit a scanned copy of your diploma, information about your existing loan, and then hand it off to SoFi staff to do the fussy work of verification.
I had no student loan debt to refinance so I pretended I had a mortgage on my house and started a mortgage refi application instead. The whole application took me less than 5 minutes.
With a test case of $50k down on a $250k mortgage, I saw rates of 3.245 to 3.495%. As you might guess, rates increase for larger loans and smaller downpayments, but the premium for these bigger loans was remarkably cheap.
Loans – includng mortgages – from SoFi carry no origination or other typical lender fees, which is a refreshing change and a major factor in your overall borrowing cost. Their 10% down mortgages also require no Private Mortgage Insurance (PMI) which could provide a massive savings in certain cases: PMI generally sucks and should be avoided.
But the most interesting part to me is that you can then slide your loan amount and downpayment back and forth to strategically get the best rate for your own situation. Considering a smaller downpayment so you can keep cash in reserve to buy a rental property next year? You can instantly see how much that will cost you. Comparing 15 to 30 year and fixed to ARM? All that data is right there and it adjusts in real time.
This felt like Justice to me. After years of harassing my bankers to give me dozens of hypothetical rate quotes to help me decide how to structure my mortgages, now the data is all properly presented to me on my own computer screen, rather than filtered through a pipeline of slow-talking human mouths connected by Low-Fi telephone line. So much more efficient!
Disadvantages
Some US student loans currently come with niceties that you will lose if you refinance. The Public Service Loan Forgiveness program lets you off the hook if you hold a qualifying job and make your loan payments for 10 years, and this works well for certain people who love their jobs.
On the other hand, my own freedom-oriented personality type would wither under such a long-term job obligation: I'd rather earn as much as possible, devote as much of it as possible to debt elimination and investing, then be free to choose any job from beach bum to tech company CEO without regard to how it affects my loans.  This is why I care mostly about low interest rates.
Also, SoFi is not for everyone. They are deliberately leaning towards the better end of the credit score spectum, which means a good experience for those who qualify but a (thankfully quick) rejection if you don't.
Share your Own Experience:
I had to draw heavily on reader experience to write this post, but there is surely more to learn. If you have experience with SoFi or an alternative, please share it in the comments below. The goal for all borrowers should be maximum flexibility at minimal cost, and collectively we have a good amount of knowledge in this area. Eliminate debt and prosper!
—