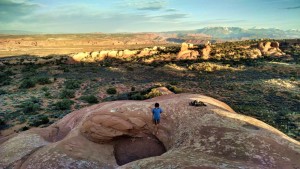 I'm not going to lie to you – being wealthy is a lot of fun.
And I'm not just talking about novelty fun that you get from driving around in a fancy car. True wealth is more of a big picture thing – freedom from negative stress and a higher confidence about how great life is. It hits you like a pack of wild butterflies every morning when you wake up. Holy shit, here comes another great day.
I want to pass this gift along to my son if at all possible, because it is truly a great way to live. After all, as parents we are really in the business of producing the happiest and most capable adults we can, given the constraints of the real world. If my boy eventually ends up as happy with his lot in life as his parents are, we will be more than satisfied.
Surely every parent wants the same thing – to pass on their happiness if life is good, or if not, to give their kids a better life than they had.  So they do their best to dish out financial advice, and to model good behavior for their offspring to emulate. Unfortunately, the results are not always good.
In a country where Ridiculous is Ubiquitous, most people's best attempts at getting ahead are in fact recipes for financial disaster. I get emails from high school and university students telling me, "Dad advised me to finance a reliable NEW car with 4WD, so I can be safe in the winter and spend less on repairs." Other people rack up $200,000 in student loans for a elite degree with few job prospects, because their parents cautioned "You can't get a good job without a degree these days." Still other families stress over how much to spend on olympic-caliber toddler birthday parties, how to afford ivy league preschools and how to fit in with the other high-income families in their private schools.
While any one of these pieces of advice might work fine for a family with infinite money, they have trickled deep down into the middle classes where they become unhelpful for those wanting to truly get ahead.
I just read a book called The Opposite of Spoiled, by Ron Lieber. While the book was thoughtful and thoroughly researched, I was still fascinated by how much things have changed since I was a kid. There were chapters on how to handle the social pressures of a high-income neighborhood. What do you do when the other kids have nicer stuff than your kids, or vice versa? How do you say no to your kids when they want things that you can't afford for them? How do you handle allowances, jobs, paying for education, mobile phones, cars, and giving to others?
All of these perceived social pressures of the Wealthy New York style of childraising were unfamiliar to me. It was three decades ago in a small town in a different country that I approached my own teenage years, and we followed a much simpler model of family finance back then. Much like the Unfrozen Caveman Lawyer, I found myself wondering "What the hell are these modern people fussing about? Do they really worry about this stuff?"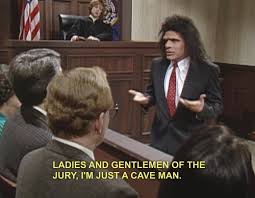 It seems to me that if we bring the financial values of a small working-class 1980s town forward to today, life gets a lot simpler for kids. And in the long term, richer.
Little Money Mustache and Money
In our household, money is an open subject without any attached baggage or taboos . Our 9-year old knows exactly how money is earned, what happens when you spend it (it's gone), and what happens if you invest it instead (it works for you, for life).
Since we retired just before he was born, he has grown up with the idea of financial independence – if you own assets like rental houses or shares of businesses, they provide income which means you don't have to leave home for 9 hours every day and commute to an office unless this is your idea of fun. He sees this by comparing the daily routine of his own parents, to what other parents do each day.
So ever since he has been old enough to have a use for money himself (age six or so), I have tried to give him a chance to learn for himself how it works.
Making Money:
Being a kid is quite a lucrative proposition these days. On top of the free rent, he gets occasional cash gifts from relatives and a salary from me that consists of 10 cents for every mile walked or biked as part of family life. These tend to add up in a mostly-car-free family, as he already has more than 1200 miles on the little 20″ tires of his mountain bike and we wear through quality shoes before growing out of them.
Over the coming years, I'm expecting him to move from these little-kid sources of income into more independent ones. Whether he pursues traditional employment or hardcore full entrepreneurship right off the bat is up to him*.
Some parents like to focus on academics: "Until you graduate, getting good grades is your only job." But I like to think of a good education as a highly diverse set of experiences. Working and earning your own money at any age – even if it includes stocking shelves and assembling wheelbarrows at a hardware store – is a key part of this. School is just a tiny part of a kid's education, and not even the most important part. In fact, my most vibrant experiences from high school were side effects of work rather than classes at school.
The Spreadsheet: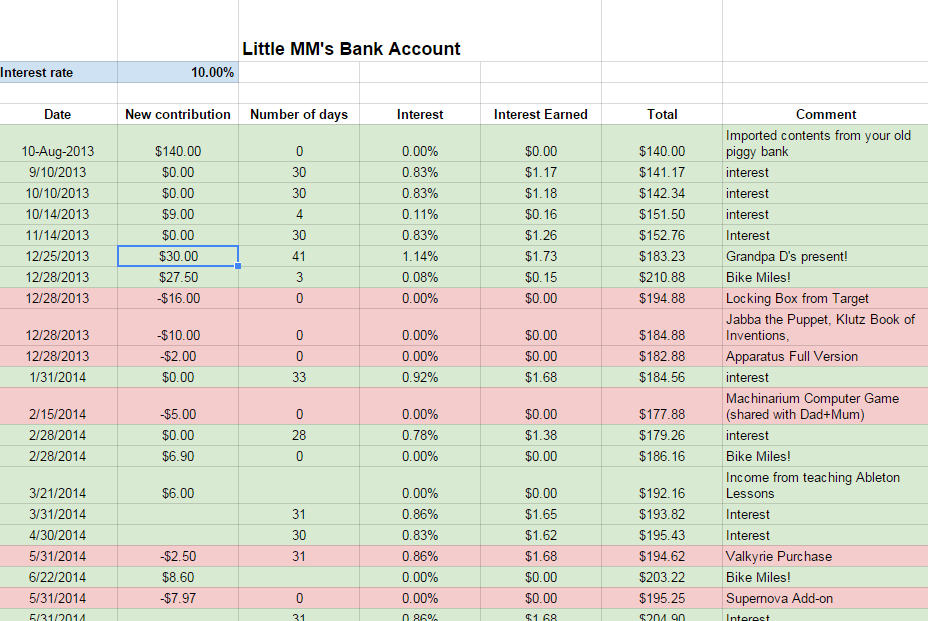 This is where things get a bit unconventional. Instead of a physical piggy bank, my boy prefers to keep his money in the Bank of Mr. Money Mustache, a spreadsheet that contains every transaction he makes with money. To make a deposit, he just hands me some cash. To withdraw, he asks me for cash or has me buy something for him online.
But for every dollar that remains in the account, he accrues interest at a 10% annual rate with monthly compounding. I'm excited about the teaching value of this, because it shows him that
his money is finite (not just a limitless pool that you tap by nagging parents to buy you stuff)
keeping the money invested is profitable (his $600 account is now bringing in a very tangible $5 per month in interest)
new windfalls can be added, interest compounds exponentially, and an account like this of sufficient size means lifelong financial freedom
Where the Money Goes:
Right now, he has only a few true consumer loves in his life: PC games, books, NERF guns, and the occasional phone or tablet app. So he has spent over $100 on those things (quite a large percentage of income) in the past year. But in most cases, he has felt the fun value has been worth the spending.
Interestingly enough, he has already started to display a high degree of generosity. When something breaks in the house or another kid doesn't have enough money to pay for something they want, he immediately offers up a large sum of his own money to cover the shortfall.
What the Parents Cover:
Meanwhile, I still cover the basic infrastructure of educational childhood fun – to build his computer I bought about $500 of parts and we assembled them together into a pretty spiffy gameworthy PC. We build robots with a $400 kit of VEX IQ stuff, and many books, bits of outdoor equipment and trips come for free as part of being in the family. Any organized activities also come from this freebie budget, at least until he reaches his teenage years.  But like his Dad, he has shown a strong preference for self-guided activities with friends rather than adult-organized ones so far, and I'm happy to let him continue with this style.
Living By Example, and Giving:
In Ron Lieber's book, the tricky subject of "why do we have so much, when these other people have so little?" comes up. It's a good one, because this observation is often the gateway to taking an interest in helping other people. But for me, it would be hard to answer a question like that while living at the pinnacle of American luxury with multiple homes, boats, and jets. Since our annual spending of around $25,000 is lower than average for our own country, and it stays that way even in years when we make many times that amount, I'm hoping the example of "spending does not need to scale with income" will jump to the next generation.
When your own needs are capped, it becomes only logical to find an efficient outlet for the surplus money. So there is an understanding that we operate with an informal, non-billionaire's version of the "giving pledge", meaning there will be no large Mustache family inheritance – each generation will be left free to generate its own massive surplus.
Higher Education, Performance, and Stress:
For me, this is where the rubber really meets the road.  If you can't leverage money to live more happily, then what good is it? And yet consider the stunning case study of the children of the nation's uber-wealthy enclaves like Palo Alto, California. Despite incredible wealth and some of the best educational institutions money can buy, kids there are more stressed, less happy, and more likely to commit suicide than others who live with a fraction of their privilege.
The problem arises when high-achieving parents assume that their kids need to be pushed to achieve more themselves, to beat out the other high achievers and gain access to the most elite schools, in order to compete in this incredibly challenging modern world.
Remember way back when I started this blog in April 2011? Right there in the first paragraph of the first post, we hit this sentence:
"… when it boils down to it, we are talking about money, and the freedom it can give you. Freedom from worry, and freedom from most forms of bullshit."
To me, raising kids to feel pressure and fear so they can be COMPETITORS is bullshit. Life is not a competition. It's a gigantic collaboration, and the world welcomes and rewards people who see it that way.
It may be that most parents of the very-upper-middle class are still operating from a scarcity mindset. If they are addicted to a high consumption lifestyle, earning $600,000 per year but still making car and house payments, they will assume that their children will need to earn and consume just as much in order to be happy. This of course dictates a job in the top fraction of the top percent of the economy, and education with enough prestige to secure such a job.
On the other hand, having crossed the threshold of having more than enough money for a good life almost a decade ago, I cannot even imagine my son not earning a plentiful and permanent surplus very early on in his adult life. Thus, there is no need to fight for traditional elite status. It is much more efficient to rise up to into your own niche without the constant drag of material addiction telling you you aren't good enough. Paradoxically, this path is rare enough that you might end up earning even more money in the end.
What I Really Want Him to Learn:
All of this kid stuff is just the groundwork for the bigger (and slightly radical) perspective on money that I want to instill over his lifetime: that money is something you can master and control, rather than letting it control you.
Observe the following statements and see if you agree with them. While you can poke holes and find exceptions to each one, the overall philosophy is remarkably true if applied forcefully over a lifetime:
Income is not something that employers or the government ration out to you based on a rigged system. It is something you generate yourself. It is the byproduct of your hard work, combined with learning and mastering the system itself. Even the system itself is subject to your control if you choose.
"Expenses", "Needs", and "Cost of Living" are terms that come from a mindset of weakness. Instead, use the words, "My Spending", and realize it is in your control. By making the right moves and the right arrangements with other people, you could theoretically live for free. You can end up in any job, any city, any country, with any number of additional dependents – all at your own choosing. Even if you don't exercise every last option in life, knowing that you have complete power over your spending is a key ally for financial freedom.
And finally, money is not the end of the quest of having a good life. While it is currently a major barrier to most people, it is easy to master it early in your life. Then you move on to the real challenges: finding out what life is really about. Hard work, being good to others, a good amount of proper difficulty, and learning as much as you can pack in during your time alive.
This is my experience so far in raising a Junior Mr. Money Mustache. Although I feel the foundation is solid, like everything in life it is an ongoing experiment. I'll let you know how it turns out.
* My first jobs were paper route, lawn maintenance, and gas pump jockey. Then I moved up to more prestigious and comfortable jobs of working in the town hardware store and eventually cashier in the 24-hour convenience store. Out of this list, I'd only discourage a teenager from pursuing gas station work – avoiding toxic vapors during key periods of brain growth seems wise in retrospect.