Four years into writing this blog, I thought I had seen almost everything when it comes to the most common financial suicides committed by the middle class. But today I was hit in the head by a shocking realization:
When choosing between buying versus renting a house or apartment, people are making much, much worse choices than I would have thought possible.
The implications are so striking that logically, some of the world's busiest stretches of road should not even exist. We could save millions of lives and trillions of dollars by just helping certain people operate a basic hand calculator at a beginner level. It sounds improbable, until you review the following stories from this Canadian vacation I am currently wrapping up:
Case Study One: North America's Fourth Largest Miscalculation
The City of Toronto is famous as one of the world's most happening and expensive places to live. With over six million people in the highly car-oriented metro area, it sprawls on forever and people commute in from an insane zoo of connected cities comprising 31,000 square kilometres, or roughly a quarter of the entire land area of England.
There's only one real highway across this thing, the 401, which has the dubious distinction as  busiest and most traffic-jammed highway in the world. Rush hour extends roughly from 3:30AM to 11PM, so I don't even attempt a crossing except in the 4-hour window outside of that range*.
So what has created this incentive to commute? There are great jobs in Toronto – some of the highest paying in the country. Unemployment is low. The city is clean and quite beautiful along the lakeshore and the many ravines and rivers. But unfortunately, as the saying goes, nobody could ever afford a house there. Average price for a detached residence is up to $1.05 million, and even a car-commuter special runs you $730k. If you don't have that kind of money, you just follow standard Realtor advice and "Drive 'til you Qualify".
Mr. Money Mustache Moves to Toronto
For years, I have accepted these prices as a given and told people to either get creative with roommates unless you have secured at least a $400,000 salary, or get the hell out of the whole area as I did.  Until I conducted a little experiment in Mustachianism: asking myself "what would I do if I had to move to Toronto myself?"
Let's assume a worst-case scenario, because if you can prove that it also covers every other situation. Somebody offers me a job in the most expensive and hardest-to reach region right downtown. It's an a amazing job that I can't resist and it pays well.
And wanting to maintain my current luxurious lifestyle, I insist on only the best: living in a huge apartment in a brand-new, modern building near the shore with beautiful views, within walking distance of work, the stadium, the train station, and everything else downtown has to offer. No buses or subways for me, and let's assume I'm not even willing to ride my bike, because hey, it can occasionally get snowy in Toronto and nobody can possibly ride a bike in winter.
So I pull open the useful apartment-hunting site called padmapper.com and set my criteria to unlimited price, insisting on 2 bedrooms and 2 baths, so I can comfortably bring my family along for the ride. I select one of the nicest looking listings at random, because it overlooks a park with floor-to-ceiling windows, has a sweet balcony, granite and stainless kitchen, and heck, there's even a gym and a rooftop patio on this 40-story building: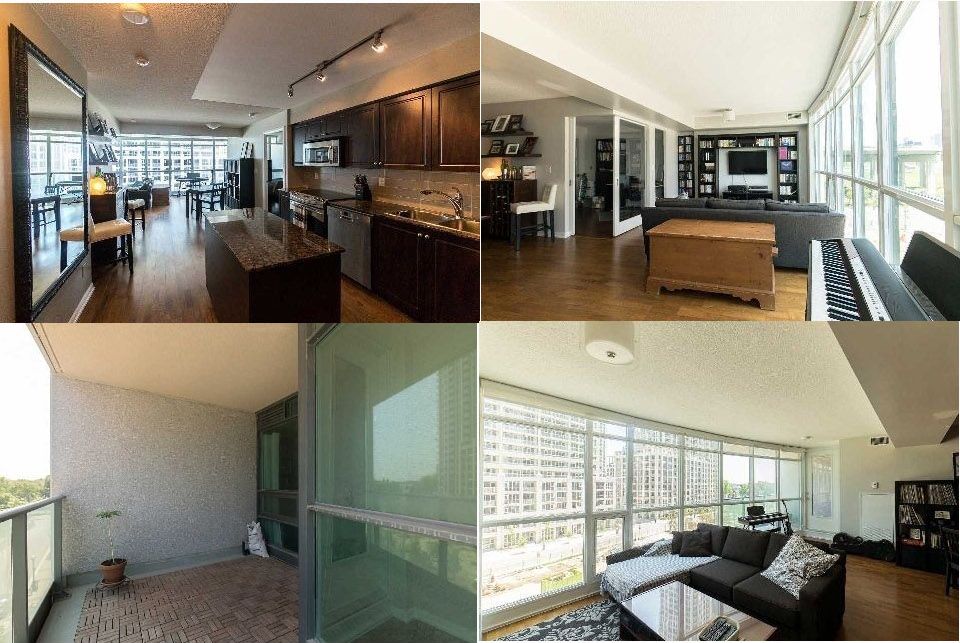 This place looks appropriately fancy. A high-end pad in an expensive city's most desirable district. I brace myself for an astronomical price, because after all, let's look at the math:
People are commuting 40 minutes from $700,000 houses in the "closer" suburbs. A $700k house costs a minumum of $4,000 per month to operate in this area counting only mortgage interest at today's amazingly-cheap-but-temporary 2.5%, a 7% opportunity cost of capital in the downpayment, plus property taxes, insurance, heating/cooling and maintenance at 1% annually. Let's assume you've been wise enough to avoid areas with an HOA. 80 daily minutes in a car translates to roughly 900 miles ($450) and 22.5 hours of your time (say, $900) a month, for a grand minimum total of $5350.
All that, just to live near nothing but strip malls and TV-watching suburban commuters. So I'm assuming an apartment like this would list for upwards of ten grand a month. I look at the price.
$2300 per month
 Oh, and that includes free heat and an underground parking space
(parking for mere mortal visitors in this area costs about $30/day)
Is this a joke? Are apartments really that cheap? Looking through a few dozen other listings in the prime areas, I realize that yes, they are. And if you're willing to be really badass and step onto a subway for your morning commute and move down to a less luxurious apartment building, you can find central-Toronto 2/2 apartments for $1200.
Share one of those with a roommate, and you can work a minimum wage job ($11.00/hr) in this city, pay for rent and food, and still save almost 50% of your income, retiring from your job working at Starbucks by age 37.
I repeated the same experiment in Canada's capital city of Ottawa. Brand new 900 square foot luxury apartment with 9 foot ceilings and two walls of glass overlooking the city's hottest "Byward Market" district: $1950 per month. And this is in a city where people defy death by driving an hour through a blizzard before paying for parking and heading in to the office. It's also a city where some people spend $900 per month on their winter heating bills alone (this apartment also includes free heat).
The implication of this is that an amazing majority of the traffic jams, car dealerships and SUV pileups and harried lifestyles and stress-related diseases and obesity that come with a car commuting lifestyle are completely stupid, optional, irrelevant byproducts of our choices. Almost every expensive suburb should not even exist. Every major urban highway should be shut down and converted to gardens and bike paths, with a few solar awnings thrown in – just enough to power the entire city.
So I ran these numbers by a fellow Canadian, expecting full astonished agreement. Instead I got the start of a bizarre set of justifications:
"But people want a back yard. For their kids, or their dogs."
Are you JOKING?? When you live in a high-end district, ignoring the fact that luxury apartment buildings typically have amazing landscaped common areas, you have literally a multi-billion dollar back yard. The Toronto lakeshore is an endless expanse of beaches, bike paths, fountains, gardens, play structures, volleyball courts, patio restaurants, and of course one of the largest expanses of sparkling blue freshwater in the world. In Ottawa you have a stunning riverfront, forests and parks and bike paths that lead everywhere, and rapid transit that would eliminate any need to ever own a car.
Would you really waste an extra $3,000 per month just so your kids could play on your personal fenced-in postage stamp overlooked by vinyl-clad suburban houses in every direction while you are out stuck in traffic? No.
But what about the dogs?
$3,000 per month, plus the $400 it costs to feed and treat and house and transport and occasionally kennel the a dog, compounds to roughly $588,200 every decade if you invest the money instead. That's every decade, and they live longer than that. Are you really rich enough to spend a million dollars, and clean up warm squishing chunks of excrement daily with only your bare hand and a plastic bag, just so you can have this extra bit of companionship during your sparse time outside of work? No.
And we haven't even mentioned one of the biggest joys of renting: unlimited mobility. On a whim you can jump to a new place anywhere in the world. Never be subject to the pain of fighting with buyers in a hot real estate market, or begging for sellers in an icy-cold one.
The lesson? If you live in an area where houses cost more than $300,000, take a close look at the rent prices around the areas you currently drive. Budget your driving costs at at least a dollar per mile (80 cents/km in Canada to account for higher costs) because you absolutely must put a high value on your spare time to get ahead in life. Doing the math on life decisions like this was by far the biggest factor in my own early financial independence.
Buying a house is a great thing to do when you're settling down in a beautiful, affordable spot right near everything you need to do for the next ten years. And if your schedule and temperament allow some time for a good several hours a week of maintenance work. But for the rest of us, it's worth having another look at Rent vs. Buy.
Further Reading: The New York Times has a pretty great Rent vs Buy Calculator that covers many bases and includes some nice conservative default assumptions (except I'd personally assume higher than 4% investment returns and less than 3% property price appreciation in expensive markets where the price-to-rent ratio is out of whack, such as those in this article). Also, many areas have property taxes higher than the default.
The biggest difference between NYT and MMM is just the focus on location. Rentals often dominate the market in the most expensive and walkable areas, so if you want to work and live in such a place, it might make sense to go straight to the apartment buildings.
*Luckily we have now switched to taking the VIA – here's a video I took out the window of the train traveling at 150 km/hr past a line of car commuters stuck in the usual jam leaving Toronto. This train is both faster and (usually) cheaper than driving a car the 450km from Toronto to Ottawa, which reveals a few hundred million more dollars of savings available, since thousands of people make this drive in any given week.