Whenever something unusually interesting in the field of personal finance shows up in the news, Mr. Money Mustache hears about it. Our diligent network of Mustachian Volunteer Spies combs and filters the world's information, both for pearls of wisdom and pellets of comically misinformed dung. Although I take steps to remain on a low-information diet, I still enjoy hearing about financial trends in our society, since this blog is all about changing the trends.
So people send me updates on things like tiny houses, urban planning breakthroughs, people who manage to blow even a double Silicon Valley salary and appear clueless about where it's all going, and major league players like NFL Mathlete John Urschel who has been known to sleep in his Nissan Versa*. The world seems refreshed to see examples of high-wealth people living lifestyles of below-average consumption.
But one of the most interesting articles in recent memory has been making the rounds on social media this month, and it has fired up many Mustachians because it combines just enough spirited and uplifting "Fuck Yeah" insight on the good life, with a well-intentioned but horribly wrong conclusion. It's well written and very persuasive.  With 2.3 million "likes" on Facebook (up from 1.2m last time I checked), it has probably fooled thousands of financially suicidal people into thinking they are not sabotaging their own lives after all. In fact, I suspect that article has gone viral because it tells people exactly what they want to hear: "Go ahead, be irresponsible and party on. This is the path to a better future."
The article is called "If You Have Savings in Your 20s, You're Doing Something Wrong." To be fair, it appeared in Elite Daily, which is somewhat of a notorious clickbait forward-this-to-your-facebook-friends content mill** to begin with. But there are some brains behind the article and I agreed with about half of it, so it is worth properly ridiculing the conclusion right here, in order to Fix the Internet.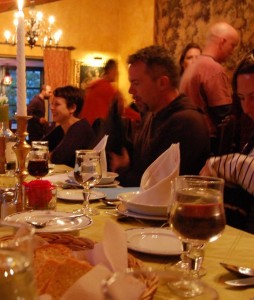 So the author, Lauren Martin, seems to be a young, fun-loving person living in New York City. Having recently spent a few days there doing the old "Ha ha haah, aren't our lives so prosperous!" clinking of cocktail glasses in expensive restaurants with attractive entrepreneurial people and delicious food flying around everywhere, I have a fresh memory of the vibe of that lifestyle. It makes you feel powerful, and feeling powerful is a useful precursor to actually being powerful – gaining the power to live a happy and excellent life.
So she goes into this narrative about how she came to the city with an overly frugal mindset, worried about money and denying herself the pleasures of restaurants, clubbing and taxi rides. A wiser friend encouraged her to loosen up: "Don't save money. Make more money."
This leads to a series of enthusiastic verses like these:
"When you live your life around your retirement fund, you may as well retire now. You can't make a mark on the world if you're too cheap to live in it.
Refusing to give yourself the luxury of enjoying your money negates the whole point of making it.
Your 20s are not the time to save; they're the time to gamble. $200 a month isn't going to make the dent that a $60,000 pay raise will after spending all those nights out networking."
Sounds reasonable, right? How could I take exception with any of that?
I take exception because I've been in exactly that place. I arrived in my 20s with just the same sparky excitement for the big city, fun nights out, rapid career advancement and living to its fullest. Most motivated young people show up with the same dreams.
The difference is how you come out of those 20s.  At best, the advice above will get you some good memories, a strong career, a slightly larger waistline and weaker liver, and a negligible net worth. Better than the average fate, but a huge waste of an opportunity if you ask me.
With just a slight tweak on the money strategy, I came out with the same exhilarating decade of memories, good friends around the continent, and a beautiful and accomplished soon-to-be-wife. With the added benefits of a leathery shell of Life Battle Armor from the explosion of good-old-fashioned hard work and sacrifice, and the better part of a million dollars, which has continued to support the good life and grow to this day just before my 41st birthday.
Because here's the thing about your 20s. They are the time to work. The very, very best time in your life to work your ass off and create an exponential snowball of money, skills, and friendships. Your brain will never be more sponge-like and inexhaustible. You will never feel more motivated and less cynical than you do now. And you will never have another decade of pre-childraising freedom in your life. For the roughly 90% of people who plan to have children at some point make note of the following two bricks of wisdom:
• No matter how much you like working right now, Shit can get Old … fast.
• Kids are way more work than you expect, accelerating the aging of the aforementioned Shit.
These days, kids tend to happen in your 30s. If you attempt that feat with nothing but a well-networked career and a hangover, your life will suck. You need to be well back from the financial cliff, not worried about how you'll cover the next round of bill payments if you lose your job. It works even better if you're completely financially independent by that point.
Gaining your Pleasure through Creation, not Consumption
The Elite Daily article builds its case around advancement, networking, and socialization. All good things, to be sure, but also a bit of an illusion. We all like to fantasize about a $60,000 raise brought about by drinking the right mixed drinks in the company of the right influential people. And sure, maybe occasionally things like that do happen. But to think of this as an actual strategy for getting ahead is roughly as smart as bringing your lucky numbers to the lottery vendor faithfully every week and crossing your fingers for the big win. In real life (even New York City real life), you get paid for getting really difficult shit done, better than anybody else can do it. 
This means fiddling with meticulous, gigantic spreadsheets at 11:56 PM so you can get the impressively casual email to the department polished and sent by 2:30am. Or wiring your brain to source code and compiler windows spread out across three 34″ monitors on your stand-up desk while you design software in zen-like silence at 6am before everyone else shows up at work. Or revising and re-researching your latest article for Elite Daily for the 55th time so it's better and more viral than any article ever written before. It means training your body and mind in your off hours so that you can perform better than anyone else in the on hours. Inhaling books on investment, psychology, nutrition. Barbells and pullup racks in your apartment where your peers keep the Louis Vuitton purses and Apple products. Mixed greens in your apartment fridge where your peers keep redbulls and $50 bottles of vodka.
Sure, there's more to life than work. There's plenty of room at the edges for laughs over fine tequila and winks over surreptitious servings of weed. You can dance and feast and have ill-advised romances and circulate in the penthouse parties of billionaires. But this stuff is just the icing. It doesn't make a good foundation. Work is the foundation, and all other activities need to be metered carefully to fit around that core of work.
Once you become an Actual Rich Person, with a business drowning in opportunities but short on talent and you deal regularly in financial figures that contain more than one comma, you start to see how this works. It's easy to have a successful business if you can find really smart people who are willing to do really hard work for you, in exchange for a high salary. But all these younger people seem to just want to sit around and network and have cocktails. All the hard workers already run their own company. When you find that rare eligible workhorse, you grab her and shower her with money and opportunity, hoping she will accept. You need to be that lone workhorse, getting stuff done while everyone else is out late and living off of credit cards and parental subsidies. This is where money comes from.
Luckily, this is a happy situation and something to celebrate rather than dread. Doing your ultimate work is the core of human satisfaction. Filling the rest of your life with fun around this core makes things even better.
If work is your core rather than buying yourself treats, money automatically takes care of itself. This means you don't need to painfully crimp your lifestyle to dribble a few percent of your income into savings. Instead you painstakingly design your lifestyle so you end up keeping and investing more than half of what you earn. Not hundreds per year. Tens or hundreds of thousands per year.
Sure, you'll blow a few hundred here and there, but you won't do something completely apeshit like buying a multi-thousand-dollar wardrobe or financing a new car. These would just be distractions from your real life goals, so why would you allow them to steal your focus?
Working with this level of focus brings you an unusually high income. Balancing it with less personal pampering allows you to spend less than everyone else while feeling like you are living like a rock star. The end result is being relatively wealthy while you're still fairly young, and then realizing it was a damn good thing you did that, because by age 30 you're ready to start doing your own thing without having the need to pay the bills get in the way of it. This leads us to our final brick of wisdom for 20 somethings:
•There is a lot more to life than your 20s, and if you do it right, life keeps getting more fun.
Those suburban people who you see who are depressed and in debt and horribly out of shape are the ones who didn't get a handle on things at your age. Those who are free and fit and healthy are the ones who completely ignored the advice found in the Elite Daily article.
Which path do you choose for yourself, for that 70 year period that follows your 20s?
—
* The Major League players who are living frugal lifestyles include John Urschel, Ryan Broyles, Alfred Morris and Daniel Norris.
** And no offense Elite D – you're just a modern incarnation of entertainment/opinion magazine and I can imagine it's probably a fun place to work. I'm sure you are used to criticism just like I am. But since you happened to tread on my territory I thought it would be great to use you as a lesson in class ;-)