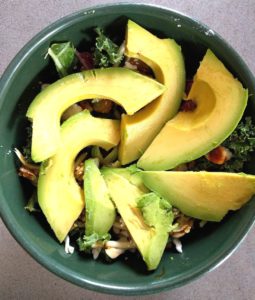 Kicking Ass with Money is much like healthy eating and joyful living. It's a series of daily habits that get you ahead, rather than a one-time heroic effort that fixes all your problems so you can go back to whatever you were doing before.
Because of this parallel, the subject of food is one of the nicest examples of Mustachian living, and one of the most powerful and efficient things to master.
Your eating choices will drastically affect your budget (especially if you are raising a family), but they also affect your health, energy levels, productivity, and happiness. The path to a great life goes directly across your dinner plate, so it is important to take this shit seriously and not mess around with your nutrition.
I've written about food several times before, sometimes with a focus on recipes or costs or general principles. But people often don't believe me – they think I am either lying about my family's grocery spending, eating a diet that is poor in nutritional value, or at least spending an inordinate amount of time on meal planning and preparation.
The truth is none of these things, although the actual story may still surprise you. So I thought that instead of issuing vague commandments like the preacher I am, I could share my functional and (somewhat) affordable eating style, even though it's unusual and surely not for everyone.
So I'll lay out a single day's nutrition strategy, and why I think it is a good one. And then you can choose whether to ridicule it on Reddit, or adopt any tricks from it that you like for your own family. Are you ready? Then let's take a trip into the MMM kitchen!
The first bit of crazy is that when I'm home, I eat almost the same thing every day. My son eats exactly the same thing every day* for now, and Mrs. MM runs her own show, perhaps with a bit more variety than either of us. This is a unique situation in our family that is different from most, and it adds extra complexity but fortunately not extra cost. You play with the cards you are dealt.
Most Important is your Eating Philosophy
For most people, food is just an automatic routine. They eat whatever seems tasty whenever they are hungry. People with stronger passions (sometimes known as Foodies), spend a large part of their day and mental energy seeking out perfect ingredients and flavors and meals. And for many, eating is an addiction – food calls to them (especially desserts and snacks), and they fight this addiction with varying degrees of success. People with a busy urban social life like New Yorkers get most of their food from restaurants, which throws both the nutrition content and the monthly cost into a randomizing hat.
The problem with all of these philosophies is that each is a huge gamble, with your life as the stakes. Because depending on your body chemistry and the foods you choose, you can end up anywhere on the health scale – I have met sweating car bound 25 year-old office workers who could barely stroll from the parking lot to the building, and also know a ripped 65 year-old carpenter who can still frame a three-story house by himself. The difference in the diets of these two men is as stark as the contrast in their physiques.
So my eating philosophy has always been that of the Engineer/Robot. Design each meal and each day's food intake, according to my body's current needs. Since my activity level changes drastically (yesterday's mountain hike requires several times more calories than today's work on this blog article), the food intake has to change accordingly. And since I don't always get things exactly right, the mirror tells me when it's time to make adjustments.
And finally, I'm a big fan of high standards and not fooling yourself. Stay lean and keep your body in condition to work hard. Learn to use the mirror, the measuring tape, and the scale as allies rather than generators of guilt and fear. If you're not there yet, keep yourself moving in the right direction rather than being complacent. For example, if my abs get paved over with fat, I'll adjust the variables below to go into fat loss mode until the problem is corrected. On the other hand, if I'm getting too skinny and trying to put on strength and weight, I'll add the extra meals back in.
The Weird MMM Meal Plan
Breakfast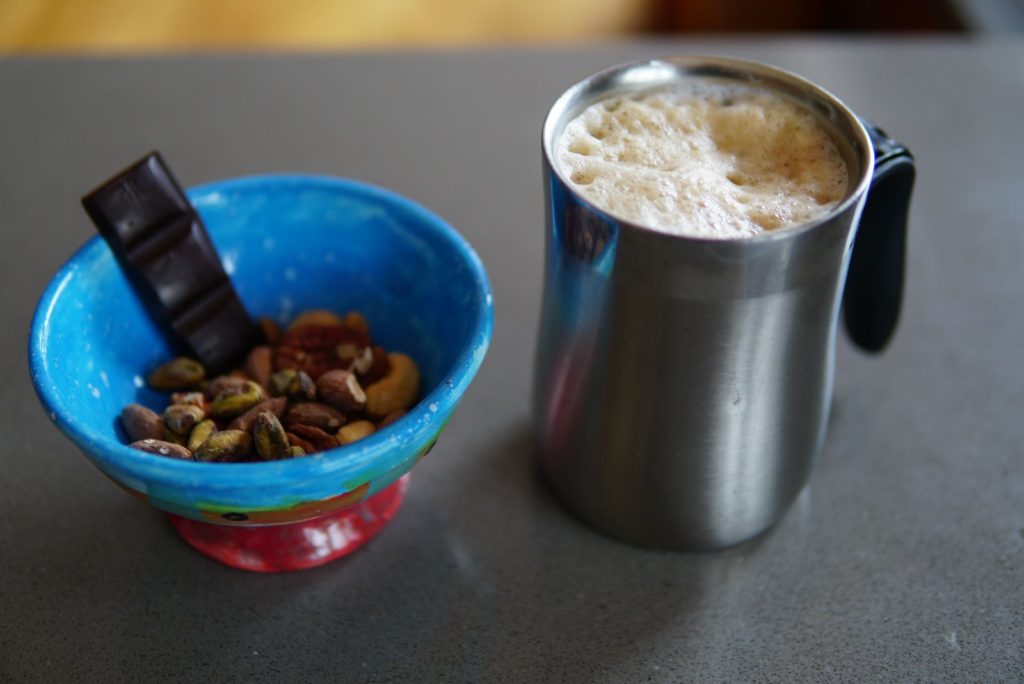 I have come to think of Breakfast as the time of Breaking the Fast.. but by now we all know that fasting is good for you, right?  So the design of your breakfast presents an interesting life-boosting opportunity: When you wake up, you're already in a nice low-blood-sugar state, which means your body is beginning to think about burning fats as a source of energy (ketosis). This means that you can just prolong the fast by skipping breakfast and just enjoying some coffee or water, or take a softer approach and at least have a breakfast that is very low in sugar. So I do this:
Espresso Coffee with Whole milk and Coconut oil
A handful of mixed nuts
A few squares of dark chocolate (85%)
Subjectively, I find this breakfast is satisfying and delicious, but also keeps my body in low-sugar mode so I can begin a day of physical labor without hunger – and potentially work as long as I want, even skipping lunch and running on stored bodyfat if desired. (Note, I make the coffee with this super cheap but super reliable espresso machine and heat/fluff the milk and coconut oil together to get the tasty results).
The end result is this nutrition profile:
At this point, you may be asking, "Wait, does Mustache really weigh and analyze his food?" – and the answer is "sorta." While I endeavor to lead a relaxed, hippy lifestyle, the Engineer/Robot side is always in the background running the numbers. I don't really measure my calories, but due to a lifetime of reading nutrition books and labels, I do always have a background idea of what I'm consuming with each meal.
If you have at least a rough idea of the nutrition content of what you are eating, you will have a far easier time getting the results you want.
Mid Morning Snack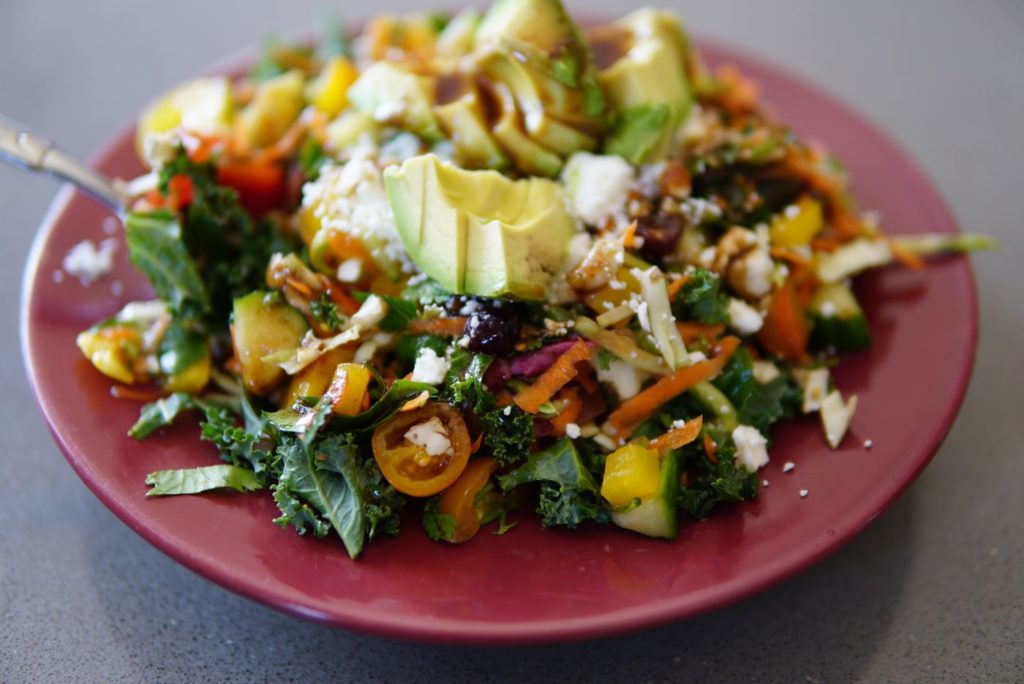 After breakfast, I usually bike downtown to a mixture of construction and weight training in the back "prisonyard" of the MMM-HQ Coworking space. After a few hours of this, I am ready for a bit more nutrition:
A giant salad
Plenty of water, or even the indulgence of a second cup of coffee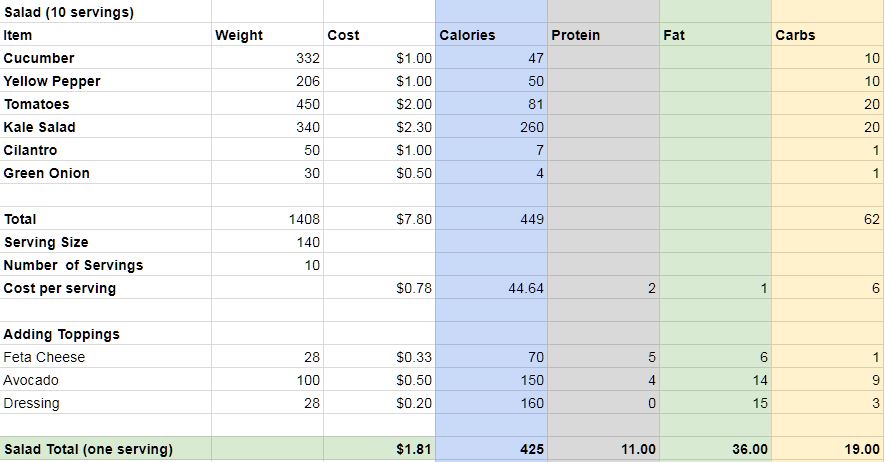 These big salads are a big part of my daily food expenditure and effort, but probably an even bigger part of my health. So they are definitely worth it. I make it easier by making salad in bulk every few days, and starting with a base of a pre-made $2.28 Kale Salad Kit from Sam's/Costco. This provides a bunch of greens and saves much chopping. But I discard the crappy sugary dressing that comes with the kit and use my own olive oil-based dressing, also made in bulk from high quality ingredients also bought in bulk, (like 3 Liter Jugs of olive oil!)
I may throw in a protein bar (30g protein, $1.00) to this snack, depending on the intensity of the work.
Lunch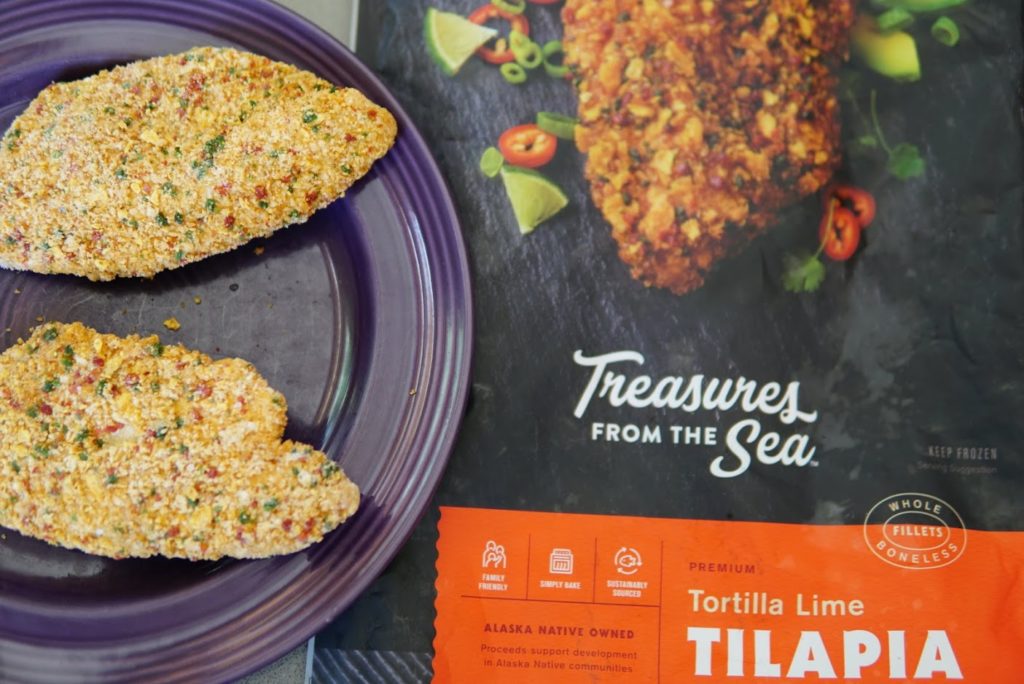 After the midmorning snack, I am back out for quality time with the saws and ladders for a few more hours, which feels great on a relatively light load of food because the body is burning clean and lean. The low carbohydrate nature of everything I have eaten so far keeps the hunger level so low that I could even work right through and skip lunch if needed, or if I were trying to lose fat. But since I'm currently at roughly right fat level and not wanting to be any lighter than I am, I break at around 2PM for something like this:

I have been on a bit of a Tilapia binge in recent months, because they are almost too convenient and tasty and easy to prepare. So much so, that my friends and I jokingly refer to them as "marriage savers" – there is no need to fret over whose turn it is to prepare dinner, if something with such a good nutrition profile is always in the freezer and just 15 toaster oven minutes away from your tongue.
While the nutrition profile is good, they are still a bit of an expensive source of protein. $2.00 sounds like chump change, but the same protein can be had for under fifty cents from other sources like bean and rice combinations, eggs, or even whey protein supplements.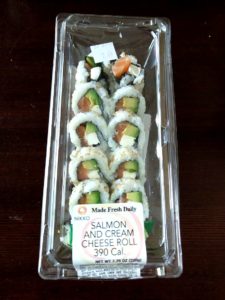 A cost difference of just $1.50 per person per meal, multiplied over a four-person family's 372 meals per month makes a difference of $558 per month, or about $96,000 per decade after compounding.
Yes, that is a hundred grand, and this is just the difference between a semi-frugal $2.00 meal component and a fifty cent equivalent from, say, your crock pot.
Imagine, then, the effect that impulse grocery purchases like those little $7.49 packs of sushi would make, if you casually toss them in the cart on a regular basis? A decade of a family's innocent-seeming Whole Foods indulgence could pay for a house outright, while leaving them no better nourished than wiser meal planning with bulk ingredients.
Put a crock pot and a Costco membership to good use, and just watch what happens to your bank account.
Now, I took that sushi picture on my own kitchen table, so we too are guilty of this indulgence. But we are long past financial independence, and even then it is a rare purchase. The overall lesson is just, again, to take this shit seriously – make sure you appreciate every food purchase above beans-and-rice level as a conscious luxury rather than just a habit. And if you are in debt, no sushi for you!
Dinner
Around 3:30pm in the afternoon, I'll walk or bike home from "work", so I can be there when my son returns home from school – one of the biggest rewards of early retirement. One of us parents will cook him a homemade pizza at this point (I pre-make the personal size shells and keep them in stacks in the freezer), so he can recharge with about 480 calories from a delicious meal that costs only about 50 cents to make.
Then us Adults will usually collaborate to make something like pulled-pork tacos:

On the side, we might add chopped fresh vegetables, more salad, or something more substantial as the appetites require. Like the filets, it's not the cheapest possible way to get a meal, but at least it is reasonable. Also, we are omnivores, which is a more expensive and polluting way to get protein – but if you're not badass enough to eat vegetarian you can at least make a substantial dent in your eco footprint by making beef your last choice of meats.
Adding it All Up
Although it took me quite a few hours to collect all this data on what I eat and add it up in a spreadsheet, the results have been quite interesting because I had never done it before. With just the stuff described above, I arrived at this point:

And the numbers were a bit surprising to me, in the following ways:
I am spending a lot more on food than I thought. If all three of us ate the way I do, our annual grocery bill would be $8600, not counting additional indulgences or food for parties. Since our real bill is closer to $6000, you can see that I am doing more than my share of the spending. Then again, I do weigh more than both Little MM and his mother combined , so perhaps this is fair.
My base calorie level is about right for my age and height for a moderately active person, but on active days I need closer to 4000 calories (if you look up a 185 pound male "athlete" for the baseline)
My base protein level is also about right for moderate activity, but on highly physical or weight training days I like to boost that to one gram per pound of bodyweight.
So while everything in this article is detailed and accurate so far, I tend to eat a variable amount of additional food to meet hunger needs, scaling it all up and down depending on what the mirror says. I use one or more of the following boosts.
Boosts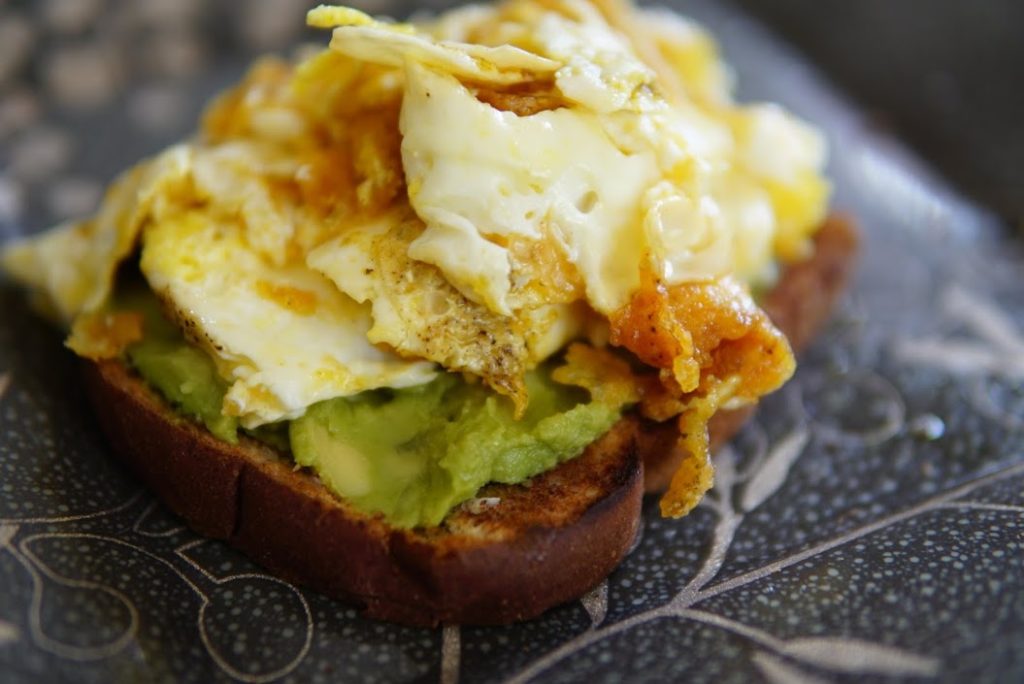 Handfuls of Nuts (1 ounce worth, 160 calories)
Protein Smoothie (banana, peanut butter, plain yogurt, tiny bit of milk, ice, water, and vanilla protein mix – about 1000 calories and 40 grams protein)
2-3 simple eggs cooked in olive oil with a bit of cheese: 500 calories, 20 grams of protein, 50 cents or so.
Avocado toast: 3 eggs, some shredded cheese, avocado, all on a piece of whole wheat toast with butter. A truly decadent weight gainer of a snack, although quite cheap. Leave out toast if you are not trying to maintain or gain weight. 1000 calories, plenty of nutrients about a buck.
Conclusion
Understanding the big picture is much more important than counting pennies and calories. Just gradually learn what is good (and bad) for you in general, and what is affordable versus expensive in general. Choose wisely on average over time, and watch as things just seem to work better over time – in both the beltline and the bank account.
*and while I won't explain this in detail here, parents of children with his personality type will understand without question. It is something people do tend to grow out of as they get older and gain confidence with new experiences.