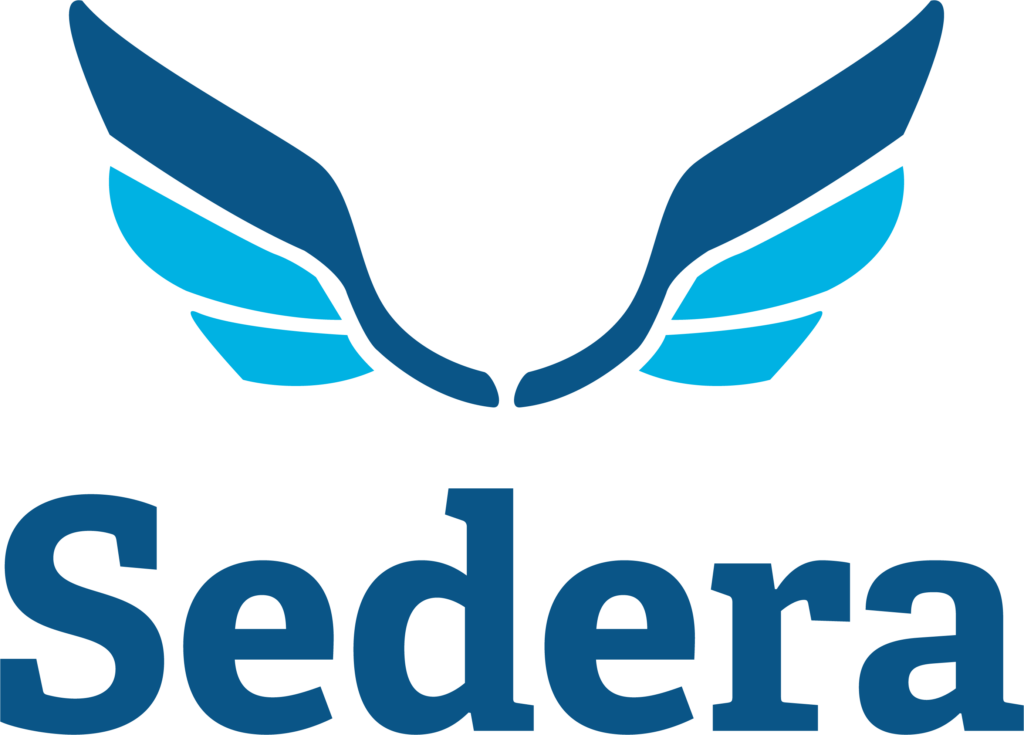 ** UPDATE: September 2022 *** SEE BELOW***
This page (maintained by my healthshare expert Bill) will dig further into the details of Sedera health sharing , and serve as a place to ask and answer questions in the comments section below.
After learning everything you need to know about the company, you can sign up with Sedera at the best possible prices, here:
https:/sedera.community/thefireguild1
(Sedera also has an option with a different enrollment process for employers. If you run a business and you're interested, send an email to info@thefireguild.com for more info.)
*note: Sedera does pay its affiliates a small referral fee for new customers, which does not affect your monthly bill – in fact, this link offers a lower price than subscribing directly through the company's website. Thus, we believe this is the lowest cost way on the Internet to get this coverage. In addition, we donate 10% of our gross revenue to RIP Medical Debt.
If you prefer a colorful, easy-to-read, cartoon-y overview, click here and you'll learn ALL YOU NEED TO KNOW.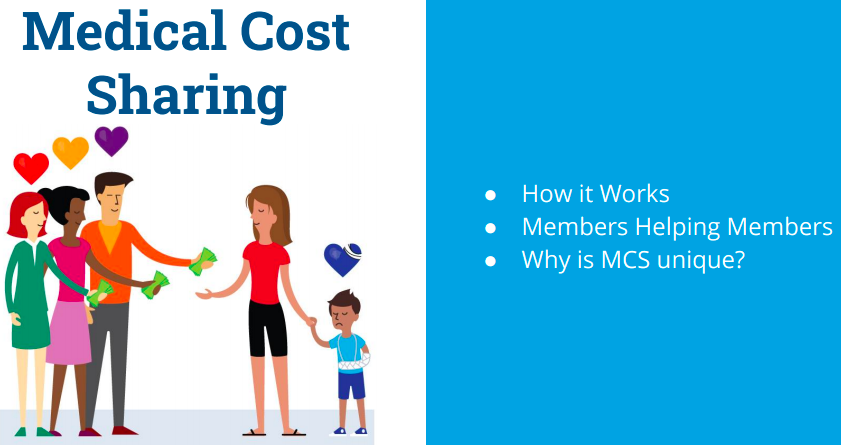 Otherwise, read on!
*****SEPTEMBER 2022 UPDATE*****
Sedera Update From a Real User – September 2022
Sedera seems unbelievable – a system for sharing medical costs at a fair price, run by people who are on my side? Too good to be true, right?
Wrong.
Here's a quick story of my personal, recent (2022) experience with Sedera.
Quick facts: I'm 54, I've been a Sedera member for several years and as a member I pay for the first $1500 of any medical event. Sedera shares the cost of the balance. It's really that easy. If you want more background, read on.
—
I had started feeling strange heartbeats and went to see my PCP (Primary Care Physician – who is a DPC – Direct Primary Care doctor). We made the decision together for me to get some cardiac tests done: A "stress-echo" (an in-person ultrasound of my heart beating while they pushed me to run increasingly faster on a treadmill, while hooked up to a bunch of wires like some bionic man) and a 2-week EKG using a very cool new technology called a Zio patch – a small device that was taped to my chest to record every beat and search for irregularities.
I shopped around, calling three different providers in my area of Southern Maine to find the best price and scheduling for the stress echo. Of course on the day of my test, they could not provide me a detailed bill for services and I immediately began to worry that the price they had quoted on the phone (after being transferred several times to try to get an answer to the "how much will this cost?" question) would not be honored. It turns out I was right.
A few days after the test, I received a massively inflated invoice from the provider (not a great feeling to a guy with heart trouble!) and got in touch with Sedera's patient advocacy team to start negotiating on my behalf. They contacted the provider, handled all the calls/documentation and ended up with a significant discount. A new bill was sent to me, I paid with my credit card and provided the receipt to Sedera through their online portal.
For the Zio patch, it seemed I could only get it from a local cardiologist – again at a HUGE markup. Instead I simply searched for the product, went to the company's site and found that they have a direct-to-patient service (with a cash discount) for a flat fee of $495. I ordered the patch which arrived two days later in the mail, and followed the easy instructions to affix it to my chest. After two weeks, I peeled it off and mailed it back in the prepaid mailer. They provided the results to my PCP (again, a DPC in my case) and we reviewed them. I submitted the receipt to Sedera and settled in for what I thought would be a long wait and a lot of back-and-forth.
I was mistaken.
Less than two weeks later, I woke up to see that the balance between what I paid, minus my $1500 IUA (Initial Unshareable Amount) had been directly deposited into my bank account! Done. It really was that easy and they really did simply send me the $ and SO much faster than any other experience I have had with reimbursement or insurance claims (have you ever dealt with car insurance? Ugh).
This was not a complete surprise, since my wife had a similar experience with Sedera sharing some medical costs in 2021, but in the meantime I had heard stories of bankruptcies caused by the unethical (in my opinion), exorbitant billing by the US healthcare system. We are trained to just accept that medical costs in the US are astronomical but inevitable – that the fear of losing everything due to an accident or illness is the Way Things Are. And, that our only hedge against this is to pay for mostly (hopefully) unused health insurance which for my family would be an assured $30K MINIMUM per year, regardless of our level of health.
Sedera shows that this doesn't have to be the only way, and I believe it's one of several systems that will eventually disrupt our current dysfunctional disconnect between providers and patients.
I know I said at the beginning that this would be a quick story and you may not think so after reading all of this. However, if you talk to anyone who has actually USED their insurance for anything beyond routine checkups, they'll tell you much longer stories about excessive paperwork, billing discrepancies, arguing with their insurance company about what's covered, "surprise" bills from out of network providers, etc.
In conclusion, I'm very happy with Sedera and the system has worked exactly as described. I am spending FAR less for the peace of mind that insurance plays in our lives and I know that should problems arrive in the future, Sedera will be there to help.
I signed up with Sedera several years ago and as I got to know the company better from my extensive research, a friend and I decided to start our own company – The Fire Guild. If you want to join Sedera, be sure to visit our site: www.thefireguild.com to learn all there is to know. There you'll find out how it works, what it costs and if you want, how to directly contact Jon or me to ask whatever questions you may have.
(end of September 2022 update)
Bill here! As a long-time FIRE advocate, here's what I like about Sedera:
Cheaper than traditional health insurance (75% cheaper in some cases)
No religious commitment or affiliation
No network: Use any provider you like, anywhere (including internationally)
Timely payment of eligible expenses
A+ Rating from the Better Business Bureau
Easy sign up
Clear, easy-to-understand sharing guidelines
No open enrollment or difficult-to-understand packages
Preventive care (mammograms, colonoscopies, and flu shots)
Expert second opinions
Web-based interface for tracking bills, needs, and payments
Responsive, US-based customer support (in Austin, TX)
Transparency and low profit margins – your dollars go to helping members in need
Membership growth has been organic to ensure that members are a good fit
Discounted rates from providers (over two decades of experience negotiating medical bills)
Supports healthy lifestyles by rewarding good behavior (non-smokers pay less, DPC members get a discount)
Choices from $500 to $5K IUA allowing peace of mind for every budget
Great option for the self-employed and FI seekers. Protect your assets!
Only one raise in rates in 4 years
Telemedicine (through publicly traded Teladoc, the first and largest telemedicine company in the US)
Rx help
Up to $750 in mental health assistance
International care is covered
Why I Joined Sedera, or how I got better service for less money
My family joined Sedera because we needed some sort of coverage but the ACA was just too expensive. I'm in my early 50s, retired, and we were paying over $2K/month with a high deductible. At first I was attracted to Liberty (the least religious of all the Christian Health Sharing Ministries) but had moral difficulties with their exclusion of non-religious people (and their stance on certain women's health issues). Why should religion have anything to do with health?
So, I searched and found Sedera. Secular, more agile, with an A+ BBB rating and on top of it all, cheaper! We now have excellent care through two local DPCs and complete assurance about catastrophes through Sedera.
Why Sedera is great for Mustachians or brass tacks; what does it really cost?
Self employed? Just quit your job and can't deal with the hassle and expense of COBRA? Early retiree? Sedera works for you because you can sign up any time – there is no open enrollment period. Also, guess what? The prices are low. Like so low you'll start to wonder why standard insurance is so expensive (and that kind of wonder is probably why you're here in the first place). A quick example: 34 year old, single, member of a DPC, with a $2500 IUA: $157 per month! Below are prices for members of a DPC (MO is Member Only, MS is Member +Spouse, MC is Member+Children MF is Member+Family):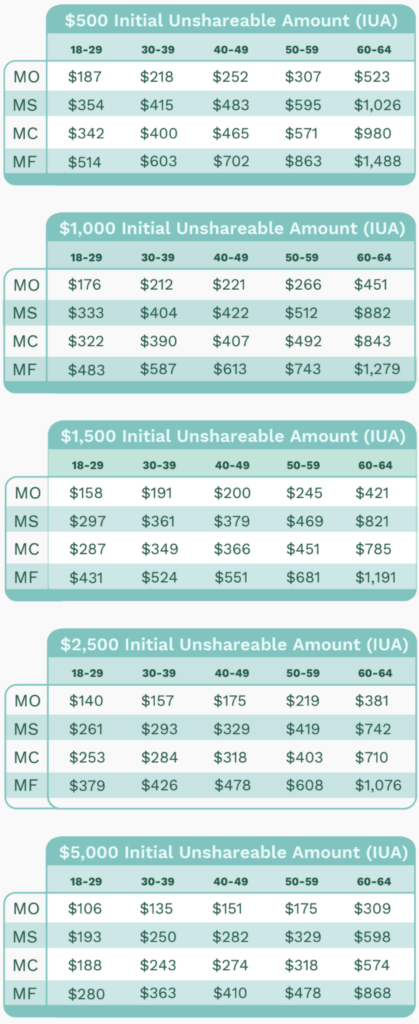 How Care and Payments Work (compared to insurance)
You're probably already familiar with how health insurance works, and Sedera has some similarities though it's not insurance. Think of Sedera as a group of your healthy friends who want to pool their resources to share health-related needs. In fact, with Sedera, when you have a medical bill you submit it (online – you have your own private portal) as a "Need". Once approved, Sedera sends you your "Share". Depending on your level of membership, you have an IUA (Initial Unshareable Amount) and just as you guessed, this is the dollar amount that you're responsible for before you can submit a Need to be Shared. There are many more details about the number of Needs you are responsible for in a calendar year, what's an acceptable Need, how quickly your Share arrives and more – the best way to learn about that is to read some of the FAQ's below, or head over to https:/sedera.community/thefireguild1 and follow the links there. If you need more info or something's not clear, ask here! (and if enough people ask, it will get rolled into the DFD* below)
*Devil-Free Details, or Frequently Asked Questions [NOTE: We will be updating the FAQ as questions come in (and seem suitable for this format). If the FAQ answers a particular set of comments, those will be removed in order to make this page more readable. Of course, almost every question can be answered in the Sedera Membership Guidelines, but we'd like to introduce you to the most frequent questions without having to go for the deep dive right off the bat!]
Q: How do I know Sedera won't take my money and run?
A: This is one of the most common questions so we've put it here first. The answer is: You don't. Sedera is not insurance and is not regulated. They have super scary, upfront ALL CAPS disclaimers on their site to make sure you understand the risks (and they want all members to actively CHOOSE to join). In order to keep their prices low (which was initially my main reason for joining), they have limitations and some of those would run up against the rules surrounding insurance. As such, they *have* to clearly post that they are NOT INSURANCE, etc.
If that scares you off as soon as you read it, then you can skip the rest and move on. However, if you're a discerning consumer (of course you are, you're on this blog!), you will read on and see that there's a lot to calm your concerns: They've been in business for over six years (and their executive team has decades of health care experience), with no lawsuits, no complaints and they were even nominated for the coveted BBB Torch award for ethics. They have 35K members (and growing) and if they were in the business of taking your money and not providing services, our tried-and-true free market system would crush them like a bug. They're totally transparent with their pricing and their guidelines. Plus, all operations are 100% US-based in Austin, TX and you can call them and they'll answer. Think about how all of those points compare to your current health insurance provider!
Q: How long does it take to sign up, and what will I need?
A: If you're a smart person (of course you are) who knows how to navigate the web and has filled out an online form before (ditto), then I'd suggest setting aside 15 minutes to go through the educational materials and then sign up at this link. You'll need your SSN, bank account info, a credit card and some basic knowledge about your family. It's really easy (particularly if you compare it to signing up for health insurance). However, it's not currently available in Illinois, New York, Washington, Vermont. But they're working on it!
Q: When does membership start?
A: Membership starts immediately, just like signing up with a DPC (or car insurance, Spotify, etc). Alternatively, you can sign up today and choose your future membership start date.
Q: Are there limitations on when I can sign up? Can I jump in the day after I quit my job, regardless of when that is? (Congratulations, btw!)
A: There's no "open enrollment" or any other limitations – it's very straightforward (as it should be). Skip COBRA and join up, or finally get some peace of mind as a gig worker or self-employed person. You can pay with a credit card or your bank account and you will be billed monthly on the date you signed up.
Q: How do I pay? Can I use a credit card?
A: Yes! You can pay with a credit card or your bank account and you will be billed monthly on the date you signed up. It's all automated and very much like other memberships you're familiar with (and unlike the reams of legalese and paperwork you've maybe dealt with in the past).
Q: What's included without meeting my Initial Unshareable Amount?
A: Well-patient mammograms, colonoscopies, flu shots and other wellness events are included 100% – no need to reach your IUA first. You can read about what's specifically allowed (and not) in Sedera's Membership Guidelines. My 52-year-old wife recently had a routine mammogram. She made the appointment, stated she was an uninsured, cash-pay customer and secured a fantastic price which she paid for with her credit card. We submitted the two bills (imaging and the "reading" of the images) to Sedera via our private portal (snapped pics with the mobile phone) and received payment (check or direct deposit, your choice) 18 days later.
Q: What if I need a million dollar total head transplant? Are there any caps to how much will be shared?
A: In short, you pay your IUA and Sedera Members share the rest (aka you receive payment). There is NO UPPER LIMIT on a Need. Period. How can this be? Sedera has an entire group that helps negotiate pricing on major health events, and as such, that huge price is usually significantly reduced. Remember, hospitals and other health service providers are just running a business and given the chance to negotiate for faster payment often means they'll offer a better rate.
Q: So I have a $1500 IUA; does that mean I have to pay that much of each bill I submit?
A: No way! Your $1500 IUA is per Need. So if you have a heart attack, that counts as a single need. You may continue to get treatment for that issue for a year (or more); all bills associated with that Need are included under your single IUA. You pay $1500 and the rest is shared.
Q: What about pre-existing conditions (PEC)?
A: You CAN sign up for Sedera if you have a PEC.
Sedera limits sharing for any PEC treated in the 3 years before signing up. You can totally sign up and have everything else shared, just not that condition during your first year of Membership. However, during the second year, you are eligible for $15k of Sharing, the third year $30k, and once you start your fourth year of membership, it would be fully shareable.
Q: What else is excluded?
A: A quick answer is: Anything illegal. If you are injured doing an illegal activity or from the use of illegal drugs, you're on your own. I like this feature: It makes fellow members accountable for their own actions. There are detailed specifics in the guidelines, which are thorough but written in everyday language and are required reading before you sign up. Sedera doesn't want just anyone – members are committed to taking responsibility for their own health and by extension, the other members of the community.
Q: What's my maximum annual expense?
A: You're responsible for your IUA for each Need, but only for a maximum of three Needs per year (including for Families). For example, if you have a $500 IUA you pay the first $500 for your broken leg on January 1st, the first $500 for your kidney stones in March and the first $500 for your broken arm in April. After that (what a bad year!), you are no longer responsible for any more IUAs on subsequent needs (if you continue to have bad luck). Your total out-of-pocket expense for your three bouts of bad karma payback will cost a total of $1500, regardless of how long your recovery is or how much it costs. Of course, you're also responsible for your Monthly Contribution throughout your Membership period.
Q: What about maternity and pregnancy costs?
A: This is a big question and deserves a big answer but here's the quick and general response: Sedera considers births, maternity and prenatal care shareable, but does not share in voluntary terminations. All pregnancies are subject to a $5K IUA ($7500 for non-emergency C-sections). This is to discourage people who join just to have their maternity costs shared, then leave the community.
Q: What's their stance on prescriptions?
A: Sedera separates medications into two groups: curative and maintenance. Loosely explained, they share the former until you're better. If a medication is initially prescribed to cure an ailment, it's included, but if it becomes a maintenance drug, then only 120 days of that prescription will be shared. Some simple examples of curative drugs are antibiotics, pain meds and even chemotherapy. Statins, insulin and birth control (unless prescribed for a curative issue) would be considered maintenance drugs. Also, as an active member, you have access to Sedera's RX Marketplace, where you'll find incredible resources for inexpensive prescriptions, diabetic supplies and more.
— — —
I'll continue to update this as I find comments that seem to stand out or get repeated. I am starting a site of my own, dedicated to Sedera, called The Fire Guild. My partner Jon may be helping me answer your comments and questions.
Final note from MMM: This is an ongoing experiment, with the goal of sharing something that is hopefully very beneficial to readers, so both positive and negative stories are welcome. Please share details that will be relevant to others – we're all looking for information!