"The Extraordinary belongs to those that create it"
An Informal Weekend Collaboration
August 13-15, 2021

What's This?
On short notice, our friends Alan and Katie Donegan, legendary founders of the UK's Rebel Business School, have decided to pop over and spend some time here in Longmont.
To celebrate, we are putting on a weekend retreat at the MMM HQ coworking space, and inviting about 50 interesting local entrepreneurs and curious people to come and join in on the fun.

The details are still being refined, but here is the overall flow:
Cost: only $60 per person (including meals!)
(we're running this as an informal non-profit event, so this is just enough for us to cover food, drinks and supplies)
Only 40 tickets available, and you can get 'em below if you agree with the special note:
A Special note – doing our part to reduce the spread of Covid:
This will be a relatively large gathering with plenty of close indoor time, and masks will not be required. Thus, it is important that only fully vaccinated people are in attendance. Please do not buy tickets or show up if you don't have your shots!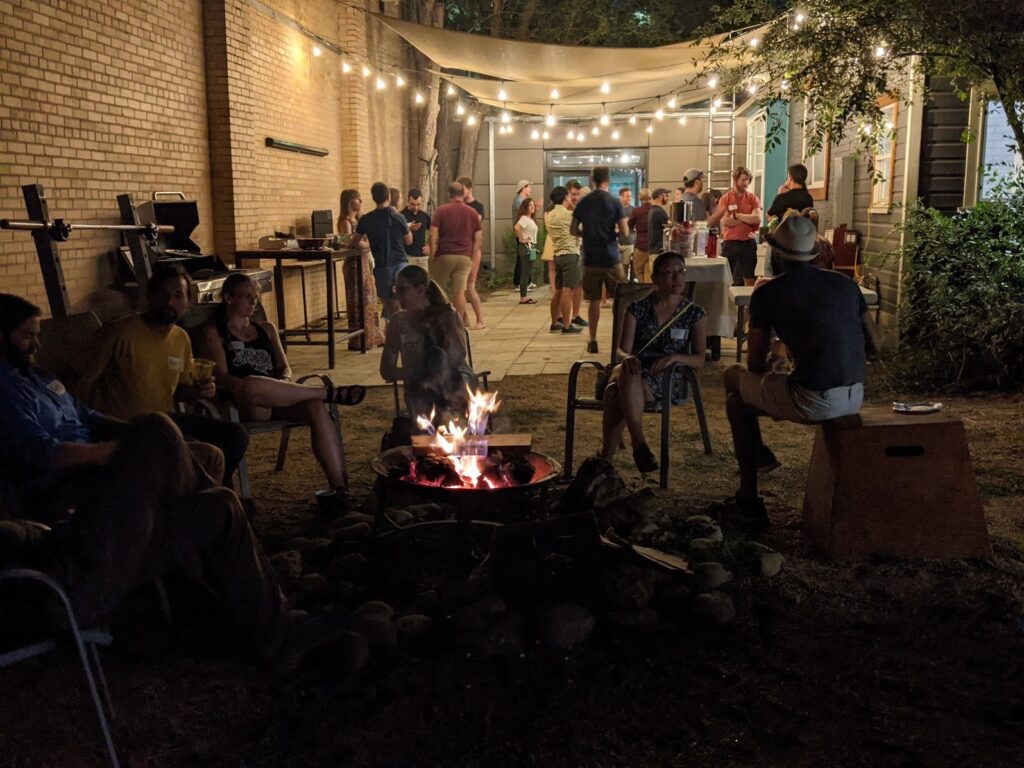 Our (Approximate) Agenda:
Friday, August 13th:
4:00PM – welcome mixer and happy hour, come help set up and meet people
5:00 – dinner buffet arrives (Chipotle!)
6:00 – talks:
Amberly Grant – "Social Capital, Courage, and How This Led Me to $1 Million of Debt"
Alan Donegan – "The Extraordinary Belongs to Those Who Create It"
Maybe more short talks too, and a live podcast recording for The Rebel Entrepreneur podcast.
8:30 – close: Campfire and hangout in HQ back courtyard
Saturday, August 14th
9:00am – optional group hike at Button Rock Preserve trail in Lyons, CO
(we will encourage and coordinate carpooling as it's a 40 minute drive from here)
(possible alternative group activity: yoga in Roosevelt Park)
12:00 – Meet at HQ for group lunch (catering from another local restaurant)
1:00 – Talks and workshops begin:
Alan Donegan – "How to Build a Business with No Debt"
3:00 – Roundtables – Additional mini talks and DIY breakout sessions on topics YOU create!
5:00 – Making s#%t happen – The Donegans on creating, working together and taking action
5:30 – Carl Jensen, Alan and Pete – Q&A on Finance and FI
Dinner and Night on the Town: split into groups and walk to one of the many many great restaurants, pubs, distilleries, cideries, etc in downtown Longmont
Sunday, August 15th
Early – Optional group hikes or local bike ride
10:30am – Group breakfast at the HQ (pancakes, omelettes, bacon, fruits and veggies, etc)
11:30 am – Talks:
Carl Jensen – Everything I Know Is A FI
Alan and Katie's talk: Life in FI
2:00PM – official end of event, although we may linger if we're having fun