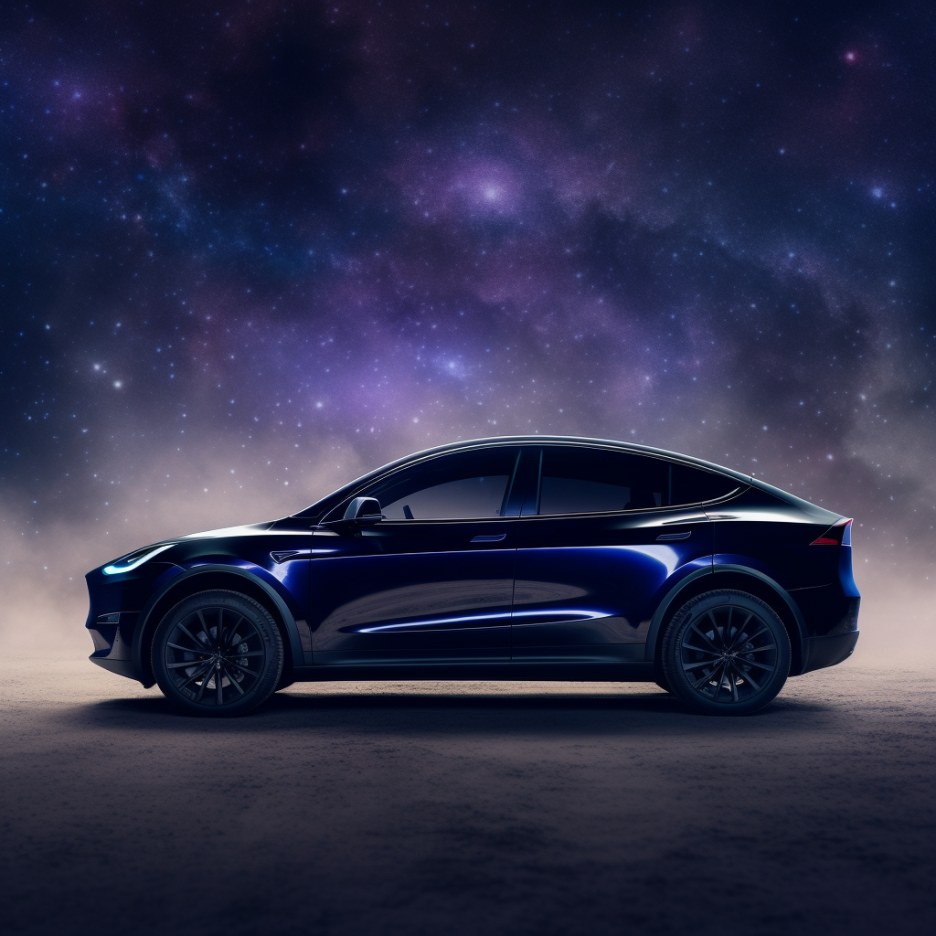 In May of 2023, after many years of successful delay I let myself buy what is probably the ultimate no-compromise, do-everything vehicle currently in production, the Tesla Model Y.

As of early June, I am enjoying the shit out of this thing, in the middle of my a nice mix of road trips and construction work and adventures with bikes, boards and friends.
I got the basic "long-range" model with no additions except a tow hitch. I view the hitch as essential for any vehicle, for hauling my construction trailer as well as clicking in accessories like a bike rack, cargo tray to hold my tool boxes, and an elaborate "camp kitchen" feature I am going to build and document here on the blog – based on the Rivian offering of the same name.
But along with being really good, this car is also rather expensive at about $50,000. Which makes it a weird purchase for a frugality-oriented financial blogger who hates car culture.
This page will document this ongoing lifestyle experiment as well as addressing some of the frequently asked questions.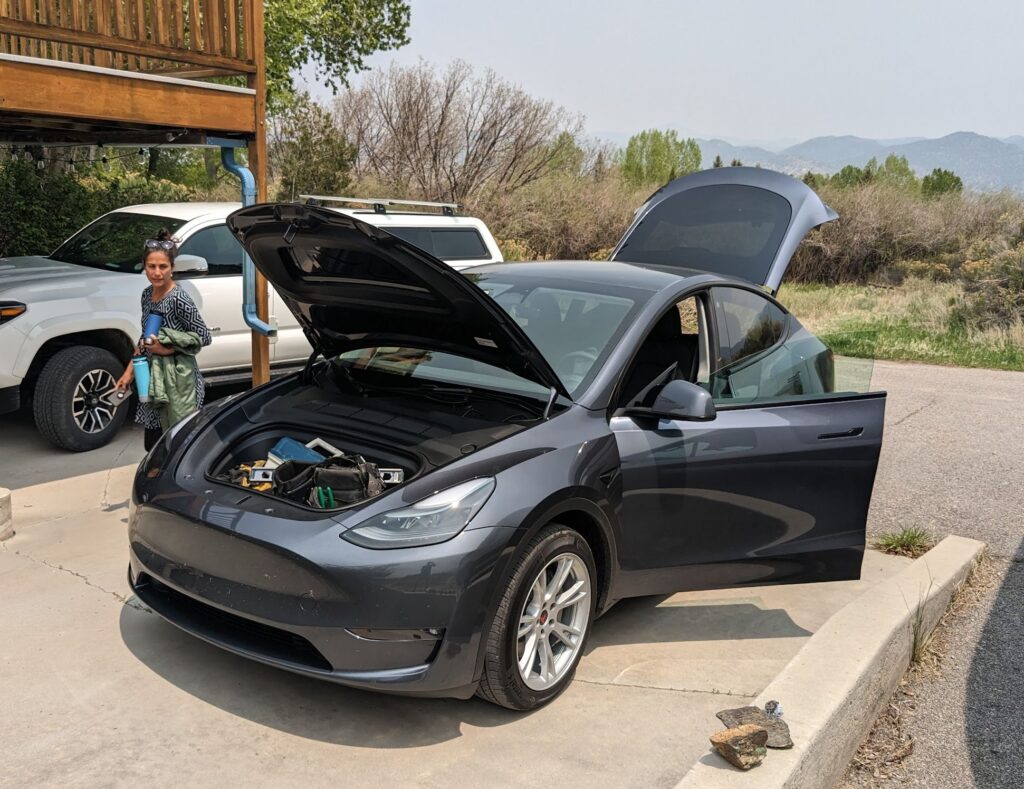 Why did you choose this car?
As of 2023 there are a lot of electric cars supposedly on the US market, but only a few in real volume production – most of them made by Tesla. This is because the company has about a ten-year lead on everyone else, having started mass-producing electric cars in 2012 while most carmakers are just getting started now. In practice, this means that when you try to buy any other EV, you will find a long wait and dealer markups for an inferior product.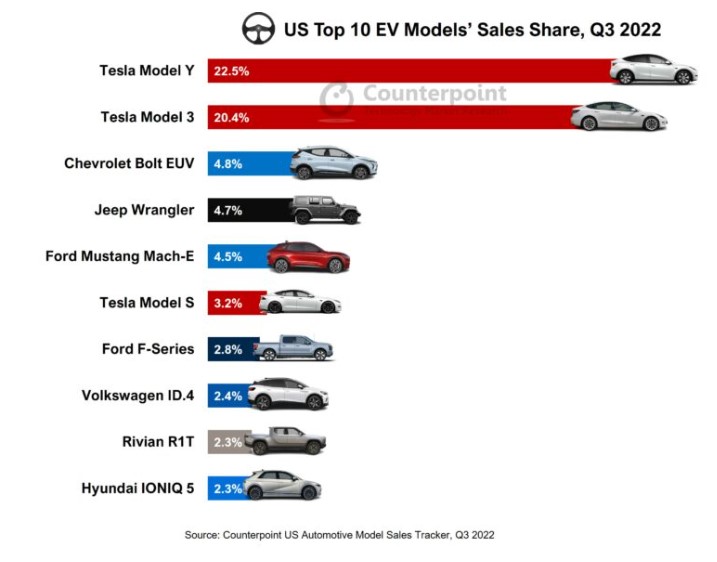 Meanwhile, the Model Y is simply the best deal on the market right now for my needs. For the $50k base price you get a very roomy, family-sized crossover SUV which also happens to offer the performance and handling of a race car, and a driving range of 330 miles per charge.
Note that for anything other than road trips, the best deal is the 250-mile Chevrolet Bolt at only $20k after tax credits. But GM is ending production later this year so get 'em while you can!
Although 50k for the Tesla is still a shit-ton of money, after the $7500 federal tax credit it's actually less expensive than the similarly sized Toyota Highlander gas-powered "hybrid" SUV, a vehicle which is slower, sloppier to drive, louder, and far more expensive to fuel.
On top of that, Teslas are the only brand of EVs that can easily and reliably do road trips anywhere in the US, because they operate their own network of many thousands of reliable chargers, whereas every other brand is left to depend on a piecemeal of unreliable garbage networks like Electrify America (which also charge about 50% more for the electricity they dispense!)
All this will change within the next ten years, but for now Tesla is the only game in town for long-range road-trippable electric cars.
How long does the battery last?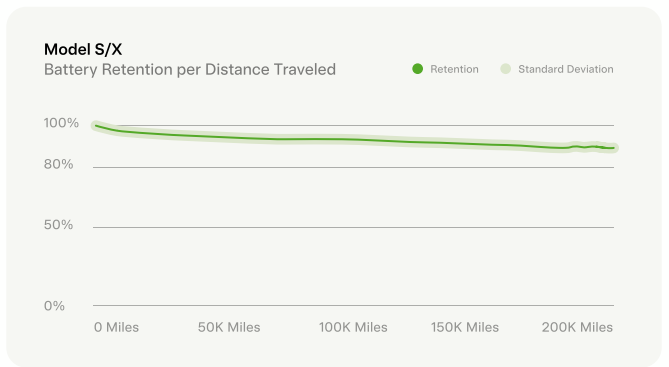 Basically the entire life of the car. Tesla batteries are so far ahead that even the old 2012 models with 200,000 miles still retain an average of about 88% of their battery life today. Here in 2023, the longevity is even better yet.
What about the Environment?
Since the beginning, there has been a weird battle / conspiracy theory that says electric cars are actually worse for the environment than their gasoline counterparts because of either battery components, or the dirty sources of some of the US electric grid, or whatever. As a former electrical engineer who now specializes in clean energy, I looked into all of this and it's totally wrong. The real story is this:
All cars are hugely bad for the environment simply because they are large and heavy chunks of manufactured metal and other minerals
Roads and parking lots are even worse so we should stop designing our cities around cars.
But electric cars are far less harmful than gas cars, because they avoid the burning of 50,000 pounds of gasoline over their lifetimes. Then, all those minerals in the batteries can be reused to build future generations of batteries as needed. As for the electricity: the US energy grid is fairly clean already and is rapidly moving towards being 100% clean. Plus you can easily generate your own solar power as I've been doing since 2018.
Why would you give Elon your money? He's evil.
Because I buy products based on their engineering specs rather than the social media posts of the founder (who is only one of 130,000 brilliant hardworking people at the company).
I happen to disagree with Elon Musk's behavior on Twitter from about 2022 onward – mainly the fact that he seems to be acting deliberately provocative and divisive, posting things like this: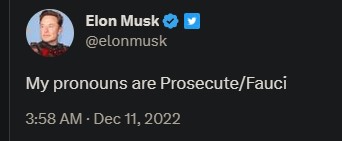 Regardless of how you feel about the chief medical officer of the United States, the events of the long-gone Covid era, or the rights of Transgender people, I just don't see the point of an automobile company CEO posting shit like this. I think it's counterproductive to put mean stuff out into the world, no matter who you are.
On the other hand, Elon is a self-admitted Asperger's syndrome person and an extreme chronic workaholic who lives under constant stress and sleep deprivation. This causes people to behave in ways that most of us disagree with. So yeah, he can be grumpy and unpredictable and I wouldn't want him for a boss. But he also has a proven track record of disruptive engineering brilliance, which is how the cars got to be so advanced and this one single startup company has changed the course of the entire planet.
So, while I wish he would get some sleep and start being nicer to everyone, the provocative tweets are not enough to make me rule out buying the cars.
How much does it cost to drive?
If you charge an electric car at home, the cost of the electricity is so cheap, it's equivalent to getting your gasoline at about 75 cents per gallon. Forever.
On road trips where you need to travel more than 300 miles per day, you'll be charging at a public charging network, which charges more for electricity than you pay at home. Tesla's Superchargers charge an average of 35 cents per kWh (a bit more during on-peak hours, less during off-peak), which is equivalent to paying about $2.60 per gallon for your gasoline.
For non-Tesla drivers stuck using the janky Electrify America network, those prices are 48 cents/kWh and an unfortunate $3.60 per gallon equivalent. Which is another big factor in Tesla's favor
Do I need a special charger?
Not really! Every electric car (Tesla or otherwise) can plug into any standard electrical outlet and charge at a rate of about 3-4 miles per hour. But you can also set up a faster charger at home that can add up to 50 miles of range per hour, if you've got enough capacity in your electrical breaker panel. There are lots of options here, I covered some of them (including how to install one yourself if you are so inclined) in this Youtube video. See the links in the description.
How Fast Does It Charge?
The best answer to this is "about ten seconds if you're charging at home because you just plug it in and forget it" But there are other answers too.
If you plug in at a typical public "level 2" charger, like the free ones you'll see in the city hall or Whole Foods parking lot, or an average garage charger like this one from Amazon, you will get about 25 miles of range added per hour.
And when you need real speed on a roadtrip, Tesla's Supercharger network will add about 200 miles of range to your car in the 15 minutes it takes to plug it in, find a restroom, and do a quick stretch and a few pushups before hopping back in for another three hours on the highway. If you're stopping for an entire meal, you will find the full 300+ miles has been added back to your range.
Are you going to splurge and get the $15,000 Full Self Driving (FSD) option?
I think it's a cool technology that will eventually change the world, but I don't have any plans to add it to my own car.
Every Tesla already comes with "Autopilot" included for free, which is the best driver assist system currently on the market (there is lots of debate around this but it's my own opinion from using it a lot and comparing the detailed specs to the other cars). Two flips on the control stalk will lock the car into a super solid lane following feature which is also aware of the traffic around you, so it behaves like a skilled driver everywhere from a curvy mountain road to a busy interstate to a stop-and-go traffic jam.
And unlike most systems like GM's Super Cruise which are limited only to divided highways, Autopilot works on country roads and really anywhere that it can detect a safe road with reliable lane markings. It also handles sharp curves, which other systems give up on. I've driven thousands of miles on Autopilot in rented/borrowed Teslas and it is remarkable how big of a difference it makes in your driving fatigue level.
But you still have to supervise the car at all times, keep your hands (mostly) resting on the wheel and your eyes mostly on the road, otherwise the car kicks you out of Autopilot. Some people have also crashed their Teslas by ignoring or working around these requirements, and it always makes the news, giving the public false concern about the "dangers of autopilot". It's just really advanced cruise control.
FSD is an experimental feature currently in "Beta" mode that adds a complete artificial intelligence layer on top of that, allowing your Tesla to drive almost anywhere including the chaotic and crowded city streets of San Francisco. Most of the time it works about as well as your average cautious senior citizen driver, but occasionally it will do something totally wrong like stopping in the middle of an intersection while oncoming traffic bears down on you. So you still need to treat it like really advanced cruise control.
There are lots of Youtube videos demonstrating the ongoing progress of FSD beta and they seem very promising to me. I do believe Tesla will succeed eventually, but it might be 1-5 years before they get the system working better than a really skilled human driver, which must be thoroughly proven before it will earn approval to start driving unattended in most cities.
The reason it costs so much is that Tesla plans to keep grinding on this tech until it is good enough to function as a "Robotaxi", aka an unattended Uber driver which allows you to send your own car out to work and earn income giving rides while you're not using it. But there is so much uncertainty around this that I don't see it being worth a $15,000 gamble myself. For me the feature is worth maybe $3000. (For people who drive and commute in cities, it is surely worth more because it can already reduce the stress of your commute and will keep getting better at this intermediate task even in the coming months)
Why did you get a New one instead of Used?
I do always look on the used market before buying anything new, whether it's a car or a bike or a fridge. In the case of the model Y, I found that the used prices weren't any lower than new ones (remember the number to compare when cross-shopping is around $44k since there are no tax credits for used cars here, and you still have to pay sales tax). Model 3s were a bit more widely available, but that car is of no use for my needs because it's not a hatchback.
So for a used car, I take the price of its "new" alternative, and subtract about 20 cents per mile for the mileage accrued. So for example if a used car had 50k miles, I'd want it to be $10,000 cheaper than a new equivalent. With some fudge factor to account for the model year as well since newer Teslas tend to have more kinks ironed out and thus be more reliable. Of course, this implies that the car reaches almost zero value at 200k miles, which is *close* to being correct but still not quite right. So you can adjust this rule if you're shopping on that older end of the spectrum.
I've always used some version of this equation when choosing between used and new cars, and usually it leads me to buying a used one. In this case, new was just a better value so I chose that instead.
More Questions?
Add them in the comments section below!