In September 2016 I bought a brand-new Nissan Leaf SV with the new 25% bigger battery (30 kWh) This page will keep track of ongoing data, modifications, observations, and such.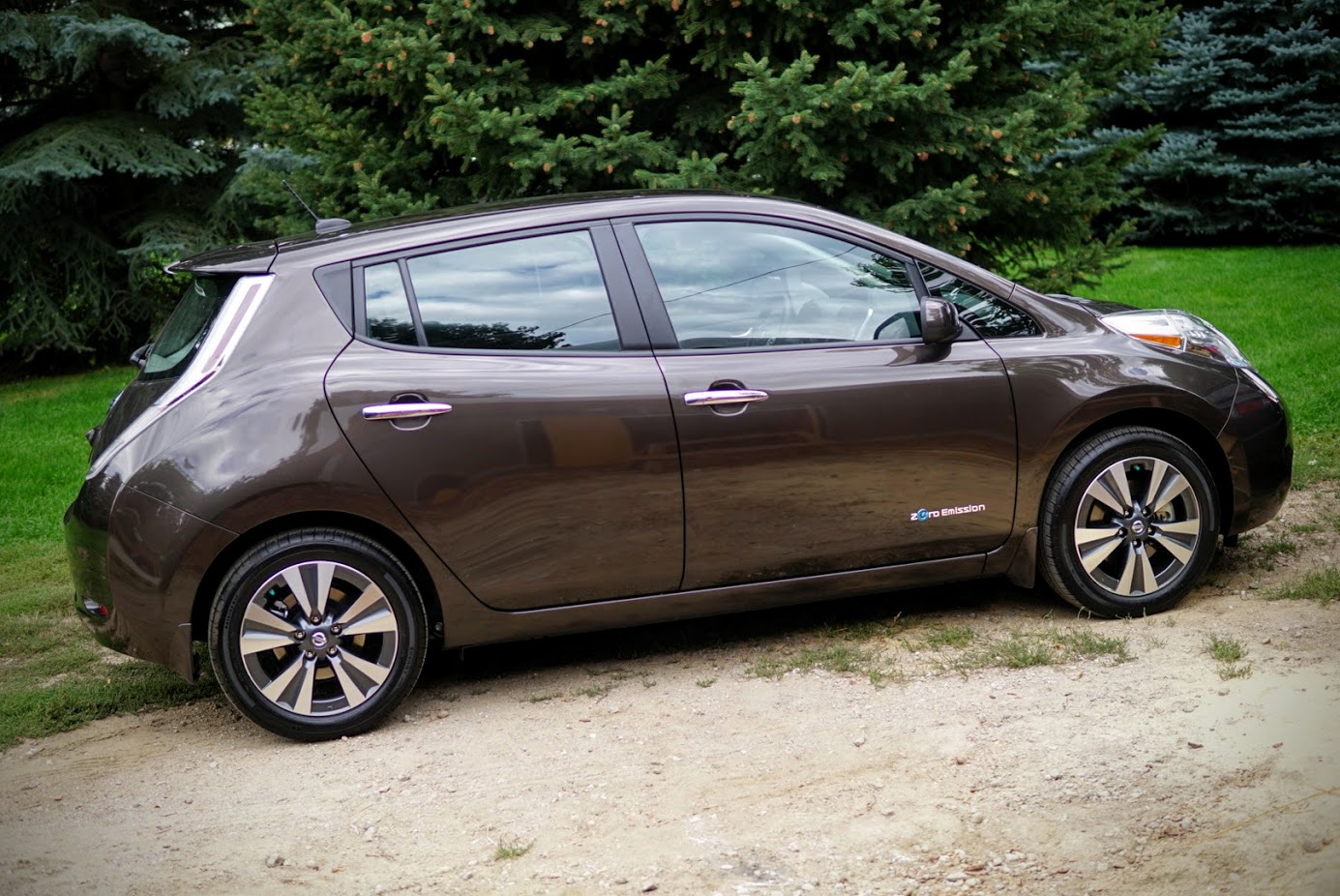 A Brief History of the Leaf
The Nissan Leaf is currently in its third minor revision. If you find yourself interested in acquiring one, the right choice depends on your driving requirements and your financial situation. Here's a quick summary of what happened in each model year:
2011-2012: The first generation came out. Battery capacity was 24 kWh, but this first version was known to be a bit delicate. Heat, age, and heavy use mean that the batteries in this generation are a mixed lot. The battery came with a 5 year/60,000 mile warranty, and you'll find some on the market that have been upgraded with new batteries. The EPA range estimate was only 73 miles, early drivers reported 80-90. At this point, you can probably expect 70-80 miles per charge on an original generation Leaf (less at speeds over 60 MPH)
2013: The car received about 100 upgrades for the model year. Most notable for me were some battery improvements, a more efficient heating/cooling system, and more trunk space since they cleaned up the layout somewhat. EPA range jumped to 87 miles.
2015: A new battery chemistry known as "the lizard battery" comes out – designed to be more resistant to heat. This should be significant, because many of the earlier Leaf battery problems occurred in places like Phoenix, Arizona with extremely hot weather, or in drivers who had a particularly intense driving cycle (long, high-speed drives and rapid charging tend to heat up the battery).
2016: a new 30kWh battery was added for the more upscale SV and SL trims. The 25% larger capacity should improve both range and lifespan, since you are now using a smaller percentage of the battery's energy for any given drive. As of Late 2016, you can also get the bigger battery in the S model – an ideal change if your goal is to minimize cost.
Current Status and Stories:
December 2016: I think I got unlucky and got a slightly lower-peformance (i.e. defective) battery. Testing of a bunch of other LEAFs of other ages suggests this is a rare situation, but this is still good test, because we can see if Nissan will fix it for me.
Here's the story
Using a phone app called "Leaf Spy Pro" app on my phone, I take periodic recordings of the car's battery condition, which is called State of Health or SOH. On the day I bought the car, it was reporting 99%. But within 1 month (under 1000 miles), this estimate had dropped to 89%.  Was it a software bug or a defective battery? Here's what that looks like:
For comparison, the Boulder Nissan service manager has a 2015 Leaf with 15,000 miles, which still reads 100%. A local friend of mine has a 2013 with 25,000+ miles, which reads 91%.
This observation went along with an abrupt drop in my car's range as well. For example:
When I first got the car, I did an easy roundtrip to the far corner of Denver – over 90 miles, much of it at 75+ MPH on the interstate. I got home with over 16% remaining on the battery.
On November 4th, I used the car to drive some friends to the airport. Starting with a full battery, the charge level dropped to 42% after only 44 miles, and I was worried if the car would make it home, when earlier it had done the same trip with much more battery remaining. With slow driving, the car made it home with 10% to spare.
On November 18th, my wife used the car to pick some relatives up from the airport. This time the weather was cold (32F), and the battery estimate went from 100% down to only 30% by the time she got there. On the way home, the battery estimate dropped to 0% and switched to the "—" low energy display. She drove slowly and made it home with just about zero battery remaining.This incident immediately turned her parents off to the idea of electric car ownership, which was sad because that was one of the key reasons I got the car – to influence them!
On November 27th, I did another airport run to bring the inlaws back, starting at the same temperature. This time, I boldly ignored the low battery warnings and ran out of juice after only 78 miles. I had to call the free Nissan roadside assistance program, and a truck brought me and my car home. I'll write a separate story on this experience.
Trying to isolate the variable of battery temperature, I did some cold-weather testing on my car using a controlled loop of mountain roads. I found that a battery temperature difference of 30F (15 ->45F) made a range difference of roughly 10% at low speeds, more at higher speeds.
Separately, I borrowed a different 30kWh LEAF from Boulder Nissan, and repeated the 88 mile airport loop test in #3 above, starting with an even colder 15F battery. This car made the loop easily and got me home with 7% battery to spare, even in the colder weather. Several other tests with this car confirmed that it is indeed at least 15% better than mine.
Summary: Based on my best data so far (comparing my records of temperature and driving performance, plus stuff I am reading from the charger and engine computer), I think there is either a hardware or software bug with my Leaf.
Unfortunately, my local Nissan dealership does not have any diagnostic equipment that allows them to see this problem, or even measure the actual capacity of a battery. There's only a superficial one that rounds the reported health to increments of the nearest 15% or larger.
* Help Welcomed: If you are an insider at Nissan with tech experience in the Leaf, please contact me and we can help get accurate information out to potential customers.
I am finding that Nissan has "big, old company syndrome" and it's hard to get in touch with actual engineers there. This is a notable contrast to Tesla, where people who work on the cars and the Supercharger network actually read these articles and send me emails proactively. A great practice for reaching your true fans – hint, hint.
I did another ineffective visit to the dealership on January 18th, which was supposed to lead to a call from a more advanced specialist from Nissan. Unfortunately, this was a total bust – it was a completely non-technical customer service rep who knew nothing about battery technology.
Update, March 13th: I am learning more about battery performance with more testing, and I installed an L2 charger at home to help with this learning. Temperatures in my area are back in the 60s/70s, and the reported battery health is now back up to 91%, so the whole issue might be just a case of the Leaf's battery estimation and/or charging software working poorly at low temperatures. I should know more after a bit more warm-weather driving (80F+). If so I'll replace this whole scrambled mess with a more concise summary.
Future Projects and Ideas:
I have a few plans in store for this car, including
Building a simple off-grid "solar carport" that allows the car to charge automatically whenever the sun shines. While also protecting the car from the sun. (Design complete – panels coming in March)
Testing the car's maximum range under ideal conditions (I am hoping it can exceed 150 miles on one charge)
Using the Leaf for a bit of Uber/Lyft Driving, for fun and to see how the cost/benefit analysis works out (this project has not been ongoing since October)
Trying a longer road trip with quick-charging stations along the way.
If possible, tapping directly into the battery so the power can be used to power a house (and recharge from solar panels) much like a Tesla Powerwall. If you have experience with how to do this, please get in touch
Monitoring battery life and efficiency as the car gets older.
Eventually, learning about aftermarket battery upgrades. (In theory, you should be able to swap out the battery and put in one with double the capacity as battery tech improves. But it will only happen if there's a market for it and some company rises to the challenge).