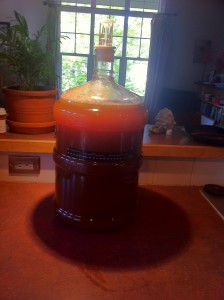 Well what do you know, another Friday has rolled around!
Looking back to last Friday, I see that I wrote about beer and that made us all happy, so perhaps we should talk about Beer on Fridays more often. And lucky for me, I have some pretty exciting beer-related stuff to share today.
After last Friday's article came out, a discussion ensued in the comments section. Several wise MMM readers brought up the idea of brewing one's own beer. I thought this was a fantastic idea. So I teamed up with a few local gentlemen and we discussed our limited knowledge on the subject, over a few beers. Apparently, the beer you make at home can be top-quality as long as you use good quality ingredients and handle the fermentation stage carefully.
One of us had brewed beer before. From his recollection, we needed to obtain these pieces of equipment:
1 5-gallon glass jug called a Carboy, complete with venting rubber stopper cap
1 gigantic stainless steel cooking pot (3-5 gallons capacity)
about 55 clean empty 12-oz bottles, or about 32 20-oz bottles
Fresh caps to seal these bottles, and a cap-installing device
Fresh Ingredients including a barley, hops, malt syrup, and yeast
And, of course, water from a Glacier-fed Rocky Mountain Stream. Luckily, I have this on tap at my house.
With a quick comb of Craigslist, we scored the capping machine and the bottles, along with assorted tubes and accessories, for only $5. A second Craigslist purchase led to the 5-gallon Carboy along with the special venting cap. This was more pricey at $20, but still reasonable. And I already had the giant cooking pot from my Chili-Making habit.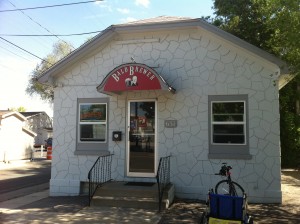 For the ingredients, I discovered that there's a home brewing shop called the Bald Brewer right near my house. So I biked over and obtained a beginner-style ingredient kit for $40. (Upon further research, I discovered similar kits are available online through Amazon.com, but hey, it's good to shop locally sometimes and the Bald Brewer himself gave me some great tips on getting started).
Then it was time to actually brew the beer. This was surprisingly simple.  The basic steps were:
– steep the barley in a giant fabric tea bag for an hour, in the giant pot with 3 gallons of water
– increase the heat add the hops and malt syrup at specific time intervals
– cool it all back down and transfer it to your well-sterilized glass carboy for fermentation.. and dump in the included packet of  yeast.
– throw on the cap and 'Stash it in your basement for 7-10 days.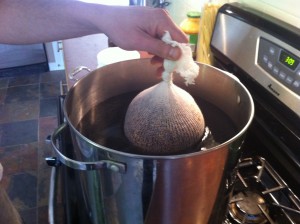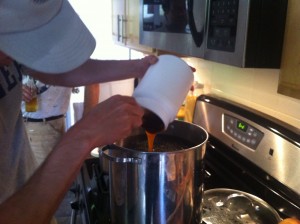 That's as far as we've gotten so far. As of immediately before writing this article, the 5-gallon jug in my furnace room looked and smelled very healthy and beer-like. It was bubbling cheerfully as the yeast converted sugar into alcohol and carbon dioxide.
After the 7-10 days, you can transfer it to a second glass jug for "secondary fermentation" (which gives you clearer beer because you leave behind some of the sediment(?)). Then after an additional couple weeks, pour it into sterilized bottles, apply caps, and throw it in your fridge!
To make this process more efficient on a time-per-beer basis, we're planning to Craigslist a few more glass jugs and another cooking pot. This will allow multiple batches of different types of beer to be brewed in one session. Then you will get hundreds of beers per batch, and you can rotate the brewmaster task among the various members of your beermaking club. With enough surplus beer, you could even begin bartering with neighbors who are better cooks than you are, for nice pre-cooked meals and such.
Initial Investment in equipment: $30
Total Beers Expected: about 50
Total recurring cost per batch: $30 (assuming we buy ingredients in bulk or online next time)
Total marginal cost per beer: $0.60
Estimated time spent for first batch: 3 hours (mostly talking and drinking beer)
Estimated time for an efficient person brewing each additional batch: 1.5 hours
Next update:  The transfer to secondary fermentation next week!