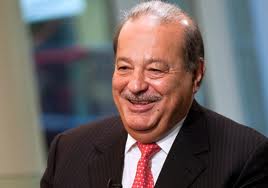 This week I accidentally got sucked into looking through one of those mindless ad-laden Forbes features on the world's top billionaires.  The leader of this flock, the current richest person in the world is a dude in Mexico called Carlos Slim, with a fortune of about 74 billion dollars. And as it turns out, "Slim" is a bit of an optimistic last name.
Then I clicked down the list to look at the other people. And I started to notice a pattern. Despite their unimaginable heaps of wealth, as a group they look far from exceptional in the area of health.
If you ask the typical person, even here in the United States: What would you rather have:
A gigantic amount of money, but be overweight and/or frail to the point of needing an elevator to get up to the sixth floor of a building, or
Just a comfortable amount of money and a gold-quality, healthy energetic mind and body that keeps you jumping around having fun with no health issues until you're 100 years old…
What do you think he or she would say?
I haven't formally surveyed any groups myself , but I have a feeling most people would pick the exceptional health option.
The good news is, it is much easier for most of us to get exceptional health than billionaire wealth. All you need to do is keep your body doing something other than sitting in a chair for a few hours each day, lift some weights occasionally, and eat the most natural and unprocessed foods you can find.
But yet the surprising truth is that most people are actually spending most of their time (40+ hours per week) pursuing the Wealth rather than the Health. Then the Wealth is often invested in unhealthy activities like sedentary sightseeing vacations, eating two-thousand-calorie restaurant meals, and gas-powered recreational pastimes like motorboating and ATV riding.
I won't get into the issue of the nation's increasing waistline because I don't know enough about all the complicated social and industrial factors causing it to comment.
But I do know one thing: YOU have a chance to be super-healthy, and if you are not already a permanently grinning, well-muscled ball of energy like this elderly Japanese man, then I suggest you should consider becoming one. The reason is because it will make you happier, just like becoming rich and achieving an early retirement through frugality will make you happier.
It's time to raise our standards for ourselves. I don't look like Vin Diesel right now, but dammit, I am going to! I'm no longer going to settle for being moderately fit. I want to be at Maximum Health!
Are you ready for my Inspirational Bombshell? Then have a look at this 74-year-old woman named Ernestine Shepherd, currently the world's oldest female bodybuilder.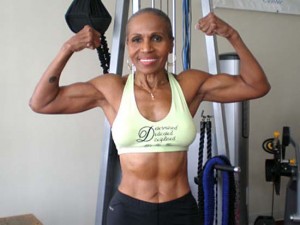 Eh? What do you think of that!?
I was already an optimist when it comes to old age, because I am often passed by gray-haired old men when I'm trying my best to speed along on a country road at 40 km/hr on my road bike.  But this lady raises my standards WAAAY higher than they've ever been. Just seeing the picture made me realize that I totally suck so far, and I must do much better from now on.
If you're already at Maximum Health, then good for you. If you're not – what is holding you back? For me, it has been a case of Excusitis. I've been telling myself that because I'm already better off than most people, that is good enough. But that's a tricky game to play. If you're not taking the best possible care of your health – who do you think you are fooling? I'm getting older. It is absolutely unacceptable for me to become one of those self-disabled people – i.e., a person who loses their health and mobility through decades of sedentary lifestyle.  If I ever have a serious health problem in later years, and I haven't maintained Maximum Health, it will be my own fault. So from this day on, it's Maximum for me. And you too!
There are lots of good books in the library about how to get healthy, but if you just want the Mustachian summary of the most important secret steps, here it is:
Never eat any form of white bread, soda, candy, cake, cookies, fast food, donuts, or other fakiepants food at home or at restaurants. (You can still have it at parties).
I'm always amazed to see people eating these things, because once again, who do they think they are fooling? IT'S NOT FOOD!! Your body hates that stuff! You can still get the indulgence of yummy but awful food occasionally when you are at a friend's house. But to actually buy it as part of your grocery trip? That's just self-destructive, dude. Just this one step would cure 50% of the nation's health problems
Eat lots of healthy proteins and fats.
Your new snack around the house is almonds and walnuts. Bananas with all-natural peanut butter. Apples, mangos, cheese, eggs, beans of all sorts, delicious slabs of fish, chicken, rice, all the olive oil you want, lots of spices, whey protein powder mixed with milk, burritos, cilantro, salads with rich natural oily dressing.. stuff like that. You're not on a low fat diet – you're just on a low-processing diet. Your appetite will adjust to start taking in the right number of calories (instead of too many) as soon as you drop refined flour and sugar from the diet.
Obey The Mustachian Commandments on Alcohol Consumption
Alcohol is fun! I drink it regularly. But I know it is toxic. You're drinking from a bottle with a skull and crossbones on it, so respect the poison and realize it is draining a tiny bit of your health directly with every sip.
Always accept Exercise when it stares you in the face!
For example, there are only two valid reasons for a person with functioning legs to EVER use an elevator or escalator:
You are moving a trolley of heavy equipment or construction materials between levels of the building
You are an olympic athlete who has just finished training SO HARD that it would be detrimental to your competitive performance to climb even one more flight of stairs
For the rest of us, stairs are a gift from the Fitness Gods, so thou shalt run up them whenever thou findest them. Even if your office or hotel room is on the 15th floor (I did a test on a recent vacation – 15 floors takes only about 90 seconds at a moderate stair-climbing pace in even in my current Non-Vin-Diesel condition). Even if you're carrying a suitcase at the airport – come on, don't be a big sissy.
NEVER use a car when a bike or your feet will suffice.
Every trip under 5 miles on a day with reasonable weather must be done by foot or bike. Yes, even to the grocery store or taking your small child to school – use a bike trailer. In addition, if you work less than 10 miles from home, you must bike to work at least twice a week, whenever it is above freezing and not raining or snowing.

Following these steps will get you to Good Health. To get to Maximum health, you need to add weights – three times a week, for as little as 18 minutes per session (3-4 sets of 3 varied heavy exercises with no rest between them). If you like running or swimming or other sports, add in some of that too, good for you!
Now that you see it all in one blog posting like that, it's a pretty easy way to add 60 years of healthy energetic Good Times to your life, and millions of dollars in income and saved expenditures, don't you think?
How will YOU achieve Maximum Health from this point onwards?