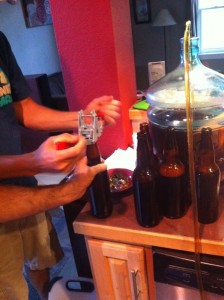 Dedicated readers will recall that I teamed up with some local friends in early June to begin brewing our own beer. During that first session, we did all the major barley-flake boiling, malt syrup dumping, hop-infusing and yeast sprinkling, then left the 5-gallon mixture sitting in a jug in my cool dry basement to ferment for four weeks.
In what is still one of humankind's greatest accomplishments, this mixture magically became beer. Following the instructions from the Bald Brewer, we then  siphoned it to a second 5-gallon container and let it sit for a couple more weeks. Then it was time to put it into the bottles.
On the day before I left for my current vacation, The Triple M Brewing Team gathered a third and final time to boil up a 5-ounce mixture of sugar and water to mix with the beer and then siphon the whole deal into a long line of very clean and sterile 22 ounce bottles. I connected a new faucet supply shutoff valve to the end of the siphoning tube to allow precise filling, an improvisation which seemed to work well. We used the cap-installing device from our Craigslist homebrewing kit to seal each bottle once it had been filled.
Then it was time for the third and final conditioning stage – leaving the bottles for a couple of weeks in a dark but non-refrigerated place. Here the extra dose of sugar apparently feeds the remaining yeast which releases carbon dioxide into the sealed bottles, yielding properly bubbly beer.
Each Mustachian took home his own share of the bottles. Mine are (I hope) still bottle-conditioning in my basement and I'll visit them when I get home. But I got an email this week from Mike, who cracked one of his bottles a little early.
He reported that the quality is Stellar! This was unexpectedly good news for me, since it was only our first attempt at brewing. It seals the deal on our future of homebrewing, since the whole experience was quite fun, and fairly speedy and cost-efficient as well.
As for the beer itself – it is called "Eighth Avenue Amber", after the store location of the Bald Brewer. From our sampling during the bottling stage, I determined that it is a moderately dark beer with nice Grownup flavor, and a good amount of hoppiness as well. Not anything like Sierra Nevada hoppiness, but more than plain dark beers like Negra Modelo. Note that I am in no way a fancypants food or beverage writer so I don't know the special words for describing these things. But that is how I like it, since in general I shun fancypantsiness in any form.
I would like to publicly challenge the other three brew team members to begin the next batch RIGHT NOW while I'm away, so we can get four weeks of fermenting done before I return to Colorado! And now that we've completed the full cycle, I can safely recommend home brewing to other do-it-yourself types who have considered this hobby as well. It's not an ultra-productive money-saving technique like biking to work is, but at least it is a great challenging hobby that pays for itself and encourages gathering with your friends – exactly the type of hobby that you need on the path to becoming a multi-talented and wealthy Early Retiree .