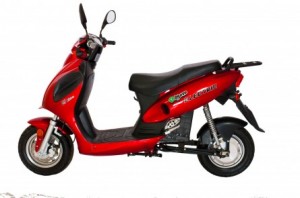 Today is an Exciting Milestone in the Mr. Money Mustache blog – our first official Guest Posting!
This Instant Classic essay comes from a reader with alias 'Poorplayer'. He seems to be an older, East-coast version of me, complete with a similar writing style. Good fun.
Thanks very much for the submission, Mr. P.!
Get Rich with: Scooters
Not all of us can be crazydog cyclists like MMM. Some of us are not quite in cycling shape, some of us may be physically unable to bike, some of us may not quite have enough time in our day to bike everywhere, and some of us might just be uninterested in cycling. But we sure would like to find some way to save all that money we waste tooling around town even in our efficient used Toyota. My answer to this dilemma is…get a scooter!
I first got into scooting in 1976 (which shows my age) back when I worked in Queens NY and lived just over the Long Island/Queens border. To commute to my first job I bought a 1976 Puch moped. This was a true moped, a motorized bike with pedals. I rode this about 12 miles one way through the streets and boulevards of Queens. Even back then, when gas was $0.60/gal., I realized gasoline was a limited resource that needed to be conserved. Also the first OPEC oil embargo brought shortages of gas to the US, and gas rationing brought long lines at the pumps for limited supplies of gas. So the Puch was something that allowed me to get through that time more easily than most. That's what first hooked me.
I bought my next scooter in 1991. A colleague was trying to sell his daughter's 1989 Yamaha Razz, and I bought it for $600 with very few miles. It was a far cry from my Puch. A flat running board to rest my feet, twist-and-go throttle, a wide seat, and a rack on which to put a milk crate or other carrying case. Not only that, but it mixed its own oil and gas! It had a 50cc motor, so no need to get a motorcycle endorsement. Driving around town was now not only dead easy, it was fun!
My current ride is a 2009 Kymco People S 250. I sold the Razz for $300 (nice return over a 19-year ownership). The Kymco is made in Taiwan, tops out at 85MPH, and gets 65MPG on average. It's pretty much my principal mode of transportation from mid-March to mid-Nov. (I live in a snow belt region in upstate NY). I went and got the MC endorsement for this – one more off the bucket list!
It's a real puzzle to me why most Americans won't consider a scooter as an alternative to a second car. It seems to be some sort of cultural prejudice. In most third world countries the scooter is the most popular form of urban transportation – the streets are filled with them.  I think scooters hit the sweet spot between driving a car and biking in urban areas. A 50cc scooter new costs maybe $1200 on average, with the high end at $2K. No doubt used models can be found on Craigslist or eBay for much less. In most states a 50cc scooter can be licensed and driven on city streets where the speed limit is 45MPH or less (in CA they have to be C.A.R.B. certified, an emissions issue). Even on state highways and county roads they can legally be driven on the shoulder. The cost for insurance is about $5.00, and registration usually costs the same. A 50cc scooter gets about 85-95 MPG, and has a top speed of about 30 MPH*. Add a luggage rack or saddle bags, or even a roomy backpack, and you have the perfect errand-running and commuting vehicle for urban areas.
How much can you save? Well, I'm not a numbers guy, but it doesn't take too many brain cells to realize that a gas-powered vehicle with an annual fuel cost of about $300/year is going to save a lot of money over a second car. Even a car rated at 30MPG in city driving is using 3x more gas per mile than a scooter. Repairs? Almost nil. Change the spark plug on a 50cc scooter and you've done a tune-up. Heck, these things in some ways are as cheap to maintain as a bike.
Now, perhaps some of you guys reading this might think a 50cc scooter just isn't "manly" enough. Well, I have noticed how Mrs.MM has been urging the ladies to change their perceptions of what it means to appear womanly, so I say to the guys out there – get over your damn macho selves! Know what? My Razz was PINK when I bought it, and I got quite a few stares and laughs over the years riding my Bahama-colored scooter. But I could always laugh back, knowing I was building my 'stash to send my 3 kids to college debt-free. And I think making sure that your kids start out their lives college-debt free is pretty fuckin' manly! I'll let you ponder that shit for awhile, so maybe you'll give a scooter a second thought.
More information can be found at this fun and breezy web site about scooters. I've found scooter riding to be one of the most fun and effective ways to cut down my transportation expenses significantly over 30+ years of scooting. It's maybe the biggest secret out there to putting more cash in your pocket while maintaining the convenience of motorized transportation and keeping a light footprint on the environment. So if you can't quite make the giant leap to high-octane cycling, and hypermiling makes you a little crazy, think about investing in a scooter. I'm pretty sure you won't regret it.
*Rumor has it that a 50cc can go faster than 30 MPH if it is de-restricted. Doing this, however, may make your ride illegal.
MMM Note: I heartily agree with this strategy, although you still should eventually throw in as much biking as possible, it's even better for you. Also check out the electric-powered scooters that are available these days such as this one from e-Moto.  Prices vary widely if you shop around, and with the benefits of zero tailpipe emissions (actually almost zero overall emissions if you use only wind or solar-generated electricity as I do) and no noise, you can feel even more Mustachian about your urban commuting.