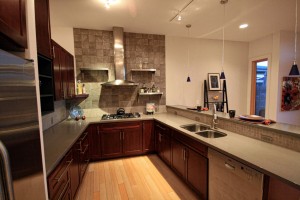 You and I are about to embark upon an adventure together over the next few months!
Have you ever wondered what is involved in buying a bank-owned home at a massive discount, renovating it back into nice condition, and then selling or renting it out at a highly profitable rate? Well, a friend and I are about to do just that, and I'll be documenting everything right here on MMM so you can vicariously enjoy and judge our progress while you learn from the Masters.
All of us are well aware that the US housing market has been in a very funky state for several years now. Some people have treated this as source of fear, noting that their own house is now worth less than what they paid for it, and perhaps less than what they owe on it.
Other people (like me) have watched with some fascination as banks have offered up foreclosed homes at ludicrously low prices around their towns, and lucky investors have snapped them up within a day or two. With a wife who is a licensed real estate agent, and being an enthusiastic home builder/renovator myself, I typically run the numbers on each of these houses on the day it goes up for sale, determine how much profit could be made with a reasonable amount of restoration work, then sit back and watch as another investor buys the house and re-sells it a few months later, claiming the profit that I could have had if I had gotten off my own butt.
My excuses so far have been that "I don't really need to earn more money", "I don't want to compromise my family time with a big outside project", and "I insist on buying all future houses with 100% cash", because involving a bank, appraiser, insurer, and all of their attendant fees and delays tends to reduce the joy of real estate dealings for me.  By sometime next year, I will have enough uncommitted cash to buy a low-priced home in my neighborhood and do everything my own way without a loan, so that's what I've been waiting for.
But in the mean time, I am missing out on some real FUN. I would love to be part of a big high-speed high-profit renovation project right now. The deals won't last forever (filings are down 50% from their peak here in Colorado, although it will still take a few years for banks to clear out their backlog). And with the rental market being quite strong these days, it's a good time to be a landlord.
It is fascinating to me to evaluate an old and junky house, then strategically design some changes that will dramatically improve the feel of the home."Open up this wall to expand the kitchen, paint the whole interior and exterior in clean and rich historic colors, add a big window here, rebuild this old bathroom, and add a second bathroom over in that back room". Things like that.
When you take the sale price of some of these bank-dumped homes, and then design a budget for any necessary renovations or restorations (many of them are in pretty scary condition due to months/years of neglect), and compare it to recent sales prices in the same neighborhood, the potential for profit is often huge. My own calculations show profits of $15,000 – $40,000 for a 6-month project, even after paying for the renovations separately. So the investor earns this amount purely for the process of buying, and later re-selling, the house. Alternatively, I've calculated about a 15-20% net annual return on investment if you put 20% down on a $115,000 house in my 'hood, and then rent it out at market rates. (Now you see why Mr. Money Mustache is pretty confident about getting annual returns of 7% on his savings over time – because some of it earns higher rates like this!)
To help get my fix of the house scene, I've been helping an investor friend of mine in the neighborhood to find another rental house to add to his collection. We have rushed out and toured several houses on the first day they came to market, and made above-asking-price offers on the same day. But so far, we've been outbid every time. It's because the banks are selling at unnecessarily low prices, and the other investors who are competing with us know it too. Each investor tries to out-guess everyone else by offering more than the asking price, but still enough below the actual market value to ensure a healthy profit margin. We have failed to win this mental lottery so far.
But this week, it looks like we got lucky.
On September 2nd, a bank-owned home came up only three blocks from our own houses. My friend and I both live in a mixed historic neighborhood where the fair market value of houses ranges from $150,000 for an unsightly shack up to perhaps $500,000 for a stately 5-bedroom victorian brick house. Sales have been plodding along steadily since the housing crash – in our area, we never got the mid-2000s boom, and we barely got the subsequent bust. And it is probably the most desirable neighborhood in the city, with limited supply and gradually increasing demand making it one of the most stable housing markets around. Families and stylish hipsters want to buy the houses that are already in nice condition, but only us grungy contractor/investor types are competing for the dumps, which gets us some good deals.
The house in question is above the "shack" level, it could probably be considered a "historic cottage". It's about 80 years old, with 2 bedrooms/1 bathroom, 900 square feet, on a really nice large lot with trees, an awesome back deck with hot tub, and a detached 1-car garage facing an alley. Fair market value as assessed by the city: $180,000. Bank asking price: $110,000. Current cosmetic and maintenance condition: Very Shitty.
My friend made a bid on the house at the full $110k. It was rejected by the bank – they had other offers. He raised it to $115k. Still rejected.
Two weeks later, the bank came back to us – the first sale had fallen through as the buyer backed out. We re-iterated the $115k offer — and got it!
This house will generate a hefty profit for my friend – and since I'm investing a portion of the purchase price and doing some of the renovation work – some nice profits for me too. Here is my forecast for how things will work out.
Purchase Price: $115,000
Renovation materials and labor (the place needs a new bathroom and a kitchen upgrade, plus plenty of paint, some roofing, and landscaping): $25,000
Total Cost after upgrades: $140,000
Annual Property taxes and insurance: $1600
Expected annual rent @1100/month:  $13200
Net annual cashflow:  $11600
This is an annual capitalization rate 0f 8.3% after expenses. Quite good for a single family rental house. We're buying the house with old-fashioned cash, with a portion of it being from me.
Just for comparison, here's how the numbers would work out for someone buying this house with a traditional 80% loan at 4.5%, rolling in the renovations and additional closing costs that typically come with a loan:
Total Purchase cost: $145,000
Down Payment: $29,000
Amount financed: $116,000
Monthly carrying costs:
Interest: $544  Principal $191 Property Taxes and Insurance: $150
Total payment:  $885
Monthly Cashflow:  $215
Monthly profit including principal paydown:  $406
Annual profit: $4872
Annual return on $29,000 of capital invested: 16.8%!
Note that since both the value of the house and its rental income will on average go up with inflation, this is actually a 16.8% inflation-adjusted return. Of course, you do have to take care of tenants and keep the place occupied and avoid vacancy, but after doing this for many years my friend and I are both comfortable with the trade. On an hourly basis, it is very highly paid work.
This is just the first installment in this dramatic series. The closing date for this sale is October 25th. On that day, we could turn around and re-list the house without any changes for an instant sale at around $140k, but instead we will dig into it and transform it from Zero to Hero in about two months, then find a responsible tenant to move in!
I'll publish before, during, and after pics and describe some useful projects we're doing within on a series of MMM articles. We can cover things such as how to re-build a bathroom and a kitchen, how to do your own plumbing, interior design techniques, how to advertise a rental house, and surely many more as we go through the house.
Since this is the Mr. Money Mustache blog, we will be doing it all with an eye for Ultimate Efficiency – creative use of materials and design, using nearly-free supplies from the recycled building materials yard when possible, and a 100% Insourcing model with respect to doing the work.
It will be loads of fun. And it may even inspire some of you who were on the fence, to take the plunge into house-related profits in one way or another. Maybe renovating your own house, or buying your first one, or owning your first rental property.
Update: Here's a Neat Spreadsheet for analyzing rental house income, emailed by a reader as part of the discussion below. SFH_Rental_Analysis
Next update: October 25th Closing Day!