As anyone who has read more than a few MMM articles has learned, the key to becoming rich is living an efficient lifestyle.
When it comes to your choice of car, this means making sure you choose one that is optimized for whatever you will use it for the most.
While this sounds self-evident, it is actually a rare way to buy a car in the United States. Most people tend to buy the largest and most powerful model they can afford, based on the idea that there are occasional situations where the capacity will be needed ("I haul a boat to the lake every summer, and I need to have enough power for uphill passing even when towing the boat and all my family").
Because of this, the 360 horsepower,  Ford F-150 pickup truck (17MPG city) is by far America's best-selling vehicle, more than doubling the sales of the top car on the list, which is the still-rather-large 3200 pound, 178 horsepower Toyota Camry.
Most people do most of their driving alone. So the efficient choice (assuming you even need four wheels) is a very small car. Anything else is inefficient, and inefficiency means poverty (and possible punches in the face).
Luckily, in the US and Canada at least, even the smallest cars are large enough to carry a family of five in relative luxury.
But what about those rare times when you need more space than your small car provides? Like a camping or ski trip? Or a trip across the country where you'll be virtually living out of the car? Should you pre-emptively opt for the Cadillac Escalade or a Chevrolet Tahoe? The Ford Expedition is nice, but even better is the Excursion because it's even bigger. What about the Ford F-350 longbed king-cab with six wheels? It would look even nicer pulling a 35-foot travel trailer full of king beds and big-screen TVs. No, that's too small and makeshift – you need a 44-foot Monaco Dynasty* pulling an Excursion as your runabout vehicle when you get to the destination.
Or, if you want to do it Money Mustache Style, all you need is your existing small car, with some handy outboard storage that can be added for roadtrips, but removed for the other 90% of your car use.
As you know, I've been running a Scion xA for the last several years. This car is so great, it should come with a giant silver mustache as its front grille. Despite being one of the smallest cars available in the US (at only 7″ longer than a Mini Cooper), it is a full four-door-plus-hatchback design and easily seats five adults and holds their backpacks too, and can get them around the country at well over 40MPG when driven properly.
This car has already done some fairly impressive roadtrips.  Moab, Phoenix, Santa Fe, South Padre Island, the Great Lakes region of Canada and many points in between.
The Scion's biggest trip so far was about one year ago. The trip was planned well in advance, and designed to be over a month long, spanning the states of Colorado, New Mexico, and the near-tropical Gulf Coast of Texas. Our goal was to include some family beach camping, and some boating with the inflatable Sevylor kayak. And we wanted to carry and cook all of our own food, restocking from grocery stores as necessary. All with a child who was four years old at the time, in one of the smallest cars you can buy.
Sound like fun? It was!
The first adjustment I needed to make was adding cruise control to the car. Inexplicably, the Scion xA did not have that feature in 2005, so I found a nice Rostra kit on Amazon for about $200 and installed it – a useful educational experience in itself.
Next, I needed more space for the camping equipment and the boat. At this point, I noticed that there are three ways to turn a little car into a big one.
1: Put Your Cargo on the Roof: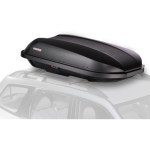 Even if your car did not come with roof rails or racks, you can get great ones that are easy to install from manufacturers like Yakima and Thule. Once you have a basic rack, you can take the simple route and strap a few waterproof duffel bags to it, or for more frequent long-distance trips you can up the ante with aerodynamic hinged roof boxes.   These work well, and they are often available nearly-new at less than half price from Craigslist.
2: Put your cargo behind the Back Bumper:
A roof box is fine, but from an engineering perspective it is not ideal to add accessories to the top of a vehicle, because this adds to the aerodynamic drag and thus the fuel consumption. It would be much better to add the cargo to the back of the vehicle, so it can ride for free in the slipstream behind the car. If you have a trailer hitch on your car, or are willing to add one, you can then click in many useful accessories to the hitch receiver: bike racks, cargo baskets, and even huge locking boxes that keep your travel gear safe and dry, while keeping your cabin clear for people.
3: Hook up a Trailer: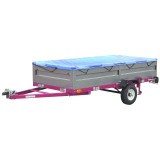 This is the most powerful option.  Perhaps because of liability or profit concerns, car companies will often try to discourage you from thinking about pulling a trailer with a small car, and as a result, people in the US usually buy trucks when they plan to pull one.
But think about it this way: I have a power output of less than 1/3 of a horsepower, and yet I can easily pull a full-sized refrigerator around on a trailer with one hand. Even my tiny car has a 108 horsepower engine, making it at least 324 times more powerful than me.
Your car can easily pull any reasonably-sized trailer, and you can get a nice low aerodynamic one for road trips, or an open-frame metal one for landscaping and construction materials. You can get a basic 4x8ft trailer for about $320 at Harbor Freight tools and then customize it however you like. Or even a bigger enclosed one that can serve as a rolling workshop or double as a storage unit or shed. Trailers like those are often found on Craigslist, sometimes already stocked with tools from a contractor who is selling his business.
With the advent of trailers, Boom – the entire category of vehicles known as pickup trucks is now obsolete, unless you are a farmer or Bakari Kafele.
I did some shopping around and determined that I could get a new roof rack and roof box for about $300-$500. While that is not chump change, it is still a great savings compared to the cost of buying and operating a larger car, just because you need the cargo space to be larger a few times per year. Roof boxes are truly the easiest way to turn a little car into a big one.
But being Mr. Money Mustache, I decided to take a slightly different approach and invent my own back box for the car, custom-fitted to the curve of the back bumper to maximize space and aerodynamics. Since I have no trailer hitch, I needed to find a way to attach it to the car, but when I looked underneath the back, I found the perfect thing – the tow hooks. I wanted a lower mount point anyway, so I welded up a custom metal support frame which bolts exactly into the holes where the car's existing rear tow hooks attach. I was able to weld one long piece of 1×2 rectangular tube steel to each tow hook to create a this frame onto which I could build a box:
With a late night of cutting and fiddling and painting, I was pleased to end up with an enormous box (80 gallons of internal volume) that is lightweight but strong enough to hold several hundred pounds.
Caution: If you actually build one of these, be sure to route the car's exhaust  under the box and out the back so you don't burn a hole in it. Version one of my box died a melting death, taking a nice cordless drill with it. But by screwing a flexible exhaust pipe onto the existing tailpipe, version two has been trouble-free.
This box was the star of the one-month roadtrip to the Gulf of Mexico, holding all of our stuff and even gathering several appreciative comments from fellow Mustachian travelers (usually from Wisconsin) who I caught admiring it in parking lots. And the total cost was about $30 worth of wood, metal, and paint (although I used scraps from my construction business so in reality I paid $0). It took about one full day of very fun work to build it.
So before you go "upgrading" from a sedan to an SUV because you find it inconvenient to fit your stroller in the trunk, try thinking it out logically first:
A "coupe" or "sedan" is a useless design because the trunk is low and awkward. So look for a hatchback or a wagon. These are almost universal in Europe, where the people are smarter than us. They are less common here, but luckily still available.
An SUV is just a wagon with a raised suspension, making it inefficient for on-road use. The fact that they have a wagon design is why everyone thinks they are so practical, not realizing that the high ground clearance and big engine are unnecessary warts in the idea.
A small hatchback will do most of what an SUV or minivan does. Then you just need to decide between the roof box, back box, and trailer for those rare times you need an even bigger car.
Just as we expanded the usefulness of our bike by adding a backpack and/or a bike trailer in an earlier article, you now have a small car that can do more than everyone else's big cars. See you at the campsite!
* If you're in time-wasting mode right now, you should also check out the interior of that Dynasty :-)