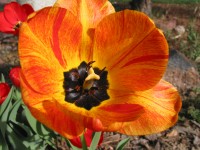 It looks like we've just passed the ten month anniversary of this blog and are creeping up towards one year.  Just like with having a child, in some ways it went by quickly and in other ways it seems like this baby has been around forever.  The best part is the community that has been built here and I promise that soon you'll have an even better way of sharing ideas through the forum (once I get this security and pharma hack thing handled).
Thanks to all of you for being supremely awesome.
Today I'm doing an unauthorized post on the blog while MMM snowboards in Tahoe.  I guess you could say that I'm hacking the MMM site.
As Mrs. MM, I have heard MMM preach the Word for years (nearly 18 years, to be precise), yet somehow these articles sometimes resonate with me more than hearing him tell me in person that I should be biking.  Some of my favorite posts are from the earlier days, so I thought I'd post links to my 5 favorite articles and encourage everyone to look back and comment.
Let the good times roll!
1. What would the Native Americans Do? 
I read this when I need motivation to get off my butt and become a true badass.
2. The Coffee Machine that can Pay for a University Education 
Ramit — are you reading this?
3. How much is that bitch costin' ya? 
5. A Millionaire is Made Ten Bucks at a Time
My Favorite MMM Quote: "…And we both believe that the modern world is an Absolutely Excellent place, a dense and flowery jungle completely packed with Mangoes of Opportunity that spray their Juices in our Faces every time we take another muscular step through the foliage."