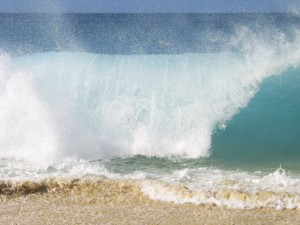 Dear Boss,

This is to inform you that an opportunity has come up for me to spend the next seven weeks in Hawaii, and thus performance of my regular work duties will become spotty and unpredictable during this time.

love,
Mr. Money Mustache
I've been keeping this a secret from you for a while, but since my plane is leaving in less than a week, I thought I should let you know. Here's what happened:
Almost a year ago, I published an article summing up the end of The Foreclosure Project, a fun series of posts where I described some adventures fixing up a rental house in my neighborhood with a friend. At the end of it, I wrote a little shout-out to look for future projects, which contained this sentence: "Or perhaps you have a house in Hawaii that needs attention during the winter season?".
That invitation ended up catching the eye of several residents of our country's finest volcanic island chain, and some neat projects were discussed. Recently, the perfect one came up, I accepted it, and it has been in intense planning ever since. So here's what's going on:
In a few days, I'm heading to the Denver airport, alone, with a suitcase full of tools. A direct flight will get me to Honolulu, where I will meet an adventurous MMM reader for the first time. Together, we'll head across the mountains to the small town of Kailua, and immediately start destroying portions of the expensive house he and his wife just bought.
The goal is to convert a 200-square-foot area near the back corner of this house, into a small but luxurious vacation rental suite, complete with kitchenette and bathroom. A separate entrance and a new soundproof wall will add to the usefulness of the suite. This will allow them to offset a large portion of the home's cost of ownership, while sacrificing only a small part of their living space.
It's all being done with full approval of Hawaii's stringent building inspection department, which is adding several monkey wrenches to the project. On top of that, we're doing things in Mustachian fashion with minimal outside help, materials sourced from Craigslist where possible, and borrowed tools when available. But we'll get it done, and done right.
So for the first 2.5 weeks, I'm planning to work like an insane nuclear-powered robot, to complete as much as possible of the suite with my new friend, effectively creating a cozy new sleeping environment for myself. As many hours as my body will allow, with breaks only for food and sleep… which happens to be my favorite way to do construction.
Of course, the fact that I'm living in a beautiful tropical island setting will not be lost on me – there should be some spare time to run around the place with bare feet, drink fancy beverages on the edge of volcano craters which overlook the ocean sunsets, and all that stuff. But mostly it will be hard work at first, with urgent reports to you whenever enlightening life lessons happen to materialize from the experience.
At this point in the vacation, Mrs. and Junior 'Stash will touch down and join us for another month, where we'll enjoy the newly-built digs and live like locals, just a short walk from one of the nicest beaches on the island.  Hiking, biking, sports in the waves,  and general exploring will ensue.
If it all goes as planned, we'll come out of it with a new respect and knowlege of O'ahu, a warm set of lifetime memories, and some new friends as well. All for the cost of only a few discount plane tickets.
So until we return on January 13th, you might see a bit less action from me on this blog. And the posts you do see will feature decidedly more lush background scenery. But the list of draft posts is longer than ever, and the need to write them for you continues to intensify. So don't forget this URL just yet.
Meanwhile, if you happen to live on the island and want to meet up, get in touch! Gatherings would be welcomed and I'd like to learn as much as I can about living in Hawaii. With sufficient tempting, we just might never leave. In the worst case, we'll get home to the Rocky Mountains just in time for a quick snowboarding trip before the rays of springtime start to shine around here again.
Have a great time in your own winter adventures, and let's keep in touch.